Palladium Hotel Group has launched its first loyalty programme for UK travel agents.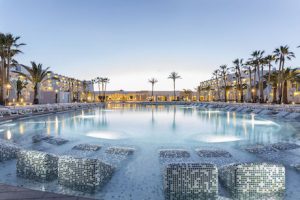 Palladium Connect is a partnership programme, which is also being rolled out across Europe, to recognise the loyalty of its travel agent partners in the UK, as well as in Spain, Germany, Belgium, the Netherlands and Italy.
It has been designed to provide agents with tools to help understand and sell the hotel group's properties and experiences with exclusive member-only rewards, including cash incentives and hotel nights.
After its launch in the USA in 2015, followed by South America and Mexico in 2016 and 2017, it will now enable UK travel agents to earn rewards for each reservation made for their clients at most of Palladium Hotel Group's hotel brands.
Agents will also have the opportunity to earn extra prizes in a variety of ways, including inviting other agents to register, or sharing their personal Palladium experiences by posting reviews on the Palladium Connect website after their stay at one of its properties.
Travel agents can redeem their rewards for monetary incentives through a special Palladium VISA debit card that can be used for shopping, dining, travelling and much more, or for room nights at the group's luxury resorts in Spain, Mexico, Dominican Republic, Jamaica and Brazil.
They can review their rewards total via their online account and keep tabs on how much they have spent on their VISA debit card via a separate online statement.
The group's UK sales representative, Joanne Peters, will be introducing agents to Palladium Connect over the next few months as part of its UK agent training programme.
Sergio Zertuche, chief sales and marketing officer at Palladium Hotel Group, said: "Having seen excellent results from the launch of Palladium Connect in the USA two years ago, I am delighted that we're now replicating this in the UK and we have been working hard to ensure that the programme will meet the needs of our UK travel agent partners. Palladium Hotel Group is very committed to the UK travel trade, which is why our latest initiative aims to thank and reward our most loyal travel agent partners, as well as keep Palladium Hotel Group's wide and growing portfolio front of mind for all agents. With our opening of two brand new properties in Mexico's Costa Mujeres next year, as well as the rebrand of TRS Hotels and renovations at our other properties, 2018 will be another big year for Palladium Hotel Group and makes it more important than ever that our partners are up-to-date and rewarded".