5 reasons why you should go on a Pandaw river cruise at least once in your life
Pandaw river cruises are known for its tranquil voyages in the legendary Mekong river that stretches from the Tibetan Plateau and running through parts of China, Burma, Laos, Thailand, Cambodia and Vietnam for a distance of nearly 3,000 miles. Mekong helped shape the first settlements in the region. 
Guests embark on a turtle pace expedition aboard the beautifully-designed ships. The ship passes through a richly varying riverscape from the vast Mekong Delta with floating markets, bustling trading towns and vibrant river life to the silence of the Cambodian Mekong river with its delightful rural life.
See Vietnam and Cambodia in a different light while tracing the river that breathed life to them aboard the charming vessel with a colonial atmosphere.
Informal, friendly atmosphere
Pandaw river cruises are all about exploring remote and often hard-to-navigate rivers in specially-designed luxury small ships. Since the vessel is smaller in scale, the atmosphere is informal and very friendly.
Whether you are an introvert or an extrovert, Pandaw offers a cruise for those who relish meeting new people and for those who prefer to do their own thing. Guests are not forced to participate in daily briefings or cultural events and activities held on board. When it comes to dining as well, passengers are welcome to eat on their own or with family or with friends.
With every stateroom opening up to an expansive promenade deck, a Pandaw cruise is a wonderfully social experience. Passenger interaction is encouraged at every turn, and the line takes great strides toward fostering a warm, welcoming atmosphere onboard.
Comfortable stay on board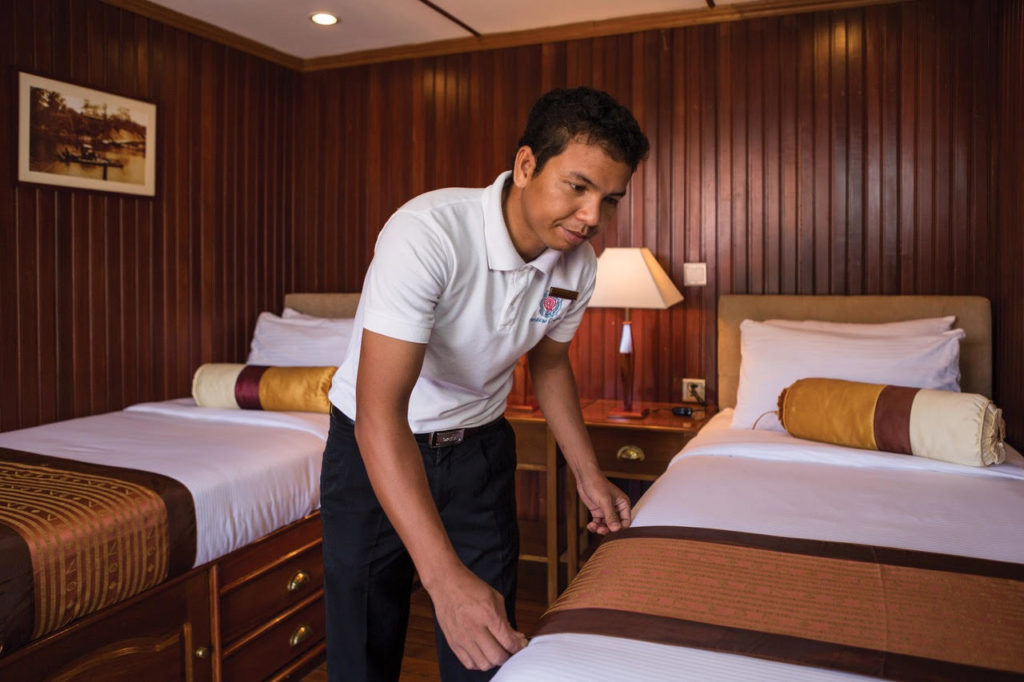 The first thing that you will notice boarding a Pandaw river cruise is its colonial design boasting hand-crafted in brass and teak. Staterooms have gorgeous accents, such as raised nautical-style beds, accent lighting, and beautiful wood panelling. From the ship's comfortable staterooms to the outdoor promenade and observation decks to the convivial saloon and bar, every nook and cranny exudes timeless elegance.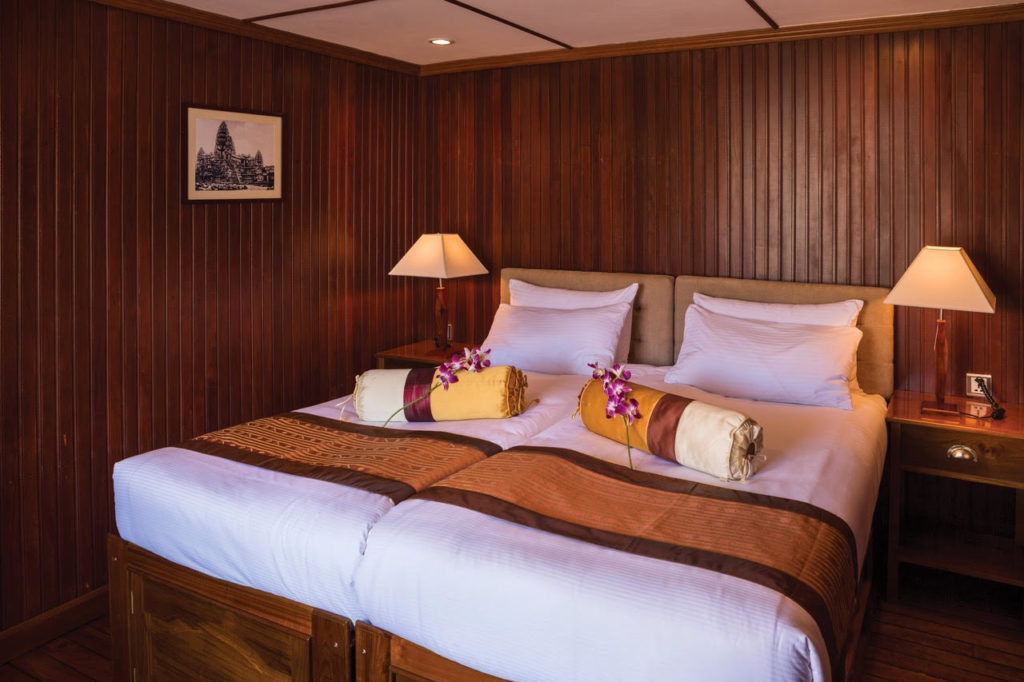 The charm of the Pandaw river cruise also comes from what it lacks such as annoying announcements and televisions. Unlike in huge cruise ships, there is no incessant announcement over the public address. Moreover, staterooms have no television but guests will not run out of things to do onboard. With so much going on outside, chances are you will only return to your room to change or rest anyway.
One of the biggest misconceptions about river cruising is that guests worry they will feel claustrophobic on a small vessel. This isn't the case; aboard Pandaw vessels, guests experience a higher passenger-to-space ratio than that typically found on large oceangoing cruise ships.
Totally local
Guests can expect local experiences that reflect the identity of the region. The cruise is coupled with unique activities such as exploring the labyrinthine canal system around Tan Chau to visit a Taoist temple where the monks will read fortunes; helping locals tend their fields and releasing fish back into the Mekong.
Guests are invited by local artisans into their homes for tea, fruit and honey products made from their own honey and explore the island of Con Phuoc by tuk-tuk seeing basket production and visiting a 100-year old Catholic Church and local woodworking artisans. Even the meals in the Pandaw river cruise are sourced from local providers and often feature local ingredients.
All-in package
Pandaw cruises offer value for money expeditions as the price includes entrance fees, English-speaking tour guides, transfer from the meeting point in Saigon to ship or vice versa. Even the gratuities to the crew are included, so guests have nothing to worry about.
Pandaw caters to family and offers plenty to do for the active and outdoorsy of all ages, as well as for those who wish to take it easy. We offer mountain biking and some challenging and exciting trekking ashore. These expeditions are particularly well-suited for older children who gain valuable life experiences from interacting with local kids when we stop in the villages.
Leisure and unhurried travel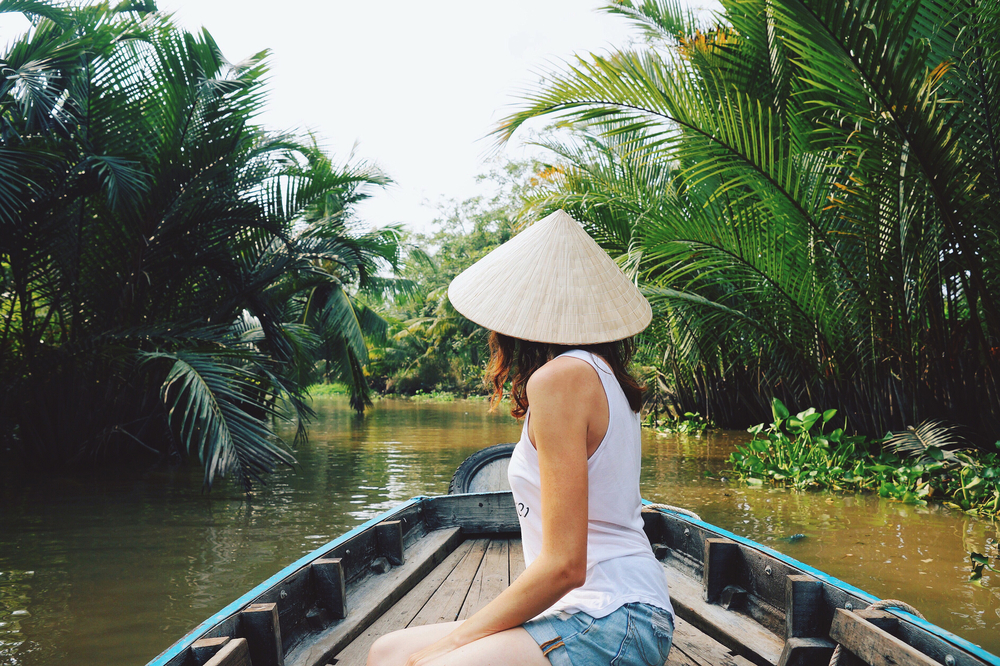 Whenever people hear cruise, people think of luxury. Pandaw expeditions feature luxurious touches and amenities. Cruise is perfect for those who enjoy a leisurely, unhurried pace and prefer to see a number of destinations without changing accommodation. To start with, there is one crew member to every two guests aboard Pandaw ships.
Pandaw river cruise offers Saigon to Phnom Penh Short Cruise (Upstream) and Phnom Penh to Saigon Cruise (Downstream) and that showcase the cultural contrast of Vietnam and Cambodia. This three-night cruise passes from the vibrant French colonial port of Saigon, through the vast delta so rich in human life and endeavour, to travel along the main channel into the rich countryside of Cambodia. Your journey will end in Cambodia's capital Phnom Penh.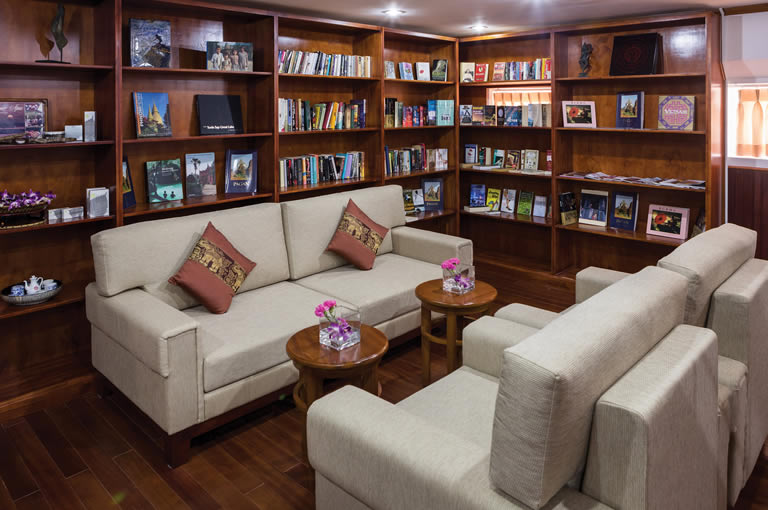 Pandaw ensures that every cruise is a luxurious experience but personalised at the same time. It all adds to the famous 'Pandaw spirit' that brings so many guests back onboard time and time again.
If you are thirsty for an unforgettable moment of tranquillity coupled with rich cultural experience and one of the best sceneries in Southeast Asia, hop aboard the Pandaw Expeditions!