CapitaLand, one of Asia's largest real estate companies, has set a new world record as it embarks on the crowning of Raffles City Chongqing.
The development, situated at the famed Chaotianmen riverfront at the junction of Yangtze and Jailing rivers, promises to redefine urban living as it features smart design and innovative technologies. It's an engineering marvel that lays on four 250m towers, reaching a total height of more than 400m above sea level.
Raffles City Chongqing's construction began in September 2012 and it now holds the world's record as the highest sky bridge linking the most number of towers.
It exudes an image of powerful sails upon the river, representing the city's surging growth, and was designed by world-renowned architect Moshe Safdie, who drew inspiration from the region's thousand years of waterway transportation culture.
Mr Lim Ming Yan, president and group CEO of CapitaLand Limited, said: "Raffles City Chongqing is by far the largest and most complex integrated development that CapitaLand has undertaken. CapitaLand is proud to have achieved this phenomenal structural engineering breakthrough of connecting skyscrapers, and we will continue to stay ahead of the curve by breaking new grounds in real estate development."
The crowing is not only a significant moment for CapitaLand and Raffles City Chongqing but a global milestone in the field of architecture and engineering.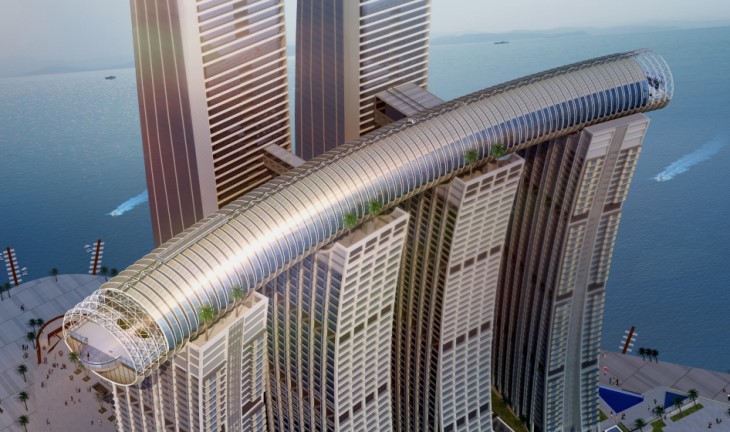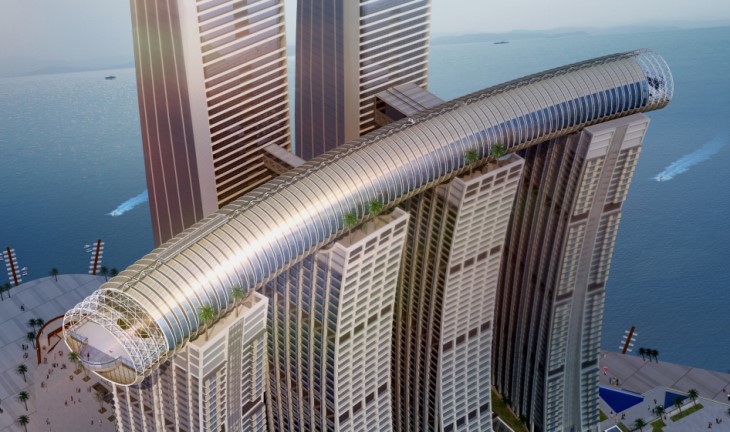 The Conservatory
Raffles City Chongqing is a vertically-built urban district comprising a retail podium and eight skyscrapers for residential, office, serviced residence and hotel use.
At the heart of it all is The Conservatory with a 10,000-square-metre floor area, connecting six vertical towers. It will be the centre of attraction, filled with an array of amenities including a themed observation deck, sky gardens, an infinity pool, and a variety of food and beverage outlets.
Mr Lucas Loh, CEO of CapitaLand China, said: "As the crowning glory of Raffles City Chongqing, The Conservatory is envisaged as the centre of civic activities where locals and visitors from around the world converge in Chongqing.  A highlight is the observation deck, which features an outdoor patio with see-through glass flooring – the tallest of its kind across the whole of west China for the best vantage point to enjoy the stunning views of the Yangtze River and Jialing River merging at Chaotianmen."
The Conservatory is made up of a continuous steel structure which is longer than Singapore's tallest building laid on its side. Its construction is set to be finished this year, followed by the hoisting of the façade enclosure, and the trees and plants for the sky gardens.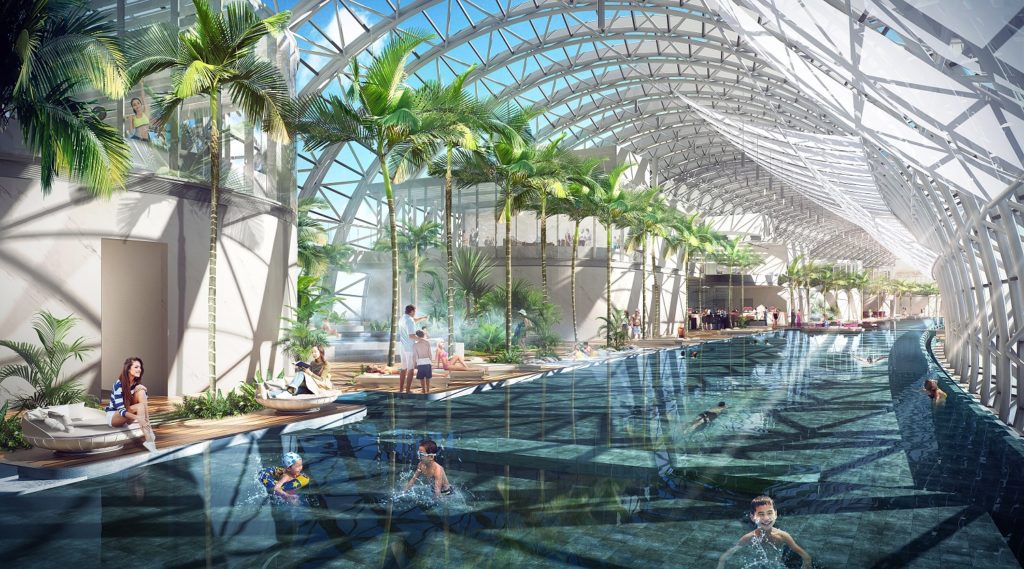 Standing tall and strong
A wind modelling test was conducted for The Conservatory together with the eight towers. This ensures that the structure can overcome the site's unique conditions which include exposure to strong winds.
The structure also uses advanced frictional pendulum bearings and seismic dampers mounted on the towers as a support system. It dissipates seismic and wind activity more effectively than the conventional rigidity-driven design.
The crown jewel is a breakthrough in structural engineering of linked high-rise building clusters.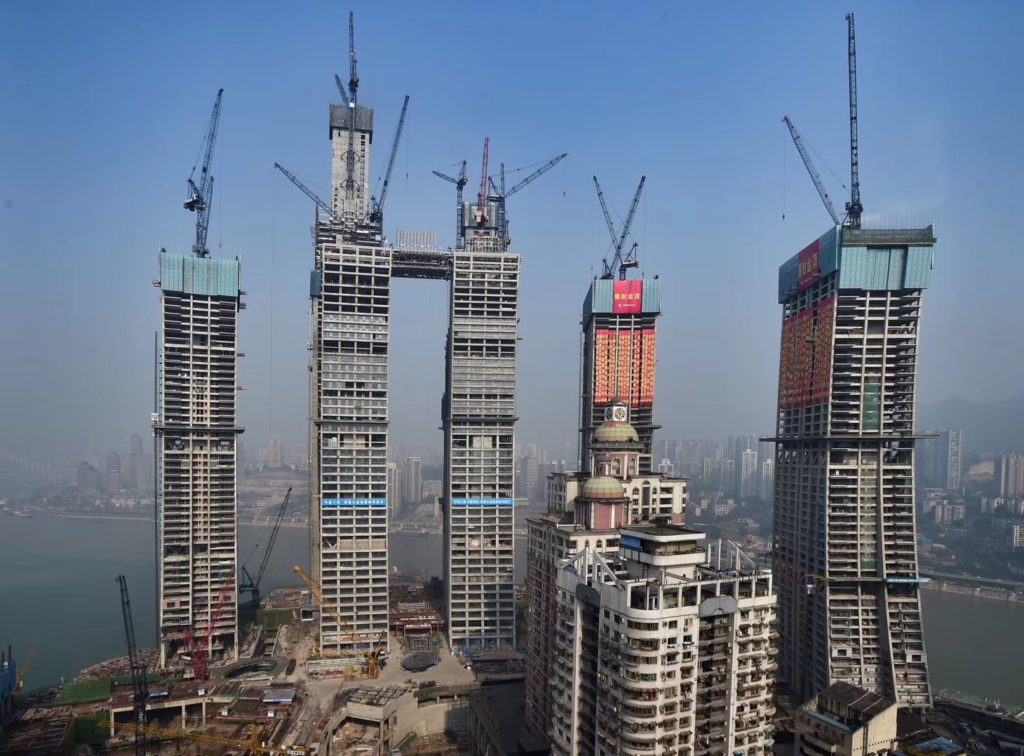 Raffles City Chongqing occupies a site area of 9.2 hectares. It will bring together a 230,000-sqm shopping mall, 160,000-sqm office space, 1,400 residential apartments, Ascott Raffles City Chongqing serviced residence and a luxury hotel.
Furthermore, it's fully integrated with a transport hub comprising a metro station, bus interchange, ferry terminal and cruise centre.
The video below shows the how a 1,100-tonne segment of the 300-metre-long platform was hoisted 250-metres high.