Review: Capella, Marigot Bay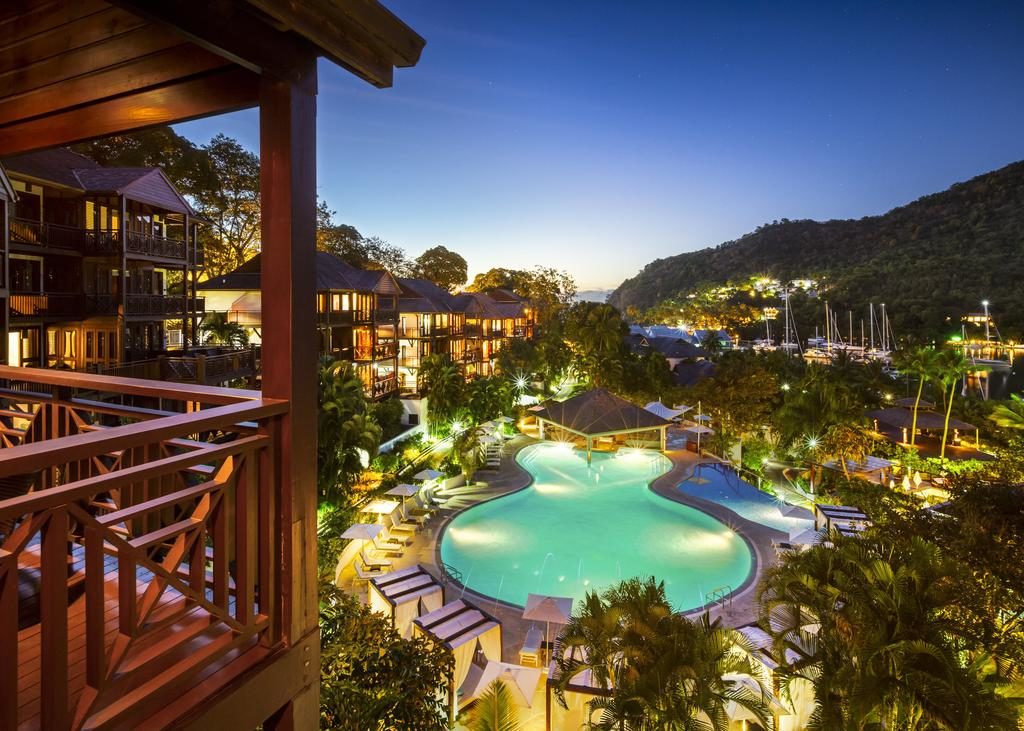 Marigot Bay in St Lucia is one of the world's more exclusive addresses, drenched in famous faces from music, film and big business, and you never know if promenading along the beach who you might encounter sharing the sand with you.
However St Lucia is not just for glamour pusses and sex gods, it is also a wonderful location for families seeking the warmth of the Caribbean sun on their backs while still having plenty to do and keeping the brats, ahem, kids stimulated and happy.
Intrigued TD, sent husband and wife team professor Alice Gregory and doctor Paul Taylor to check out the Capella, Marigot Bay with brood in tow, to get the skinny on this luxury family destination.
Location
Arriving in St Lucia, the earthy humidity conjures memories of botanical garden greenhouses. With such growing conditions, it is no wonder that the hillsides en-route to Capella, Marigot Bay are so luscious. The hour-long winding journey from Vieux Fort airport to Marigot bay provides early views of the St Lucian rainforest, seaside villages, and plantations.
The greenery of the mountains is reflected in the ethereal turquoise water. On arrival at Capella pomegranate tea (laced with rum) is offered to the guests with staff introducing the hotel and its amenities.  An electric buggy transports guests and their bags to a tasteful wooden-clad apartment, complementing the scenery.
Stay
At 11 degrees latitude sunsets are early in St Lucia (around 6.30pm) – so families retire earlier than in Europe. The four poster beds are luxe and it's easy to forget that the pretty drapes enclosing them are actually mosquito nets. The bathrooms are grand and include thoughtful items such as natural insect repellent and expensive bathing products as well as the standard towelling and hotel mongoramed bath-robes.
The Capella offers a choice of five different room types, including Standard Room (43 sqm), a One-Bedroom Suite with Bay View (115 sqm), Two-Bedroom Bay View Suite (above, 124 sqm), Two-Bedroom Penthouse Suite (115 sqm), Three-Bedroom Penthouse Suite (133 sqm), Two-Bedroom Bay View Suite (124 sqm) and – for the high-rollers – the Penthouse, a 139 sqm pad with the some of the best views and photo ops in the resort.
All the rooms feature the latest mod cons, wrapped up inside interiors which combine traditional West Indian influences and modern style sensibilities and incorporating aqua, coral, and rainforest green hues to create a refined yet relaxing vibe.
The rooms come with a mix of amenities and guests have the option of rooms with a hot tub, balcony, or patios, depending on their whims.
Eat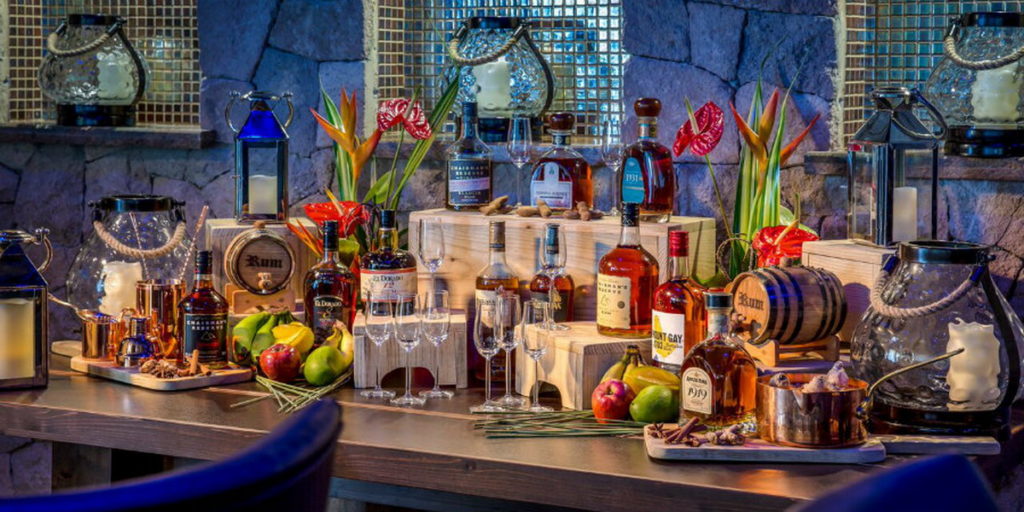 Located on the resorts marina village, the Hurricane Hole Bar & Restaurant is Capella, Marigot Bay's main all day restaurant. Featuring a menu of traditional old world dishes, as well as regional favourites such as salt fish and plantains, it's not just resort  guests who find their way here either – it's a popular spot for locals to come for lunch and dinner too.
Boasting an intimate and relaxing atmosphere, The Rum Cave(above) is a favourite for enjoying late-night bites, lunch or dinner. With live music some evenings, guests can dine on a choice of seafood, pasta and sandwiches all the while being serenaded by local performers, overlooking a beautiful lagoon.
The Grill is all about the fish. Only using the best specimens from the daily haul of local fishermen, The Grill has developed a reputation for the theatre of its open fire cooking style, from a bed of naked flames in the middle of the restaurant. Though focused on ocean fare, carnivores and veggies are also well catered for with its range of Caribbean-inspired dishes.
Do
August is off-season so the hotel is rather quiet – but not so quiet that happy hour falls flat. This appears to be the social focus of the day. Hotel guests as well as those from moored yachts and staying locally, gather around the pool bar to enjoy the cocktails, many of which are designed around smooth locally made Chairman's rum.
With reduced inhibitions, conversations spark between honeymooners, airline staff and various yacht owners who are travelling the world on their boats.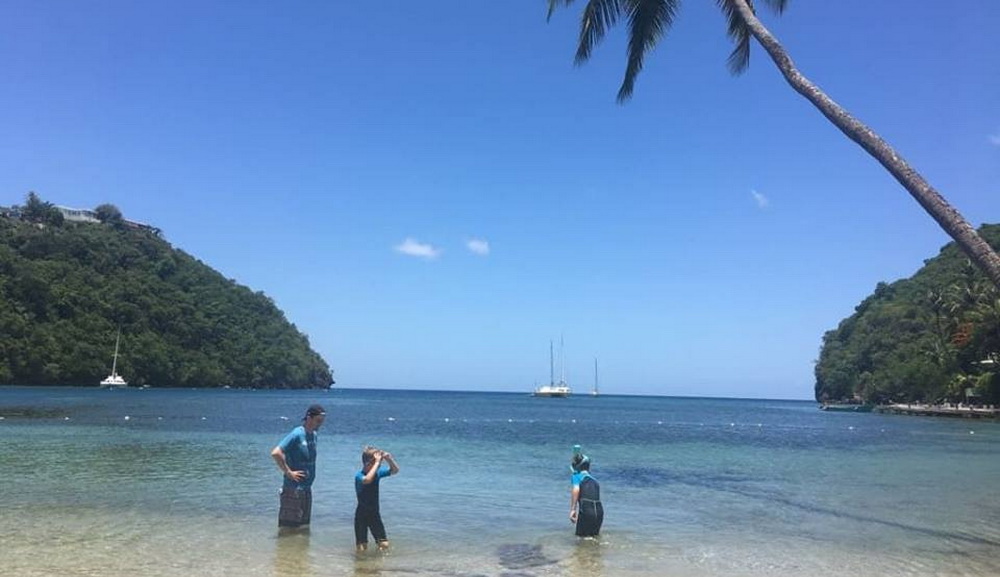 During the days, the hotel ferry from the marina provides access to the local beach a few hundred metres away. It is small but perfect enough that photos sent home leave friends clambering for a visit.
The beach hosts a hotel representative ensuring guests are looked after and also has locals keen to sell their wares. Upon agreeing a price for a 'fresh coconut' a local man effortlessly ascends perhaps 10 metres to cut one down.
Sundays are the best day of the week as locals are swimming there too – with families relaxing, children playing in the water, and music blaring it feels like a party.
Whatever the mode of transport it's well worth visiting the pristine Sugar Beach (below) – popular among celebrities for its plush sun loungers and restaurants –  and the more relaxed Rodney bay with longer sands and with fewer tourists. Snorkelling at both reveals a rich array of well camouflaged fish as well as those daring to flash their tropical colours.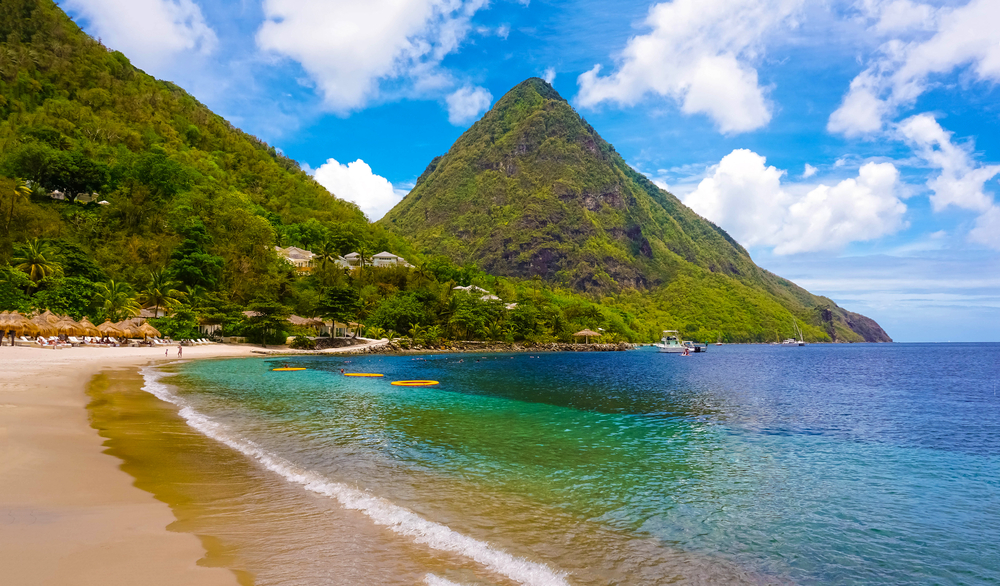 With young children the Caribbean can more often be about relaxation with activities limited – but there is a lot to do: canoeing around Marigot bay;, a trip to the local rum distillery (including way too much tasting); and dancing the night away at the Fish Friday festival at Anse La Ray.
Excursions cost extra and can be booked via the hotel through an affiliated tour operator at costs probably aimed towards yacht owners but a short walk to the end of the hotel complex yields similar trips costed at a quarter of the price if you are prepared to travel by road.