SiloStay goes against the grain to offer an eco-friendly experience
Contributors are not employed, compensated or governed by TD, opinions and statements are from the contributor directly
SiloStay is an innovative hotel in New Zealand with an eco-friendly design. Its quirky but detailed hotel rooms are converted from grain silos, wherein visitors can have a unique and extraordinary experience.

Location, location, location
SiloStay is a hotel complex in the heart of Little River, a quaint little town on the Banks Peninsula. It's a 50-minute drive from Christchurch, which is the largest city in the South Island of New Zealand.
Although the modest town isn't sprawled with malls, restaurants and nightclubs, its isolation and peacefulness is a big advantage for travellers seeking inner peace and tranquillity.
Also known as "the Gateway to the Peninsula", it's the perfect camp for those who want to explore the great outdoors as shown in the video below.
The man behind the vision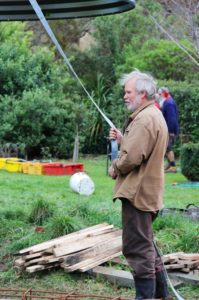 SiloStay is the brainchild of Stuart Wright-Stow – a visionary, a leader, and an innovator. Along with his wife Angela Wright-Stow, he also runs the Little River Gallery, an art depot near SiloStay, known for its diverse and 100% native art.
Stuart's vision of life is unlike any other. He sees objects beyond their ordinary form, and this is how he came up with turning the agridustrial silo structure into a unique and relevant accommodation solution for Little River.
He thought about the complications and the challenges of its circular shape and realised his dream by building an innovative, eco-friendly, and exciting hotel.
In 2011, just prior to the Christchurch earthquake, Stuart embarked on the creation of SiloStay, along with his design team F3 Design.
Going against the grain
Grain silos are traditionally found on farms, filled with animal feed. But in this case, they're used as individual units as part of an innovative, eco-friendly, and affordable hotel complex.
SiloStay's goal is to be different. To try something that has never been done. Their mission is to leave a mark on people's imagination while being mindful of our precious environment.
To note a few examples of their efforts, SiloStay uses sheep's wool for insulation, eco-boilers, water-saving wash bins and toilets, and a skylight at the top of the rooms to save energy during the day, and for spectacular views at night.
Even the showers are heated using a pellet burner that uses recycled wood and paper.
SiloStay's concept is simple, but its details are meticulous.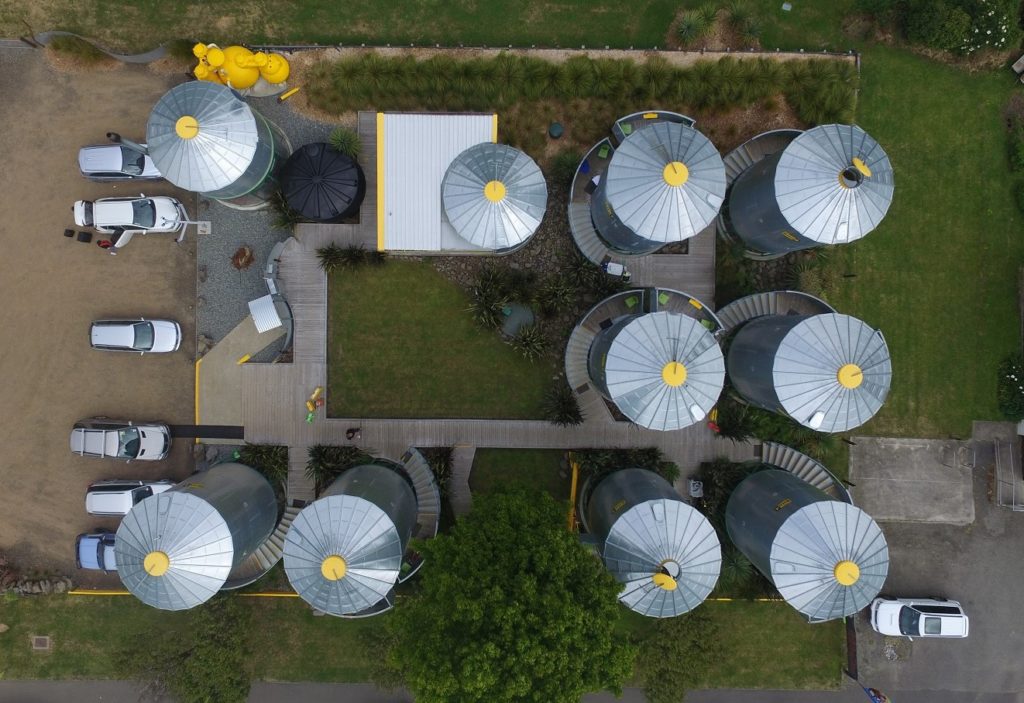 When you stay at SiloStay
SiloStay has eight singular units that could each accommodate two people at a time. The two-storey units are 8.7 metres high and equipped with wall mounted TVs with satellite channels, DVD players, stereo units, and of course, free Wi-Fi.
On the ground floor, there's a custom fitted kitchenette for guests' cooking needs, a relaxed seating area, a toilet and an exterior balcony.
Up the steel spiral staircase is a bedroom with its own balcony and a bath area. Beds are fitted with feather and down duvets, and electric blankets.
And if guests need wheelchair access, they also have an accessible silo.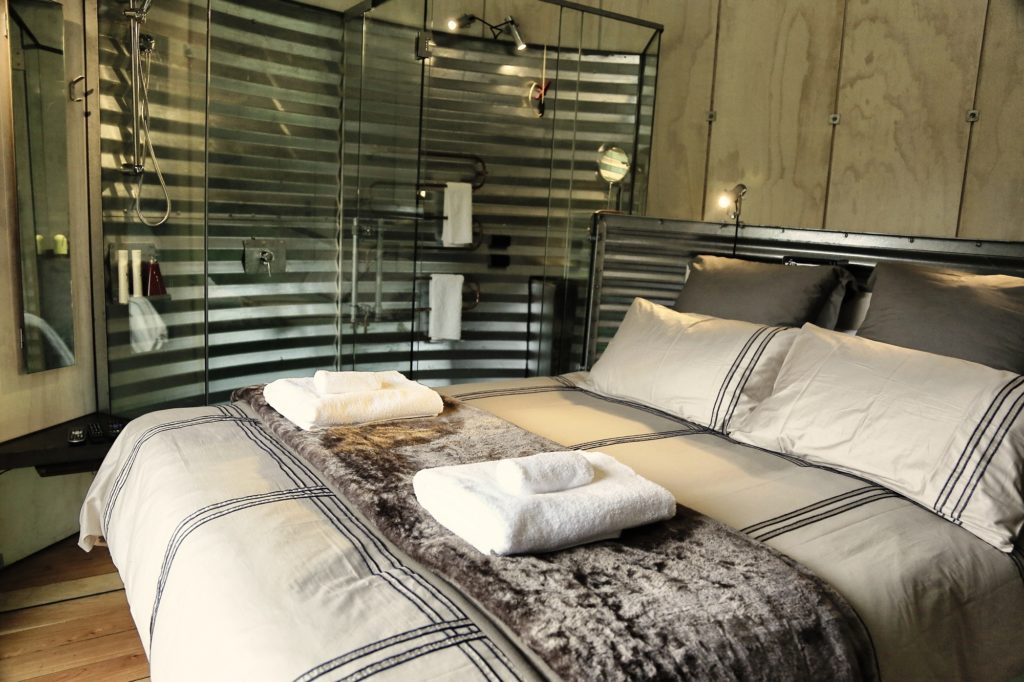 Delissimo Meals
For guests looking for delicious eats, the apartments are set up for self-catering to eat in. Each unit contains a kitchenette with a small fridge, a microwave and two element cooktops.
They also have a fine selection of gourmet microwave meals – from Akaroa Smoked Salmon Frittata to Green Salads, Freshly baked Ciabatta and Baked Ricotta.
Fresh meals can also be prepared for you upon request during your booking.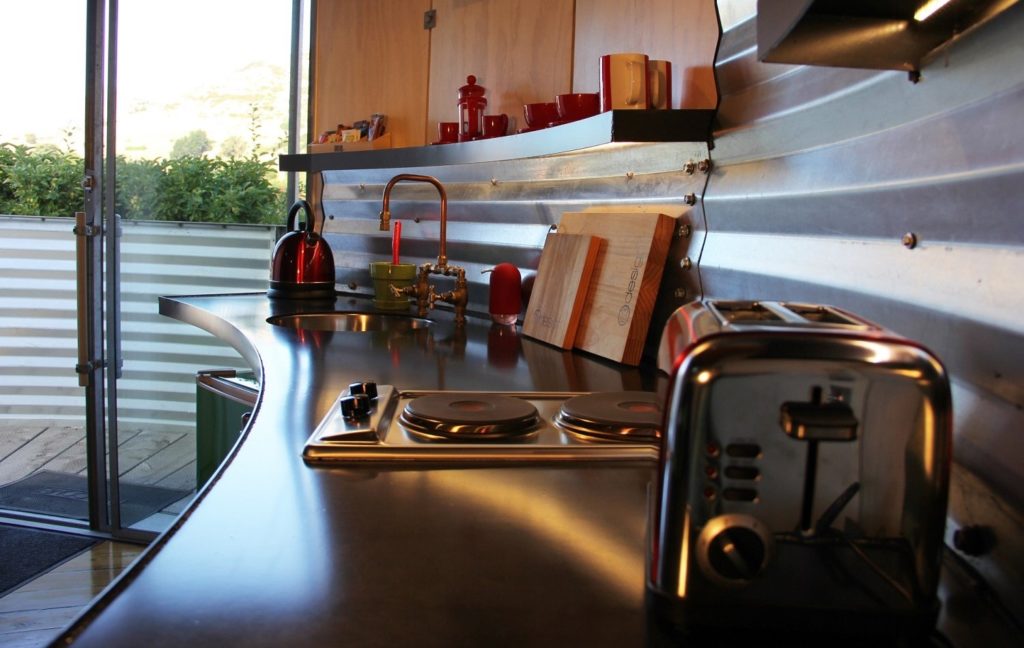 The SiloStay effect
SiloStay has potential in opening avenues for further ventures – commercial and domestic.
Its unique and eco-friendly design can be a model for a myriad of structures in other situations and locations. Silos could become city offices, sleep-outs, information centres, or basically anything else that would require a compact vessel.
Stuart and F3 Design are open to designing for clients, should they have the vision to create extraordinary silo units of their own.
Visitors have been raving about SiloStay. See their reviews on TripAdvisor by clicking here.
You may also visit their official website at http://www.silostay.kiwi.nz/