World's first Boeing 787-10 Dreamliner arrives in Singapore
Singapore Airlines welcomed the world's first 787-10 aircraft last week when it arrived in Singapore from Boeing's production facility in South Carolina, USA.
Cited by Boeing to be the first recipient of the multinational's new planes during the unveiling ceremony in February last year, SIA is also the largest customer for the 787-10, with firm orders for 49 of the type. The Airline also has a firm order with Boeing for 20 777-9s, which are due for delivery from the 2021-22 financial year.
"The 787-10 is designed with the latest in technological innovations and SIA is proud to be the launch customer for this newest and largest variant of Boeing's Dreamliner family," said Singapore Airlines CEO, Goh Choon Phong, who travelled on the delivery flight from North Charleston.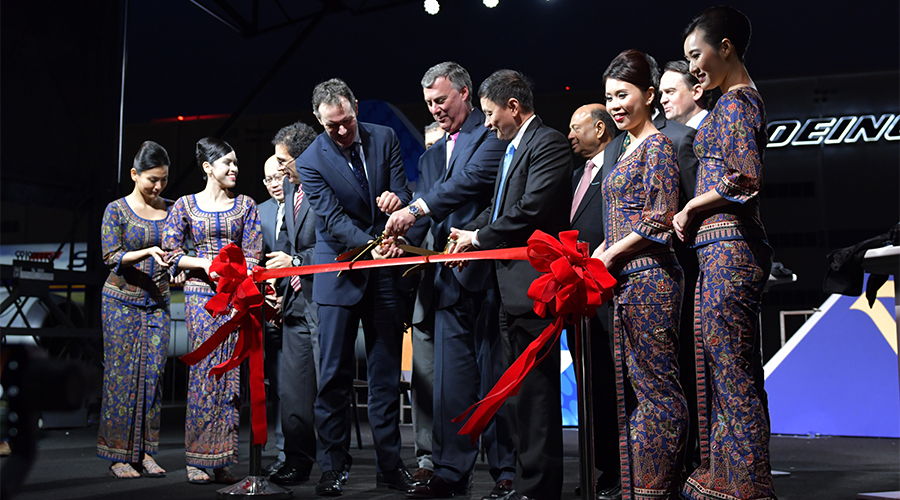 Guests who attended the event also had the opportunity to witness the unveiling of SIA's next-generation regional cabin products, which will be fitted on the new 787-10s. They include all-new Business Class seats which recline into fully-flat beds.
Discussing the cabins Phong went on to say: "The new products were the result of a series of consultations with customers, and from working closely with our seat designers and manufacturers. We are confident that the new regional cabin products, with full-flat beds in Business Class and the many new features in Economy Class, will offer our customers a more comfortable in-flight experience even on the shortest flights."
"With the unveiling of our new regional cabin products, today's milestones represent Singapore Airlines' commitment and dedication to providing our customers with a premium travel experience like no other."
SIA's 787-10s will be used on flights up to eight hours and will commence scheduled service between Singapore and both Osaka and Perth in May 2018, with more destinations to be added as additional aircraft are received. Prior to these services, the aircraft will be operated on select services to Bangkok and Kuala Lumpur for crew training purposes.
Singapore Airlines regional vice president, Philip Goh, said he was pleased that Perth had been selected as the first Australian destination to receive Singapore Airlines' new 787-10.
"For more than 50 years we have grown and invested in our Perth operations," Goh said. "Deploying our brand new 787-10 product to Perth reinforces the importance the city plays in our global network and will help to cater for the growing demand we have seen from the West Australian Market.
"I am looking forward to welcoming the new aircraft to Perth and showcasing our new regional cabin products to our customers."