Royal Plaza's scream queens present 'Your Worst Nightmare'
This Halloween, Royal Plaza on Scotts raised the spook factor with  seasonal dress-up competition between CEOs of different departments. As part of the festivities, front office and Carousel CEOs also donned professional make-up, bringing Halloween right to the hotel's doorstep.
The dress-up competition was held on Tuesday, 31 October 2017, from 3pm-4pm at the hotel lobby, where each department transformed their chosen CEO according to the theme 'Your Worst Nightmare'. The competition was stiff, as the various departments tried to outshine each other with their costumes, make-up, and immense creativity.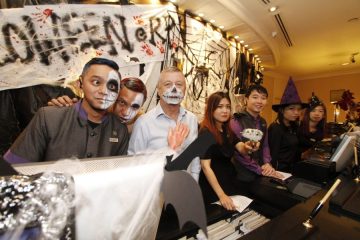 The walking nightmares paraded around the hotel lobby and Carousel to garner public votes, and gave their best impression of their respective characters. Being mini celebrities of their own, they received plenty of laughter, photo requests, and the occasional wide-eyed look from amused guests.
For the Front Office and Carousel CEOs, preparation began at 10am, when professional make-up artists came down to give them a makeover. The CEOs remained in character while going on their everyday duties, from welcoming guests at the Concierge to serving scrumptious plates of food at Carousel. Guests were pleasantly surprised to be served by clowns, jokers, witches and zombies, just to name a few.
This is part of Royal Plaza on Scotts' Weekly Delight initiative, a weekly event where departments take turns to hand-deliver sweet treats and healthy snacks to offices and back of house to perk up the CEOs' day. Mini-competitions are also organised to encourage bonding and embracing of festivities to create excitement and memorable moments for all.
General Manager and CEO, Patrick Fiat, who sported a half-face skull look, said, "It is fantastic to see our CEOs so enthusiastic about the event! We believe that a great work environment will translate into great service for our guests."