5 jaw-dropping landscapes in Setouchi region, Japan
Steeped in legend and culture, the bejewelled seascape of the Seto Inland Sea is one of Japan's hidden secrets. Comprising seven prefectures and thousands of islands, Setouchi is the perfect mixture of culture, food and jaw-dropping landscapes. While Japan's more familiar stomping grounds are often rife with crowds, Setouchi has a number of open spaces offering stunning flowers and sculpture gardens and national parks to breath in.
Setonaikai National Park
The Setonaikai National Park is located in the Seto Sea boarding ten prefectures across Honshu, Shikoku and Kyushu. There are a number of scenic observation points ashore overlooking the sea whilst distinct features of the park include; the Daifudo Cave, a traditional monks' training ground, the five-coloured plateau of Goshikidai and Mt. Misen, a scenic mountain ideal for novice climbers. Surrounding the park are areas of terrace fields and port towns flourishing with Japanese culture.
Flower parks, Hiroshima Prefecture
Every August, the small town of Sera plays host to the Hiroshima sunflower. Over a million flowers grow across 150 thousand square metres of the park offering vast stunning sights of green and yellow. Sera has several flower parks blooming year-round with seasonal flora such as lilies in July, during this time over 500,000 lilies bloom in the Sera Yuri En (Lily Garden). Bihoku Hillside Park is a national park spreading out over three hectares in the Bihoku region of Hiroshima. Here there are 70 varieties of flowers that blossom in the Flower Square during the spring and autumn months. Additionally, the park hosts a forest with an excellent outdoor athletic track and gorgeous ponds.
Ushimado Olive Garden, Okayama Prefecture
Ushimado Olive Garden, located in Okayama Prefecture, offers beautiful views from a hilltop looking down onto numerous olive trees. Overlooking evergreen islands scattered around the Seto Inland Sea and onto the port town of Ushimado, the garden is dotted with Greek-inspired monuments. During the late-winter months, colourful plum flowers bloom, while the spring months bring the famous cherry blossoms and in summer, deep blue hydrangeas grow.
Isamu Noguchi Garden Museum, Kagawa Prefecture
Sculptor, Isamu Noguchi established a studio in the village of Mure where he carved large granite and basalt sculptures. Today, Isamu Noguchi Garden Museum is hidden in Mure between historic Yashima and Mount Gokenzan in Kagawa Prefecture. The museum has a collection of 150 sculptures, many of which are still unfinished, preserving the working atmosphere of his studio. There are open-air workshops that line the road where massive, raw, stone slabs stand alongside finished pieces carved into pagodas, lanterns, and Buddha statues.
Vast mountain space in Ehime Prefecture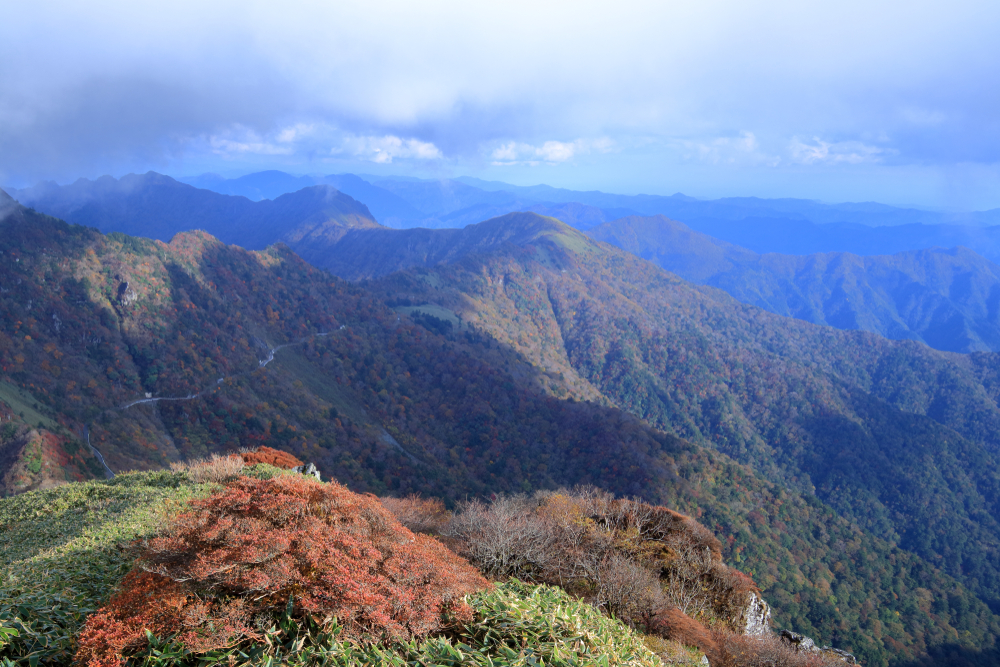 Found in the Saijo area of Ehime Prefecture stands Mt. Ishizuchi and Mt. Kamegamori. Mt. Ishizuchi is one of Japan's seven sacred peaks; it is named the 'Stone Hammer' as a result of its sharp and rocky summit. Standing as the tallest mountain in western Japan with a peak of 1,982 meters, it's not only known for its beauty but also for the challenge it presents climbers. The peak offers views of peace and tranquillity.
Facebook Notice for EU! You need to login to view and post FB Comments!