7 pod hotels to catch some rest on World Sleep Day 2018
Today, 16 March, we celebrate the benefits of good and healthy sleep – it's World Sleep Day!
Good skin, a clear mind and better memory, these are only some of the benefits of a good night's sleep. But travellers often struggle to get the quality and quantity of snooze they need.
Fortunately, hotels offer programs, services, and amenities to usher guests into deep slumber. Their luxurious beds and linens aim to provide extreme comfort to their guests. In addition, the hotel industry created a sub-type that caters to backpackers that seldom hole themselves in their rooms – these are pod hotels.
Pod hotels provide an inexpensive form of lodging to those who are travelling on a budget. They're perfect for guests that spend more time outdoors, and it's also become a go-to place for people who just want to catch some sleep. Japan, the forerunner in pod hotels, created this type of accommodation for guests who wanted to stay for a short time.
Want to try sleeping in a pod hotel? Book on one of these seven pod hotels for a staycation on World Sleep Day.
1. 9 Hours, Kyoto, Japan
Japan is the pioneer for capsule or pod hotels and 9 Hours hotel caters to backpack tourists and
travellers in Kyoto. Guests can catch some snooze in one of the hotel's 125 horizontal chambers. Each
pod resembles a business-class airline seat spacious enough for one. Guests get access to a locker and
shared bathroom and can book a stay for at least four hours.
2. Pod 39 Hotel, New York, USA
Catch some Z's in the city that never sleeps in this chic Pod 39 Hotel. This 336-hotel room is a former
heritage building that sits in Manhattan's Murray Hill neighbourhood. Reminiscent of a hostel or
dormitory, the common areas, like the rooftop, encourage guests to mingle and interact.
3. Rolling Huts, Winthrop, Washington
Pod hotels are common in busy cities, but the Rolling Huts are parked in the countryside, about 180
miles northeast of Seattle in the North Cascades. Each tiny hut is adorned with sleeping platform and
modular furniture. Massive glass windows give a full view of the magnificent landscape day or night.
4. QBIC, Amsterdam, Netherlands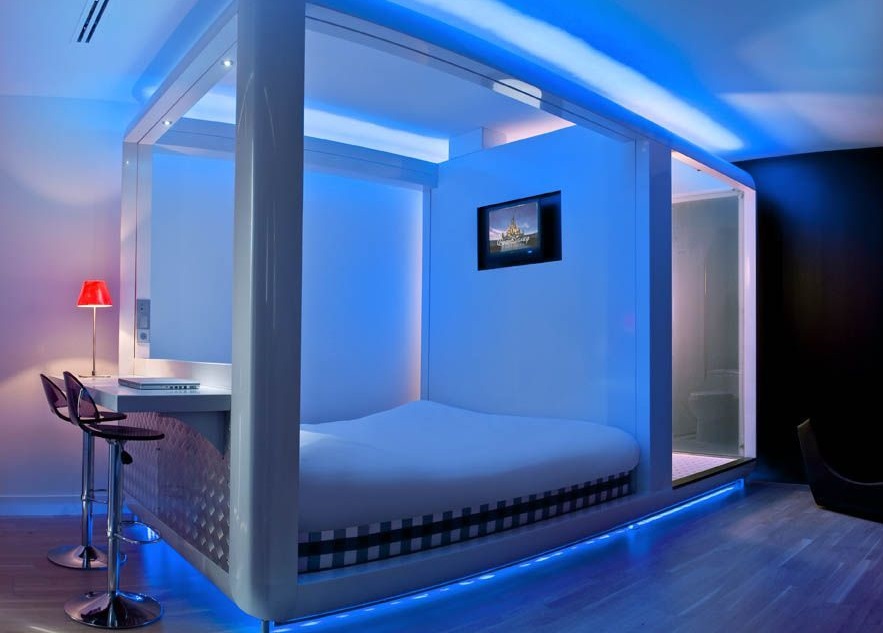 QBIC's futuristic rooms provide a great contrast to Amsterdam's historic landscape. Decorated with LED
lights, it provides lighting while creating different moods perfect for some beauty sleep.
5. Citizen M, Glasgow, Scotland
This growing hotel chain is designed for the global traveller as it offers an international plug system, ambient
mood lighting, and free movies and Wi-Fi. Perfect for short stays or business trips in Glasgow.
6. TuboHotel, Tepoztlan, Mexico
Tubo is the colloquial term for pipes, a fitting name for this unique lodging where guests can spend the
night in up-cycled concrete pipes. Each chamber is equipped with a queen-sized bed, light, fan, and free
Wi-Fi. While the "pipes" are not air-conditioned, the hotel has a pool and picnic and barbecue areas.
7. Time Capsule Hotel, Kuala Lumpur, Malaysia
The Time Capsule Hotel in Malaysia is one of the futuristic-themed pod hotels. Each pod is equipped
with a bed, sockets for charging your devices, and a smart TV you can play games and watch TV on. The hotel also has a café and a vape bar for their guests.