8 Israeli technologies that will help us travel again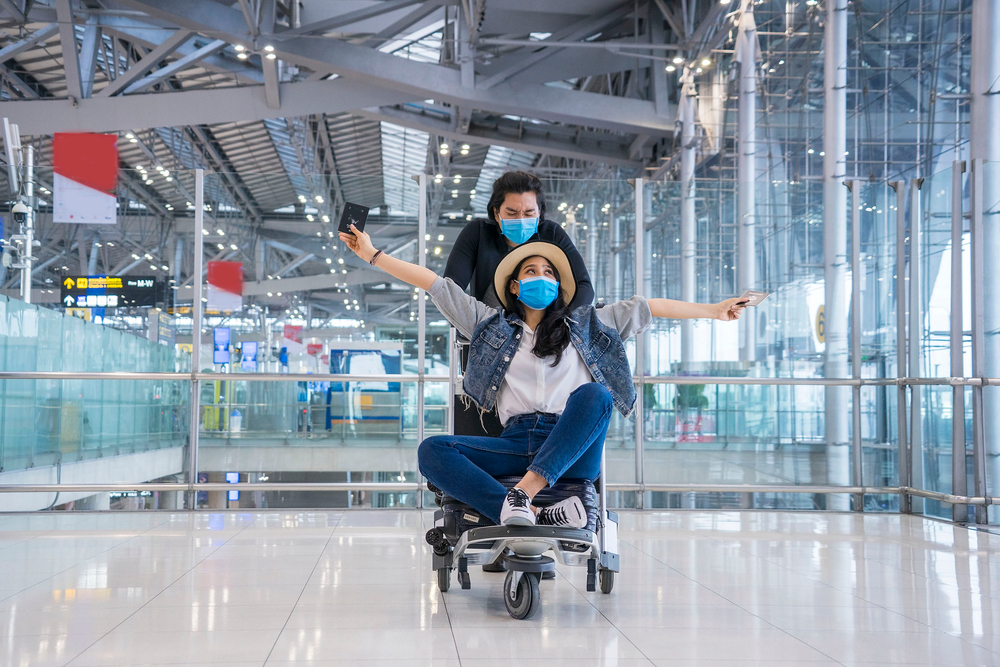 Travelling at the time of COVID-19? Meet our new reality.
Facing a global crisis, several Israeli companies have developed products and technologies that will allow the tourism industry to return to operate safely and efficiently.
Israel is often labelled as 'Start-up nation' or the second Silicon Valley as Israelis are considered to be creative and resourceful people who tend to 'think outside the box'. When the global Coronavirus crisis broke out, many Israelis came together to think of technological solutions to fight the virus and restore life to normal. Some of these solutions will allow people to travel the world or fly for business again, helping to restore normality.
Here are some of these technologies that will allow the industry to return to a safer and corona-aware routine as soon as possible:
60-second detection
Instead of a taking a swab, with all the logistics and labs, hard-to-get reagents and at least two days until you get the answer – Maf'at (Directorate of Defense Research & Development) is working on a development that will reveal within 60 seconds if a person is positive for Coronavirus. This technology uses tera-hertz frequencies, a thousand trillion times a second. With the help of this technology, we will be able to identify virus carriers in the airport prior to boarding. Those who test positive will not be allowed to board the flight, which protects the health of flight passengers and crew, as well as the population of the destination country.
Artificial nose which can smell corona
Did you know Coronavirus has a smell? An artificial nose technology developed by NANOSCENT that's currently used to identify pregnant cows is now being tested for the purpose of detecting Corona. With the help of a rather small device, we will be able to detect the molecules that are released from coronavirus carriers. Installing this device in public spaces will assist in detecting and identifying the virus when present, which will confirm a location is Coronavirus-free and safe to walk through.
Temi – a smart robot
Imagine the following scene:  You arrive at the airport and are greeted by a robot instead of the ground-attendants. Or, when boarding the plane itself, you're greeted by a flight attendant-robot that escorts you to your seat. What if these robots can still maintain a high-level of service, but also maintain hygiene and protect the health of the crew and passengers? What if we told you that this robot, developed by RAFAEL, already exists and is already undergoing trial in hospitals? The robot aims to replace some of the medical staff in departments treating Coronavirus in order protect the health and safety of the medical teams. This technology can also be used at airports and hotels during the check-in and security check processes.
Mask that can be worn for long hours
We do not know yet what kind of restrictions passengers will be subject to, but these are likely to include wearing a mask throughout the flight to protect the health of the passengers. What if the flight lasts for ten-hours or more?  That will make wearing a mask a lot more difficult. A joint development of Meir Hospital in Kfar Saba, Israel Border Police and the Israel's Counter Terrorism Unit (Yamam) has resulted in a new mask connected to bellows that will enable easier breathing on flights and long trips. The mask is currently being used experimentally in hospitals and helps medical teams breathe without difficulty.
Thermal imaging and body heat scans
One way to detect Coronavirus carriers in public places is to check people's body temperature at the entrance to public spaces, such as shops, restaurants, and accommodations. The next technological solution is under development and will allow thermal imaging and body heat scans of large groups of people at the same time. This technology can be used anywhere, from hotel lobbies to the entrances of tourist attractions. It was developed by the video company Hikvision, in collaboration with HVI Security Solutions, from the C Data Group and Team 3.
Ultraviolet light that destroys the Coronavirus
Mayanei Hayeshua Medical Center managed to destroy the presence of Coronavirus in medical spaces with the help of a special ultraviolet light, which is harmless and safe to use even for an extended stay. Will we soon see this in guest rooms and accommodations? Or maybe in public spaces such as museums and restaurants? If so, this technology will allow us to continue to enjoy tourist attractions while maintaining our health. The technology was developed by a medical team led by Dr. Boris Orkin, a team of physicists, and businessman Eldad Perry.
Identify signs of the virus using a cellphone camera
A development of Binah.ai that offers monitoring and detection of viruses through the device's camera alone. By downloading an app, you can perform remote and real-time tests that monitor your heart rate, oxygen saturation (SpO2), respiration rate and mental stress – all from your smartphone, laptop or even personal tablet. Binah.ai's technology uses signal processing and artificial intelligence, combined with mathematical algorithms, to detect an illness via camera in less than two minutes.
Identifying threats in health systems
In challenging times that require social distancing, See-True revolutionizes the current security process with automatic threat detection using artificial intelligence. See-True's autonomous AI program provides automatic threat detection and alarm resolution to critical health systems, such as X-ray and CT. The company was recently selected by the United Nations World Tourism Organization to help the global tourism industry recover from the COVID-19 crisis, after winning the Global Healing Solutions Challenge.