A home away from home: PGA Catalunya Resort, Spain
Contributors are not employed, compensated or governed by TD, opinions and statements are from the contributor directly
It's not uncommon for hotels to recreate the charm of a home. But not all get it right. Hotel Camiral — a part of PGA Catalunya Resort in Girona, Spain has managed to come close.
Previously managed by Spanish group Melia Hospitality, it didn't just changed hands managerially but also aesthetically. After a hefty overhaul, this part of the 300-acre golf resort recently earned the title of "Best Hotel Interior Spain" at the European Property Awards.
The three-tier mansion felt as inviting and home-like as designer Lázaro Rosa-Violán would have intended. Cozy couches, ceiling-high glass windows and pastel hues seemed apt for his reputation as a master of light and space. Capitalising on the natural views of the Mediterranean pool, rolling green contours and the striking Pyrenees — it creates the perfect backdrop for a modern vacation.

Featuring 145 rooms and suites, Hotel Camiral is on the doorstep of the historic town of Girona and under an hour from the vibrant city of Barcelona.
Costing them a wholesome EUR 33 million, the redesign began in 2014. I sat down with CEO David Plana for a lowdown on why and how this investment enhances their experience on offer.
TD: What inspired the refurbishment of Hotel Camiral?
DP: Since inception, PGA Catalunya Resort has evolved from a luxury villa development surrounded by two championship golf courses, to a world-leading and next-generation luxury resort offering an array of facilities and sports amenities.
Hotel Camiral's opening was just one aspect of PGA Catalunya Resort's overall Master Plan, including a further EUR 22 million investment announced in 2018, with the objective of continually evolving as a world-leading resort and providing five-star services and facilities to guests and owners.
What's the central theme and feel with the new look?
Hotel Camiral combines luxury, comfort, elegance and sleek design as brought to life by Lázaro Rosa-Violán. With beautifully designed, richly textured living spaces, Rosa-Violán has anchored the hotel firmly to a sense of space – suites are filled with details paying homage to the surrounding region: oak flooring, hand-painted Spanish tiles, and gilded mirrors add character to the earth-toned design scheme.
Rooms and suites, including the recently launched Duplex Suites, offer expansive views of the beautifully landscaped gardens, golf course and the surrounding mountains, expertly connecting the outdoors with the interior – a key theme echoed throughout PGA Catalunya Resort.
Since it is one of the best golf courses in Europe, golf tourism is a major draw. But what's in it for non-golfers?
Golf remains an important market for PGA Catalunya Resort. There are two championship golf courses, The Stadium Course and The Tour Course, with The Stadium Course being considered the number one golf course in Spain with the best facilities and overall golf experience. This year we invested a further EUR 2.5 million in the golf facilities and amenities including the Academy, Clubhouse, buggy fleet and overall course improvements.
However, we are so much more than a golf resort and we welcome many non-golfing guests who are seeking to take advantage of our location and explore the local area – we are ten minutes from historic Girona and under an hour from the vibrant city of Barcelona, whilst the iconic beaches of the Costa Brava are just 20 minutes away.
In addition, the picturesque setting of the hotel, lends itself perfectly to outdoor activities and Hotel Camiral offers an extensive outdoor programme including group nature walks led by the hotel's expert biologist; bicycle rides and walking or hiking trails to discover the local area.
There's so much to explore in the surrounding region, from wine-tasting to horse-riding treks to local destinations including Sand Iscle Castle, Llobet reservoirs, Llobet fortified farmhouse and Caulès hermitage.
You also have a real estate side to PGA with villas up for sale. How does the resort and real estate at PGA blend in?
PGA Catalunya Resort attracts families, couples and groups of friends for its beautiful surroundings of forests and mountains, rich with local plants and animals, and a wide variety of activities designed to encourage both guests and owners to enjoy spending quality time outdoors.
Our luxury real estate offerings blend seamlessly with the natural landscape, whilst being unique and instantly recognisable by their modern design. We offer owners and hotel guests the perfect combination of modern design, comfort and wellbeing, with a Mediterranean lifestyle in harmony with nature.
Both customer groups are encouraged to make use of the extensive facilities at PGA Catalunya Resort, from activities to the numerous dining options including Hotel Camiral's elegant restaurant 1477, featuring the finest offerings from local artisan food producers, to the more informal Club Café in the newly renovated Clubhouse serving a modern take on clubhouse classics.
The high speed cuts the Barcelona-Girona journey to a mere 30 minutes. What makes Girona a sought-after destination? And how does PGA enhancing local tourism?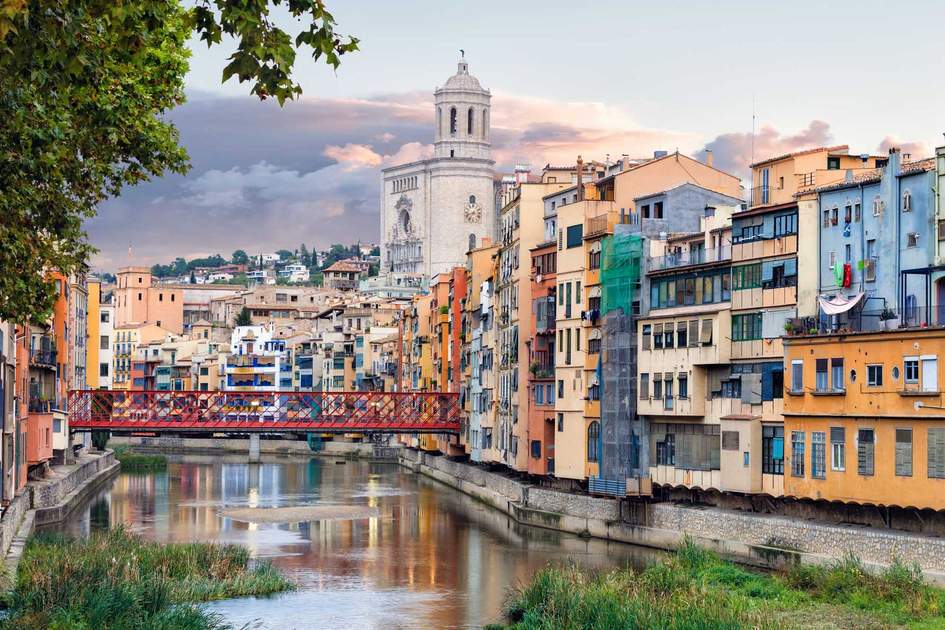 The region of Catalonia, Spain, is so richly steeped in history and culture, naturally, it has become a thriving hub for the world of art, design and food, all of which can be easily experienced using Hotel Camiral as your base, and visitors shouldn't miss medieval Girona.
Steeped in culinary heritage and tradition, the city features a fascinating mosaic of historical treasures and monuments. The impressive cathedral, picturesque streets, historic bridges and churches ooze historic charm.
Girona is well known for its vibrant local dining scene, from Michelin starred restaurants to local tapas bars. An ideal way of exploring is by treating your taste buds to a four-hour food tour of the vibrant local dining scene, organised by Girona Food Tours, one of the local tour companies who we work with to encourage guests to get out and explore the local area.
Just one foodie hotspot in the city is El Celler de Can Roca restaurant, run by the Roca brothers and regularly listed as one of the world's best restaurants. 
Running a golf course doesn't come without an environmental cost. But I did notice treetop homes for bats and an apiary. How eco-friendly is the resort and how do you ensure the surroundings are conserved?
PGA Catalunya Resort has always made sustainability and the protection of our ecological environment a core objective, with a focus on minimising consumption as well as exploring opportunities for renewable alternatives and diversified energy sources.
Whilst we encourage guests to enjoy the Resort's beautiful surroundings, we ensure this is managed in a sustainable way through our carefully planned range of activities designed for guests and owners to connect with the area's plentiful natural ecosystems, rich with flora and fauna, creating a strong sense of place.
These include as mentioned the group nature walks led by the resident expert biologist, who'll demonstrate how to plant seeds, pick fruit and fresh vegetables when they are perfectly ripe, as well as lessons in horticulture in the Resort's organic vegetable garden, and we have also recently launched a new activity, NatureWalks.
These guided walks allow guests to further learn about the region's indigenous species of plants and mushrooms and how these are used in both ancient and modern Mediterranean cuisine. They can discover how to collect the best edible plants before being shown how these are used in the traditional dishes of the region through cookery displays – teaching them how to cook local delicacies that can be recreated and shared at home.
PGA Catalunya Resort has also adopted one million bees to deliver their very own local honey. We are also certified by the Golf Environmental Organization (GEO) in recognition of our continued commitment to nature, resources and community. The methodology behind this re-certification includes our use of recycling water, using solar and geothermal energy sources wherever possible, planting Bermuda grass to reduce water consumption and chemical use, and conserving the native flora and fauna in the grounds of the resort. 
Is there more to come?
As part of the mentioned continued investment plans, 2018 has seen the addition of lifestyle amenities and real estate opportunities including the renovation of The Clubhouse, encompassing The Club Café restaurant and exclusive members club, setting the new standard in clubhouse offering. Designed by Lázaro Rosa Violán, The Clubhouse offers the perfect atmosphere to relax after a round of golf, blending the natural setting and providing remarkable balcony vistas.
Our latest luxury real estate offerings include the addition of 50 new three-bedroom luxury villas, the La Selva Terraced Villas, positioned in pristine natural surroundings in the heart of the Resort, and six new four-bedroom contemporary Mediterranean-style villas, the L'Alzina Semi-Detached Villas. Both offerings are currently available for sale, to be completed in 2019.
Future development plans for 2019 include Vilobi, a new area within the Resort which is set to include two football pitches, a wine cellar including a wine tasting area and open kitchen, and a scenic lake and Lake Club.