Agoda announces 'Buy 1, Get 1 Free' on airfares to Hong Kong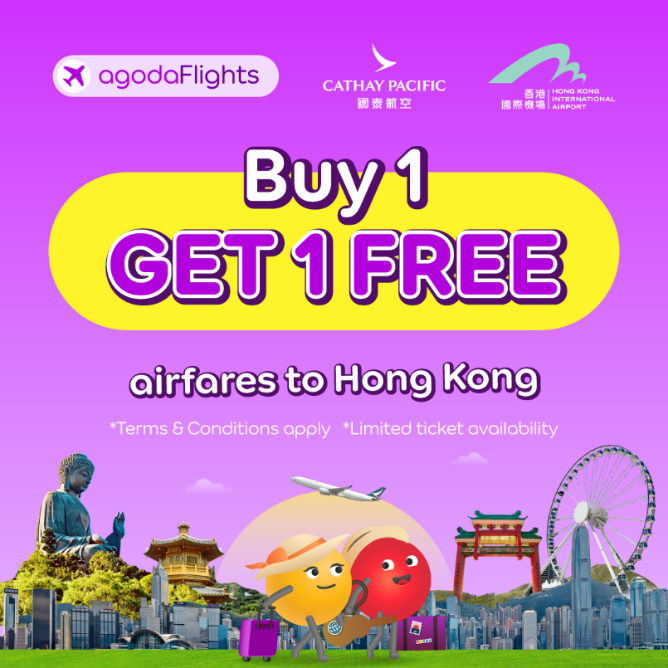 On 1st April online travel platform Agoda is releasing 1,400 flight tickets to Hong Kong from Thailand and Singapore as part of a 'Buy 1, Get 1 Free' deal. The promotion launches shortly after midnight and will be available for booking on Agoda on a first come, first serve basis.
On Agoda's flights page, https://www.agoda.com/flights, there will be a total of 1,400 Cathay Pacific flight tickets offered, with 600 from Thailand and 800 from Singapore. The special promotion is part of the 'World of Winners' campaign that's initiated by Hong Kong Airport Authority, Hong Kong Tourism Board, and Hong Kong's home carrier, Cathay Pacific, and aims to welcome visitors from around the globe to discover the beauty of Hong Kong.
Liyana Jamil, Vice President Partner Services at Agoda, expressed her excitement about the partnership, saying, "We're delighted to join the 'World of Winners' campaign. Our goal at Agoda is always to help travellers find the best value deal, whether it's for flights, accommodations, or activities, and it doesn't get much better than flight tickets at half price. Hong Kong is one of the top destinations on Agoda and this promotion is sure to make even more travellers fall in love with its vibrancy and beauty."
Agoda is a one-stop travel solution for flight bookings, accommodations, and activities. On April 1st, travellers from Thailand and Singapore can take advantage of the 'Buy 1, Get 1 Free' deal on Cathay Pacific flights to Hong Kong by booking on https://www.agoda.com/flights. The discount will automatically be applied to the base flight fare if promotional tickets are still available. To qualify for the campaign, travelers must be on the same flight and the return trip must be completed before December this year. Other terms and conditions apply.