Nine of the best: agoda reveal their top new hotels from 2017
Over the past year agoda's accommodation listings have doubled, and now the fastest-growing online travel booking platform offers over 2 million properties worldwide. With so many new options available, agoda has curated a list based on some of the most stand-out 2017 property openings around the world with options for every travel adventure.
Agoda's global director for brand and communications, Andrew Edwards, explains: "There have been some incredible hotel openings in last 12 months. From luxury resorts to quirky motels, the latest hotel openings have something for everyone in 2018."
"One thing that stands out is that the caliber of new more affordable properties has been particularly high. Travelers are increasingly demanding more for less, and as cash-strapped millennials make up more of the travel market, the industry is tapping into the demand for affordable accommodation that doesn't compromise on atmosphere and quality."
Best by Design — YOTEL Singapore
YOTEL is the hotel chain that provides guests with everything they need, and nothing more. From self-service check-in, to adjustable Smartbeds, a technowall and Smart TVs, each 'capsule' has everything the modern connected traveler needs. The hotel, created by Yo! Founder Simon Woodroffe, draws inspiration from both extremes – Japanese capsule hotels and luxury airline lounges. Check In to YOTEL Singapore, step out right into Orchard Road, the city's most vibrant shopping and entertainment hub.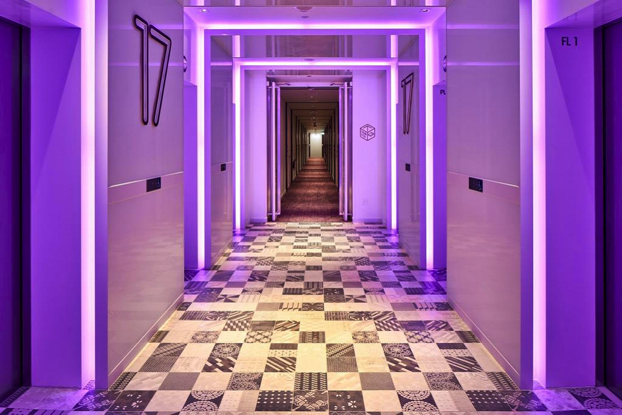 Best Reinvented Hostel – Steel House, Copenhagen  
Formerly home to the Danish Union of Metalworkers, Steel House Copenhagen has been transformed into everything you could need from a hostel without losing its unique raw edge. Whilst there are both private and dormitory rooms available, you won't find yourself feeling like a budget backpacker here with its balanced fusion of industrial interiors and soft textures. Check in to Steel House, step out to the Tivoli Gardens or Copenhagen Station located just 5 minutes away to open up an endless amount of places to explore.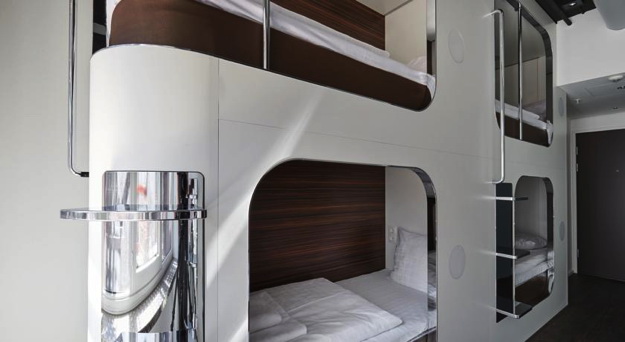 Best Eco-Hotel New York City, USA 
Another outpost of the nature-inspired 1 Hotel group, this 10-storey eco-conscious waterfront hotel has been designed by local artists using native greenery and reclaimed materials. Every room has a coffee machine with recyclable pods and mattresses with a hemp blend filling and 100% organic cotton sheets. Guests have access to a Tesla vehicle for complimentary rides to explore the city. Check in to 1 Hotel Brooklyn Bridge, step out to the Brooklyn Bridge Promenade located just located just 0.6km away to enjoy sweeping views of the Manhattan skyline and the East River.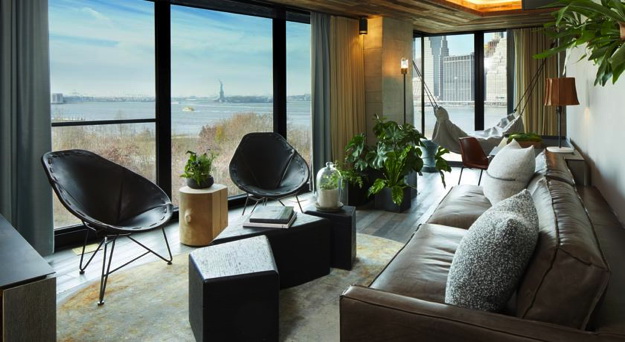 Best Concept – MACq 01 Hotel – Hobart, Australia 
Located in the heart of the historic Hobart waterfront, MACq 01 is a luxurious hotel that combines premium accommodation with unforgettable storytelling. Each room is linked to a real character central to Tasmania's history, including the heroes, villains, explorers, inventors and convicts. Sign up for the Master Storyteller tour and be guided through the history that decorates the hotel's hallways and beyond in the nearby Wapping district; or check in, step out on your own to explore the many sights on offer, including Brooke Street Pier, Franklin Wharf, and Sullivans Cove – all less than 1km away.
Best Jungle Hideout  – Hoshinoya – Ubud, Indonesia 
Located in Ubud on Bali, Hoshinoya combines unique Japanese design with traditional Balinese touches, hidden amongst lush jungle greenery. The location is unbeatable with sacred water canals running through the property, all part of the island's UNESCO World Heritage recognized water temple network. Check in to Hoshinoya Ubud, step out to the eclectic Ubud Market, historic Ubud Palace, and the breathtaking Campuhan Ridge Walk – all just a short bike ride away.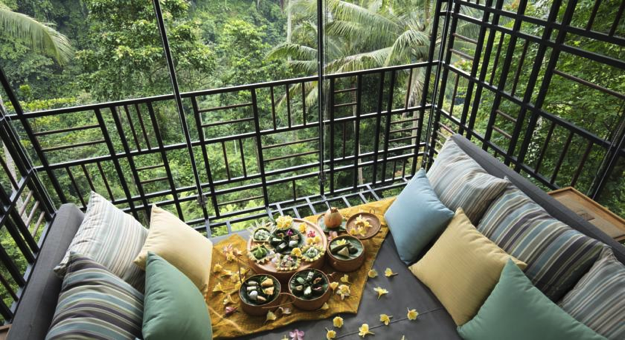 Best Business Hotel – The Murray Hong Kong 
The Murray is fast becoming a popular choice for business travelers. The property is just 1 km away from the city center, and only 35 minutes to the airport. With its convenient location, the property also offers easy access to the city's must-see destinations for travelers keen to squeeze in some sightseeing between business meetings. With Wi-Fi in all rooms, a fitness center, massages, and even a grocery delivery service on offer, business travelers can be sure that they can stay connected whilst in absolute comfort. Check in to The Murray, Step out to Lan Kwai Fong just 550m from the hotel to experience some of Hong Kong's lively nightlife hot spots with over 90 restaurants and bars – once all the business meetings are done, of course!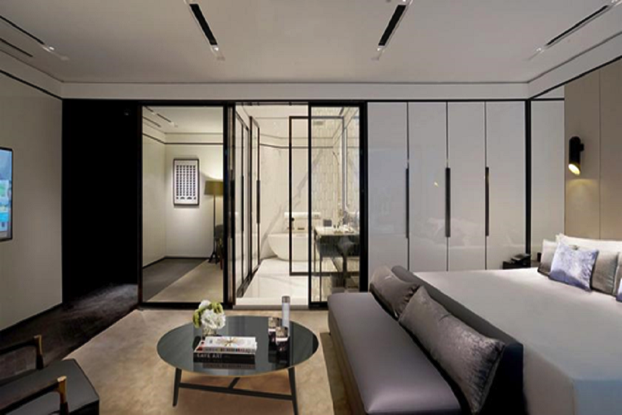 Family Resort The Anam Deluxe Collection – Nha Trang, Vietnam
Vietnam's first true 5-star beach resort, The Anam Deluxe Collection has amazing activities on offer for families, alongside some of the most luxurious yet family-friendly villas. Parents can take advantage of the spa facilities and private beaches, whilst the kids can enjoy the cinema, kids club, windsurfing or simply frolic in the 3 expansive pools. There is something here for all ages and interests, and with such incredible activities in this picturesque location, your family will never get bored. Check in to The Anam, and Step out to the picturesque Bai Dai beach with the kids, or indulge in the 100 Eggs Mud Bath – both only a short distance away.
Best Luxe – Okada Manila, the Philippines 
Carved into 44 hectares of picturesque oceanfront, Okada Manila is Entertainment City's iconic integrated resort. Okada Manila boasts 993 lavishly furnished accommodation options, ranging from 50-sqm deluxe rooms to 1,000-sqm villas. Guests can heck in and immediately step out to the resort's very own premium amenities, including the Retail Boulevard with more than 50 luxury shops, the one-of-a-kind Cove Manila nightclub and indoor beach club, a 3,000-sqm spa, and the world's largest multi-color dancing and musical fountain.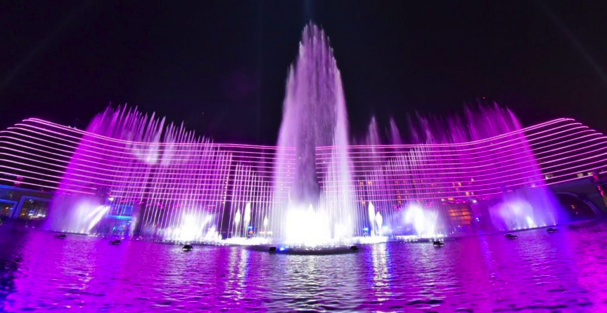 Best Romantic Location — The Ritz-Carlton – Langkawi, Malaysia
Check in to The Ritz-Carlton, and step out to uninterrupted rainforest views from every angle. Set within an ancient rainforest on a secluded beach, The Ritz-Carlton Langkawi holds the perfect location for a romantic getaway. Couples can choose between enjoying the peace and quiet of the beaches, indulging in luxury hotel amenities, such as the island's only overwater spa, or take a time out in the oversized marble in-suite bathrooms.
All of these accommodations, and many more, are available for booking at agoda.