Amman luxury hotel to be refurbished, reopened under Sofitel name by 2019
Le Grand Amman in Jordan, formerly operated by Le Meridien, now bears the name Le Grand Amman – Managed by AccorHotels. The French hospitality giant has announced that it will rebrand the property into becoming the first Sofitel Brands and Resorts hotel in the country once its initial refurbishment ends at the close of 2019.
"This opening signifies the strategic expansion of our luxury portfolio in Jordan," shared Sami Nasser, AccorHotels Middle East COO for luxury brands. "While this property will be operated as Le Grand Amman – Managed by AccorHotels, we are delighted to announce that it will transition into Sofitel, making way for the entry of one of our most prolific luxury brands in Jordan."
With 298 rooms and 67 serviced apartments, Le Grand Amman's amenities include two specialty & one all-day dining restaurants, a lobby lounge & bar, a pool bar, a spa, a health club, as well as indoor & outdoor pools. It also boasts of eight meeting rooms and the largest ballroom in Amman for use in meetings and events.
The new AccorHotels property is at the centre of the Jordanian capital. Its location in the business and diplomatic district of Shmeisani keeps it within reach of the international airport as well as commercial hubs like the mixed-use Abdali Downtown Project, which is currently under development.
Along with Le Grand Amman – Managed by AccorHotels, the French company's other properties in Jordan include the Fairmont Amman and the ibis Amman. All three join more than 100 hotels in the AccorHotels Middle East portfolio, which will include an additional 90 hotels across the luxury to economy segments in its five-year development pipeline.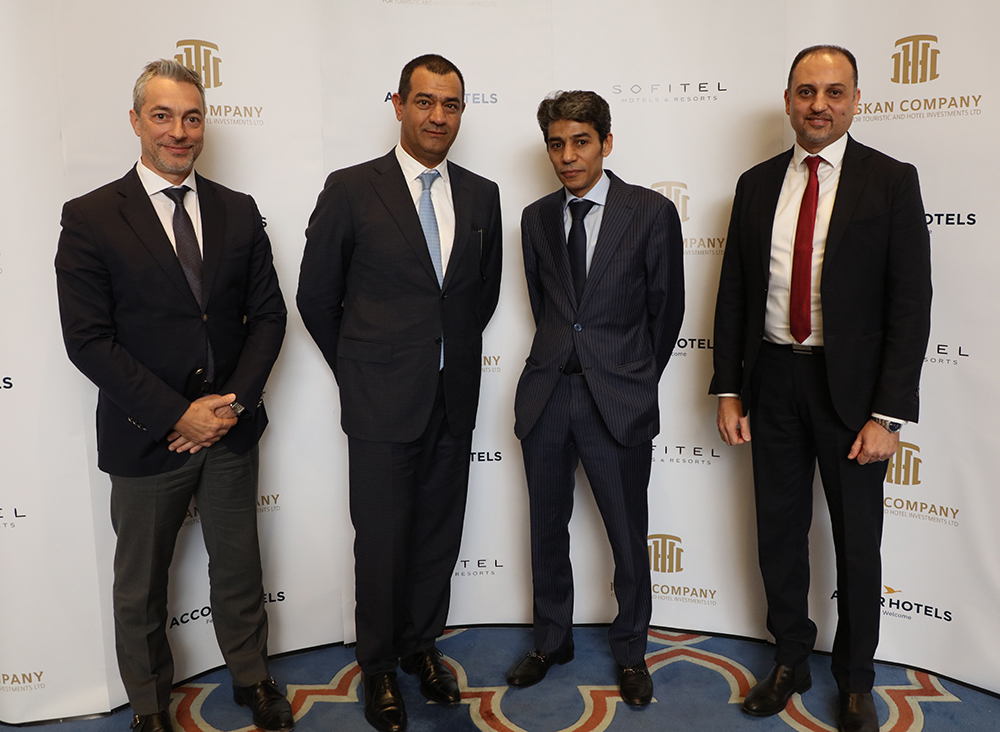 AccorHotels has collaborated with Iskan Co. for Touristic and Hotel Investments to refurbish Le Grand Amman. "AccorHotels' unparalleled network of hotels across the Middle East and strong distribution platform makes them the ideal partner as we look to expand our hospitality offering within Jordan," commented Sami Elmabrouk, its chairman, on the partnership "We are confident that Le Grand Amman – Managed by AccorHotels, which will later be reintroduced as Sofitel Amman, will be a truly remarkable and unique property within a growing market."
AccorHotels' Nasser added, "Jordan continues to attract an increasing number of visitors due to its culturally-significant destinations and dynamic economy. Through projects such as Abdali Downtown, Jordan is set to witness incredible growth in the number of leisure and business travellers. This landmark property not only strengthens the reach of our luxury portfolio across the Middle East, but also cements AccorHotels' commitment to the region as one of the leading hotel operators, Through this development with our trusted partner, we aim to bring the French art de vivre to a vibrant and growing market."
Here at TD, we put our best efforts to provide the latest and most valuable content to our readers. It is a true labour of love - where we work hundreds of hours each month - to make sure we offer meaningful content. If you value what we do, please consider a donation of any amount.
This would mean the world to us! Thank you and click here to proceed!