Age of Aquarius? TD speaks to AQI about megabucks luxury hospitality investment
Contributors are not employed, compensated or governed by TD, opinions and statements are from the contributor directly
Earlier this week Aquarius International Development (AQI), announced intensions to sink USD 250 million into the creation of a comprehensive hospitality "eco-system across Southeast Asia. I spoke to AQI's chief operations officer, Nixon Chung,  to find out more about a five-year plan which spans luxury hotels and residences, yacht charters, high-end gourmet outlets as well as travel booking and members services…
TD) My first question is always appropriate but doubly so during the COVID-19 pandemic…why do you believe now is the right time to invest 250 million in this project?
Nixon Chung (NC): COVID has undoubtedly changed people's priorities about the living environment and lifestyle what they value most and what is important to them when they travel. AQI's USD 250 million investment of an integrated' eco-smart, tourism and residences development comes at an unprecedented time, as we are able to offer essential values to elite travellers and world explorers.
These new 'megatrends' include ideas such as:
Health and wellness comes first
Nature and clear air
Being indful of a sustainable environment
Increased attention to the local community, moral values and ethics
Resort living is like a multi-functional home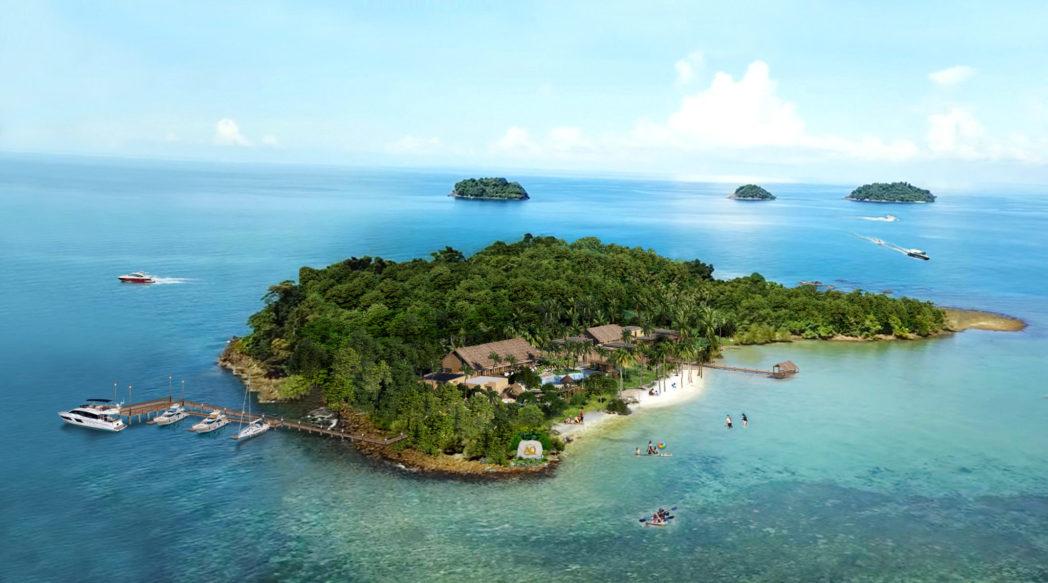 TD: Koh Chang is a wonderful island, but why choose a relatively undeveloped location over a more mature luxury market such as Koh Samui,  over one that has primarily appealed to backpackers and budget travellers?
NC: 'Undeveloped', to us, means full of imagination, possibilities and opportunities. Times and markets are changing the living lifestyle on both localists and foreigners. Koh Chang is unspoiled, the emerald of South Thailand's gulf. AQI is proud to become a leading developer offering world-class standard and ultra-luxury facilities on the island which are exclusive and privileged to elite travellers. Moreover, our project is creating more employment opportunities to local people,  improving their living environment and income. ]
TD: Who are your target demographics for the Aquarius Residences & Resort, Koh Chang and AQ Privilege Beach Club & Residences, Koh Man Nai?
NC) Our target demographics are mainly travellers within the APAC region dominated by the countries with the highest GDP such as US,  China, India, Japan, Indonesia, Russia, Germany, Brazil, UK and France.  Fueled by the continental shift of the global economy (World Bank and IMP) to Asia,  we expect more and more Asian and expatriates will relocate their home and work base to Asia. Thailand is the top tourism earner in Asia and will become even stronger in attracting international tourists as infrastructure development further improves across the country.
TD: Can you tell me more about AQI's "holistic" approach to hospitality?
NC: AQI's holistic approach to hospitality is to align travellers' personal value when they pursue a luxury eco-living which is a unique lifestyle in the heart of nature. We commit to combining peace, tranquillity, and privacy with exceptional lifestyle services that include: world-class restaurants, fitness and recreational facilities,  luxury shuttle transportation, and much more.
TD: AQ Ventures looks exciting too but it's not hospitality or travel, how does this project fit in with the Koh Chang properties, AQBooking.com and AQ Food & Beverage?
NC: AQ Ventures which is our private yacht service, apart of AQBooking.com, our all-in-one digital travel concierge and AQ Food & Beverage, our multi gourmet and dine stores in Asia represent our lifestyle services offered to the residence's owners, resort guests of our Koh Chang properties and travellers exploring Koh Chang to APAC region.
TD: Other than Ho Chi Minh City, where you plant to open Gourmet & Dine Stores early next year, which other locations are you looking at for investment?
NC: After AQ Gourmet & Dine Store opening in Ho Chi Minh this year, we are looking for additional openings in Bangkok and Shanghai next year.