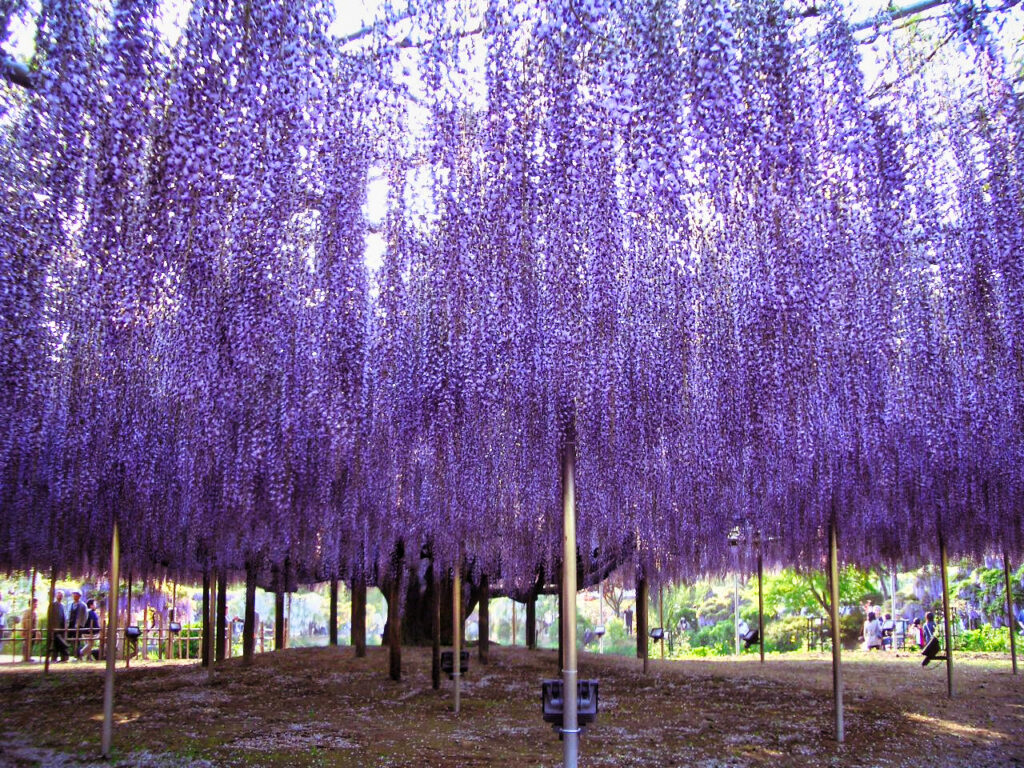 Ashikaga is a historic city, the birthplace of the founder of the Ashikaga shogunate, home to Japan's oldest educational institution, and dotted with ancient temples in beautiful settings.
Accessible from central Tokyo in just a couple of hours on the Tobu Railway, it is the perfect destination for a long weekend, whatever the season. With a world-class ceramics museum, modern art galleries, gorgeous parks, a food festival, and even its very own winery, Ashikaga is a grown-up getaway destination not to be missed.
Enjoy the romance of wisteria at Ashikaga flower park
Sakura (cherry blossom) might be the first blossom that comes to mind when you think of Japan, but the beauty of fuji (wisteria) has also been long celebrated. These romantic, tumbling flowers are associated with love and longevity and are a mainstay of Japanese traditional aesthetics, appearing in poetry, prints, and kimono patterns.
Japan's most stunning display of wisteria can be found at Ashikaga Flower Park's the Great Wisteria Festival (April 16-May 22 this year). Visitors can take in the blossom on the park's 160-year-old giant wisteria tree and stroll along an 80-metre-long wisteria tunnel, as well as enjoy the many other seasonal flowers in bloom, including Japanese azaleas and peonies. Visit in the evening to see the wisteria beautifully illuminated.
Savour the beauty of food at Ashikaga Bishoku Festival 
Bishoku – literally, "beautiful food" – refers to delicious, high-quality ingredients and dishes, and the Ashikaga Bishoku Festival, which started in February and will run until May 8, is a chance to try some of the area's best seasonal produce.
Spearheaded by the Ashikaga Bijin brand of local farm produce, the festival brings together 31 local cafes and restaurants, each of which is offering a special bishoku dish made with locally-grown tomato, asparagus, or strawberry. From creamy strawberry daifuku (sweet rice cake), to sakura shrimp and asparagus pizza, to whole tomato served in a dashi broth, these limited-edition dishes have been conceived by local people proud of their local produce.
Located just 75 minutes by limited express train from central Tokyo, Ashikaga is a great choice for a trip outside the metropolis. You can make travel around Ashikaga and the surrounding region of Ryomo simple with a Furatto Ryomo Tobu free pass.
This three-day pass will cover train travel to and around Ryomo, as well as local buses, so you can explore the many sightseeing destinations in the area. Prices vary depending on your starting station; from Asakusa Station the pass costs ¥2,440 for adults and ¥1,250 for children (11 and under).