Art on the road: Discover the hidden charms of Australia and New Zealand with Avis
There is no better way to see the natural beauty and vast, and sometimes imposing, landscapes of Australia and New Zealand than embarking on a road trip.
As travellers yearn for a more bespoke experience, they tend to stray away from popular tourist spots and strike out in search of something a little more unusual, to give their trip a sense of uniqueness. To put it simply – the rarer the experience, the better.
Taking this desire for the path-less-travelled to heart, an eclectic mix of artists, who embody this instinct for the novel and authentic, hit the road to inspire travellers to see Australia and New Zealand in a new and totally different light.
The Art of Discovery
The Art of Discovery – a series of road trips across Australia and New Zealand, frames the more obscure and off-the-beaten-path locations through the eyes of several Aussie and Kiwi artists. Depicting the scenery in every brushstroke and inspired by their trip, the artists create an original collection based on the locations they visited. 
Are you up for a road trip? Pack your bags!
Lightning Ridge with Jacob Spokes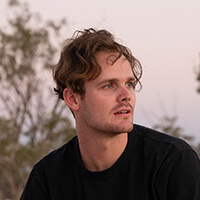 Contemporary artist Jacob Spokes, an emerging artist from Sydney's inner west, journeyed to Lightning Ridge in north-western New South Wales, Australia, where he retraced his father's footsteps as a miner. Adopting a process of playful discovery, Jacob seeks to translate his deepest feelings of the landscape into the paint.
During his journey to Lightning Ridge, he searched for the reason why his father moved there when Jacob was young and captured his feelings in his artworks. He also explored the nearby town, retreading the steps his father would have made – 20 years earlier.
Home to the rare black opal, Lightning Ridge is a historic mining town in the outback. Make sure to make a pit stop in the town and marvel at gems in opal stores or try your hand at fossicking, relax in artesian bore baths and discover why visitors have long been attracted to this colourful town.
Daintree Rainforest with Belynda Henry
Belynda Henry's art is described as luscious and ethereal. She poignantly captures the natural world and landscape. Surrounded by Australian bushland, Henry is greatly inspired by her inherent environment. She also derives great inspiration from her extensive travels around the world.
She travelled the Daintree Rainforest in North Queensland, which is one of the most complex forests on Earth in terms of plant diversity and structural complexity. It is unrivalled on the Australian continent and represents the origins of other Australian flora.
The Daintree Rainforest is a lush, green rainforest that has both ancient plants and animals — and superb beaches. After the long winding road, unwind in the coral sea at the edge of the far-reaching forest. Oops! Watch up for Cassowaries during your trip!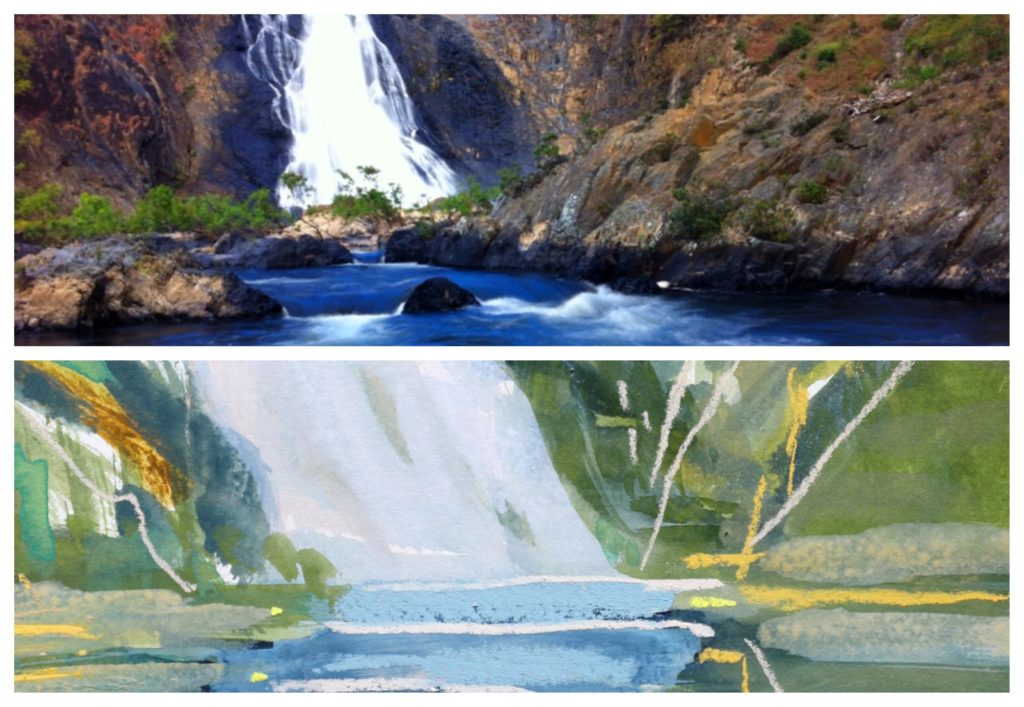 Colac Bay with Rachel Hirabayashi
Many of us can probably relate to how Rachel Hirabayashi began painting when she started sketching the landscape on one of her many road trips. Rachel sees her painting as a form of meditative therapy; an attempt to instil in herself the calm her paintings project.
Rachel paid a visit to Colac Bay, New Zealand. The town hugs the bay, with a sandy beach that is great for most coastal activities, such as beachcombing, walking, paddling, fishing, diving or horse riding. It also has a popular surf spot known as Trees with waves suitable for all levels, and where the Colac Bay Classic, a surf competition for all ages, is held annually.
Marahau with Zara Allen
Nature is a big part of Zara's childhood living in a house bus her family fondly called "Twilight". The gipsy lifestyle has inspired her creativity. Her interest in painting flourished after having her two children. Her children planted a seed for her to explore and deepen the understanding of her Māori heritage. This is when she fell head over heels in love with traditional Māori art techniques and practices.
Zara explored Marahau, which is the eastern entrance to the Abel Tasman National Park, known for its beach and shore that stretches far and wide during low tide perfect for those keen on outdoor activities.
Feast your eyes with boundless greenery contrasting the turquoise waters as one of New Zealand's most popular great walks is the 53km Abel Tasman Coast Track, which starts from the idyllic seaside village of Marahau through the lush native forest.
Mt. Cook with Holly Zanbergen
Holly Zanbergen has used painting to express her thoughts and feelings. In discovering her passion for painting at high school, Holly uses painting as a means of processing and transforming experiences absorbed in life.
Holly went to see the tallest mountain in New Zealand – Mt. Cook. The national park is home to longest glaciers. It is alpine in the purest sense – with skyscraping peaks, glaciers and permanent snowfields, all set under a star-studded sky.
A small, charming village sits in the heart of the Aoraki Mt. Cook National Park and is the starting point of every adventure in this alpine environment. Soak up the views of several impressive glaciers and New Zealand's highest peak when you explore the Hooker Valley Track or get up-close to these ice giants on a boating tour of the Tasman Lake!
How about you? What will you see if you are the one behind the wheel? Embark on your own road trip with Avis.
With a wide selection of vehicles, cruise the plains in style. Rent a car in any major town in Australia and New Zealand for a fast and efficient pick-up and drop off.
Check out Avis website for more information on your planned road trip, or travel agents can visit this link, a dedicated website for travel trade professionals.