Booking any Aston Hotel and more are ASTONishingly easy on its new website
Seamless browsing and booking experience welcome guests on the new ASTON website, which now features a sleek and modern look, a user-friendly direct booking experience, and a fully responsive layout.
As the adage goes, "simple is best". The revamped ASTON website aims to provide travellers with an easy-to-navigate platform where everything can be accessed right at their fingertips. With important features placed front and centre combined with aesthetically-engaging images, booking a room in any ASTON hotel has never been easier.
"The previous two or three years have shown us exactly how dependent we are on technology. ASTON is entering this next chapter with a revamped digital storefront to provide visitors and guests a more simplified browsing and booking experience as the travel industry looks to the future. The project is part of a company-wide digital overhaul, with the goal of updating the company's web presence to provide a window into the ASTON world," John M. Flood, President & CEO of Archipelago, said.
Here are some of the exciting features on the new ASTON website:
Simplified booking experience
Travellers can find and stay in an ASTON Hotel in their desired destination through a search feature right on the homepage. There are 48 ASTON properties in Indonesia alone. Also, Archipelago International, Southeast Asia's largest private and independent hotel management group, is in the midst of sticking its ASTON flag in prime locations worldwide, which will also be available to book on the website.

Enter the destination and travel dates and the system will show different options of all the available rooms that will fit the guests' needs and budget. Services, transportation arrangements, and F&B reservations can be added when booking to free guests' minds of minute details to worry about when they travel. There are also special offers where guests can book simply with an email (no credit card required) and cancel the hotel booking without any cancellation charges during a certain timeframe.
Never miss out on deals and offers
Who doesn't love discounts? ASTON is never stingy on deals and promos, that is why "Offers" is placed right on the homepage, so guests can check the ongoing promotions in various ASTON hotels and take advantage of them.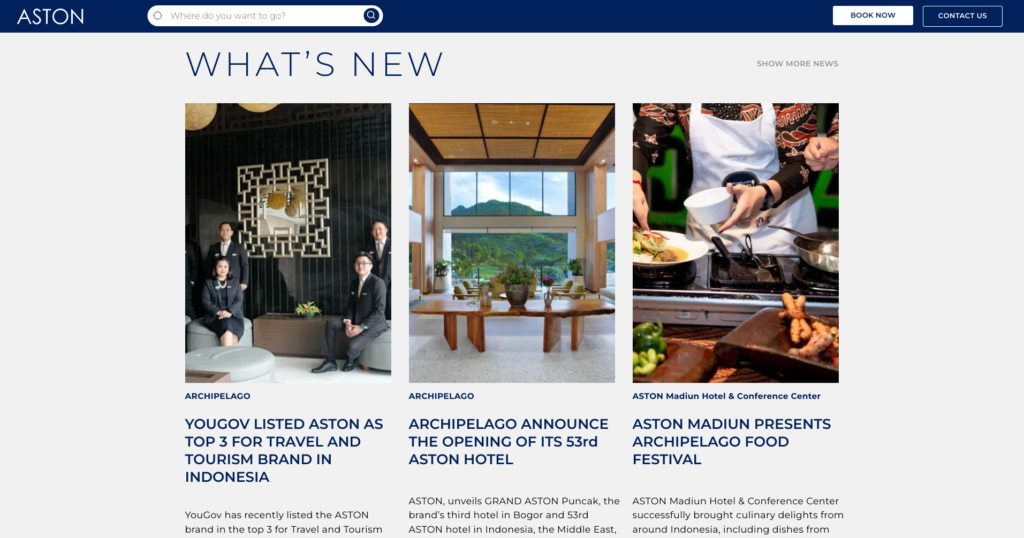 Be informed of what's happening in different ASTON hotels under "What's New". The hotel brand wants its efforts to be known by giving important milestone updates – from customer service to partnerships to ESG strategy.
Explore with confidence
Access all the important hotel information with a few clicks, which are highlighted in clear icons. Open the chatbot feature on the lower right corner for ASTON's online concierge for any inquiry or request.
Learn more about the amenities and services in every ASTON Hotel that will enhance guests' stay. Get to know the nearby attractions and explore the city with confidence while making ASTON your base camp.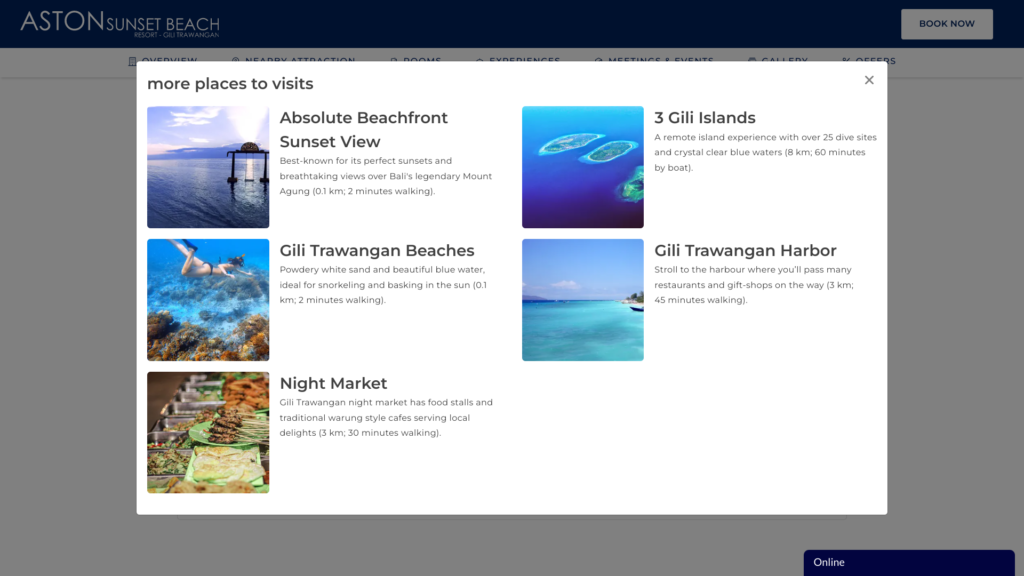 Finally, get a feel of what it is like to stay in ASTON. A dedicated section on the website shows guests' delightful experiences and memorable moments in different ASTON properties.
"The new ASTON website continues our digital growth strategy to incorporate the essence of ASTON into our online user experience – to be dynamic and frictionless in how we serve our guests in this digital-first era. In addition to enhanced functionality and content that allow guests to become immersed in the ASTON story, our new website opens the way for a series of future updates that will continue to optimize the online user journey," Norbert Vas, Vice President – Business Development of Archipelago, said.
Archipelago makes exploring the new ASTON website more fun with the "ASTONishing Lucky Stars" campaign. Search for stars spread over the ASTON hotel page and win vouchers redeemable on your next stay at any ASTON property. Moreover, book any ASTON hotel directly on the website and save up to 20% off using the code ASTONISHING20.