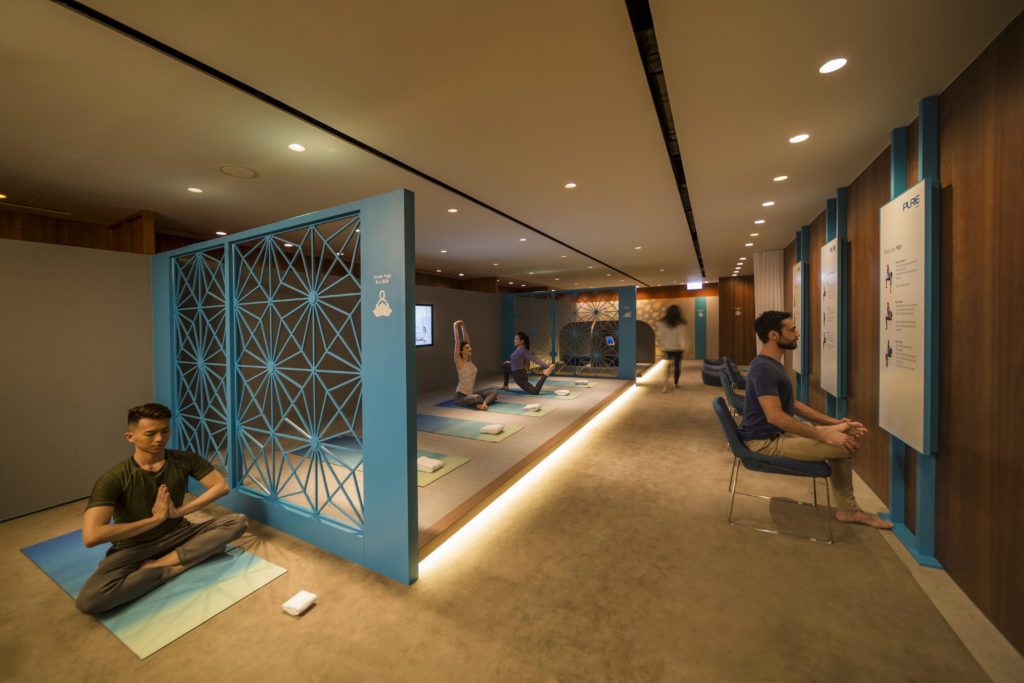 Amidst all the hustle these days, millennials swear by yoga to maintain their mental sanctity and travel brands are catching up. Calm your nerves at Cathay Pacific's Business Class lounge at The Pier in Hong Kong that just became even more beneficial for mind, body and soul following the opening of The Sanctuary by Pure Yoga.
Designed in partnership with The Pure Group, The Sanctuary by Pure Yoga is a 65 sqm area divided into two zones – The Body Sanctuary, which is dedicated to yoga, and The Mind Sanctuary, where travellers can meditate to focus and calm the mind.
"The perfect place to relax before a flight"
Cathay Pacific general manager Customer Experience and Design, Vivian Lo said: "Wellness is becoming increasingly important to our customers and The Sanctuary by Pure Yoga in our Pier Business Class lounge is the perfect place to relax before a flight. We listen to the needs of our customers and continuously evolve to improve their experience with us.
"Whether it's dining at our popular Noodle Bar, catching up with some work, or enjoying a drink at the bar or at the Teahouse, there are myriad ways for our customers to spend time at the lounge. Now they'll also be encouraged to meditate and practice yoga before flying with us."
The body sanctuary
Among the wellness offerings, The Body Sanctuary provides travellers with a space for gentle yoga with guided videos led by Pure Yoga teachers. There's also a secluded space for self-practice. Seated stretching is an alternative option; chairs overlook instructions on how to stretch different parts of the body whilst seated. The exercises are designed to improve circulation, enhance joint mobility and relax the mind for a comfortable and restful journey.
Elaine Lee, head of Customer Experience Ground Product at Cathay said: "Our customers have told us that wellness is becoming increasingly important to them, so to expand our relationship with Pure Yoga and create The Sanctuary was a natural and very positive move for us to make. It is essential for us to continuously evolve our offerings to improve our customers' experience with us – both on the ground and in the air, and to that end we are very encouraged by their response to The Sanctuary."
The mind sanctuary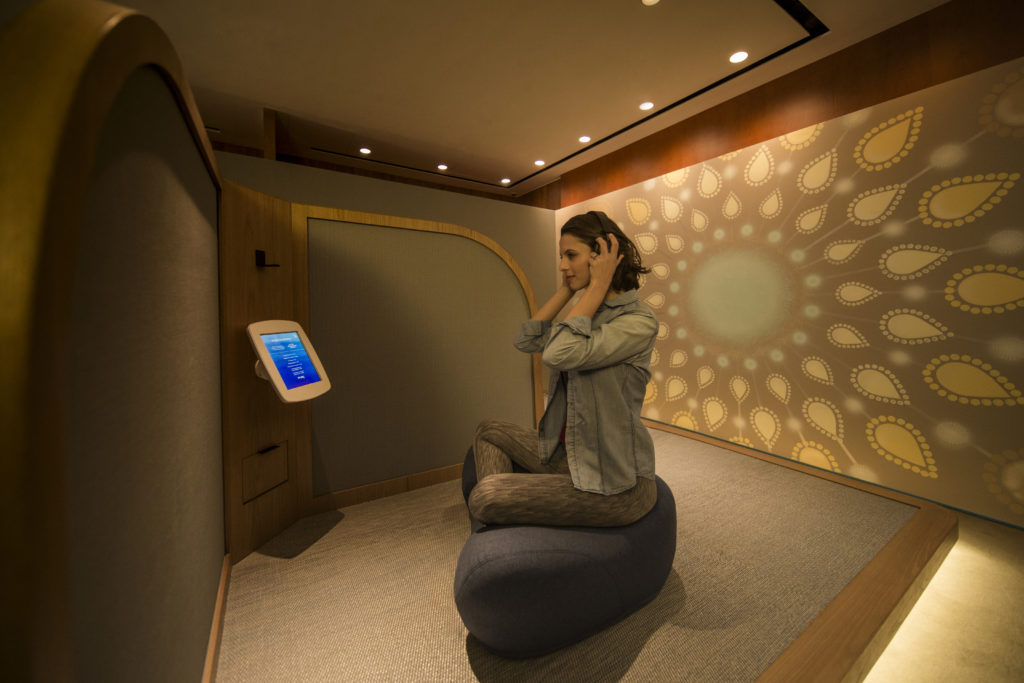 Within The Mind Sanctuary there are two types of meditation on offer. The first is audio meditation: four cushioned pods are equipped with noise-cancelling headphones and iPads, and customers can listen to guided meditation sessions narrated by Pure Yoga's expert teachers. The second is gazing meditation: comfortable cushions overlook graphics placed on the wall ahead and facilitate Trataka yoga practice.
These practices help to improve focus, memory and visualisation skills, as well as centering the mind in a state of awareness and attention.
Wellness in the air
The Sanctuary by Pure Yoga is the latest collaboration between Cathay Pacific and the Hong Kong-headquartered Pure Group following the January 2018 launch of 'Travel Well with Yoga', a series of inflight videos to help passengers ease into their journeys with meditation and yoga.
Additionally, Diamond and Gold Marco Polo Club members arriving in Hong Kong on Cathay Pacific or Cathay Dragon flights will be given complimentary one-day access to any Pure Fitness centre or a choice of any Pure Yoga class up to 12 times a year.
"Feel the benefits of yoga and meditation on their travels"
Pure Group regional marketing director, Gary Wise said: "We're delighted to extend this fantastic partnership between Pure Yoga and Cathay Pacific, giving people even more chance to feel the benefits of yoga and meditation on their travels."
Wise closed his comments with "No matter how rushed the trip is, just a few minutes of calm can make all the difference."