Business meetings, snorkel, scuba, dive and more! Maldives, the perfect backdrop for your MICE
Contributors are not employed, compensated or governed by TD, opinions and statements are from the contributor directly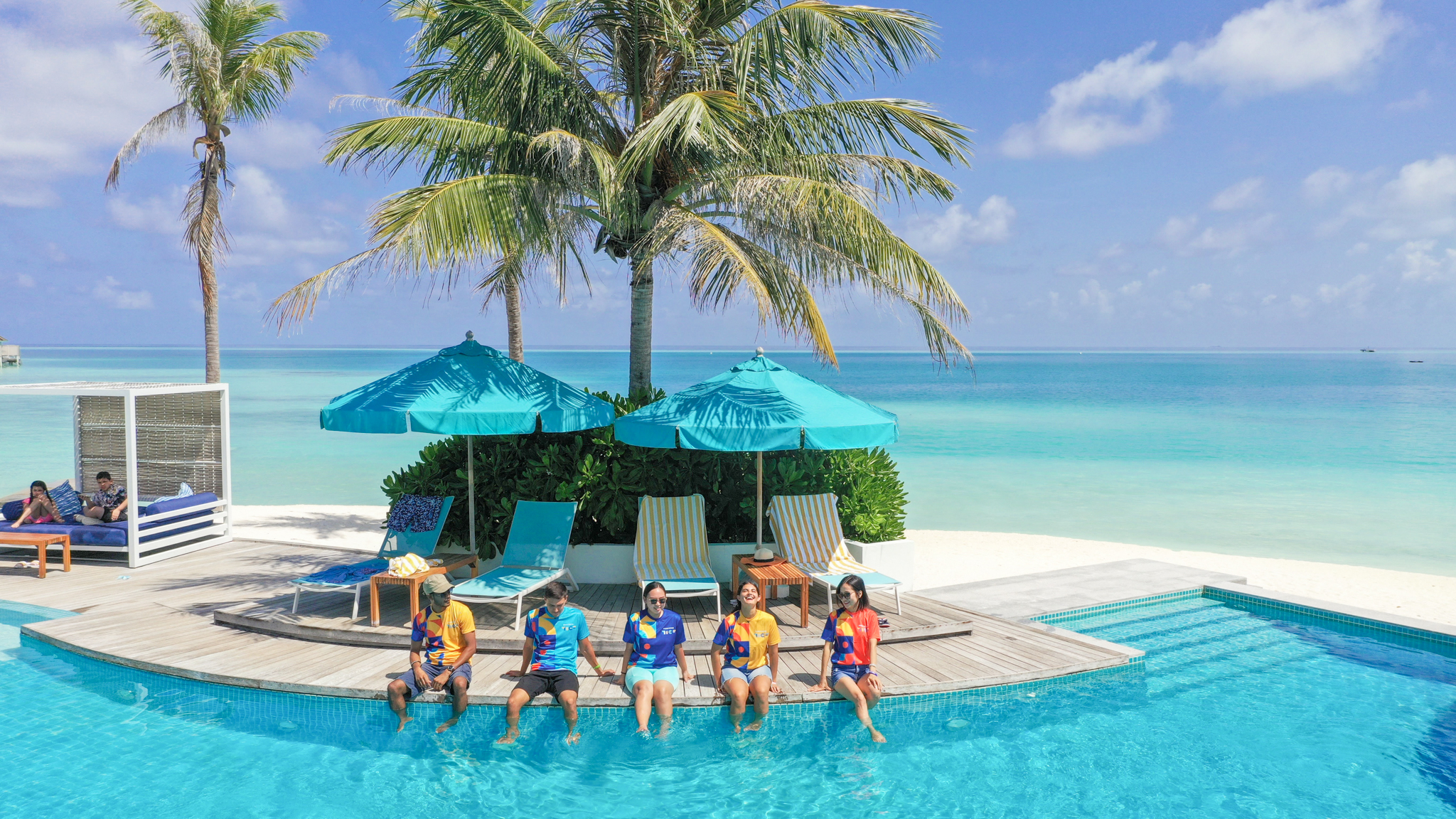 From open spaces and unique experiences to an expert industry well-versed in delivering COVID-19-safe events, Maldives is hard to beat when it comes to a destination for your next business event. While the destination was one of the firsts to open post-Covid and became the favourite hotspot for every kind of gateway, there has been a steady growth in business visitors here due to its myriad MICE offerings, too.
The reason is obvious. Who would not like to ditch the stuffy boardroom for a meeting on the beach. I would and I believe the world would, too. Ideally located in the heart of the Indian Ocean, the legendary islands of Maldives offer a unique combination of remarkable natural beauty, convenient and modern infrastructure and memorably friendly people. Easily accessed via regular air service on almost every air carrier, and with a variety of venues suited to groups of all sizes and interests, the Maldives are ready to welcome clients for business.
And what can be better than sun and sand for that extra tinge of a relaxed mind. So yes, you can do business at ease amid the azure pristine beaches. We tell you here why you need to bookmark the Maldives for that next heavy-weight meeting of yours!
Top it up with easy flight access, COVID-19-safe events that exceed expectations and abundance of business event planners with a wealth of options when it comes to hosting events, unique experiences that tick all the boxes. No matter what you are looking to achieve with your next event, Maldives has a new product ready for you to incorporate into your programme.
Find all the inspiration you'll need to create the perfect meeting, incentive or conference in Maldives.
Think MICE, Think Maldives!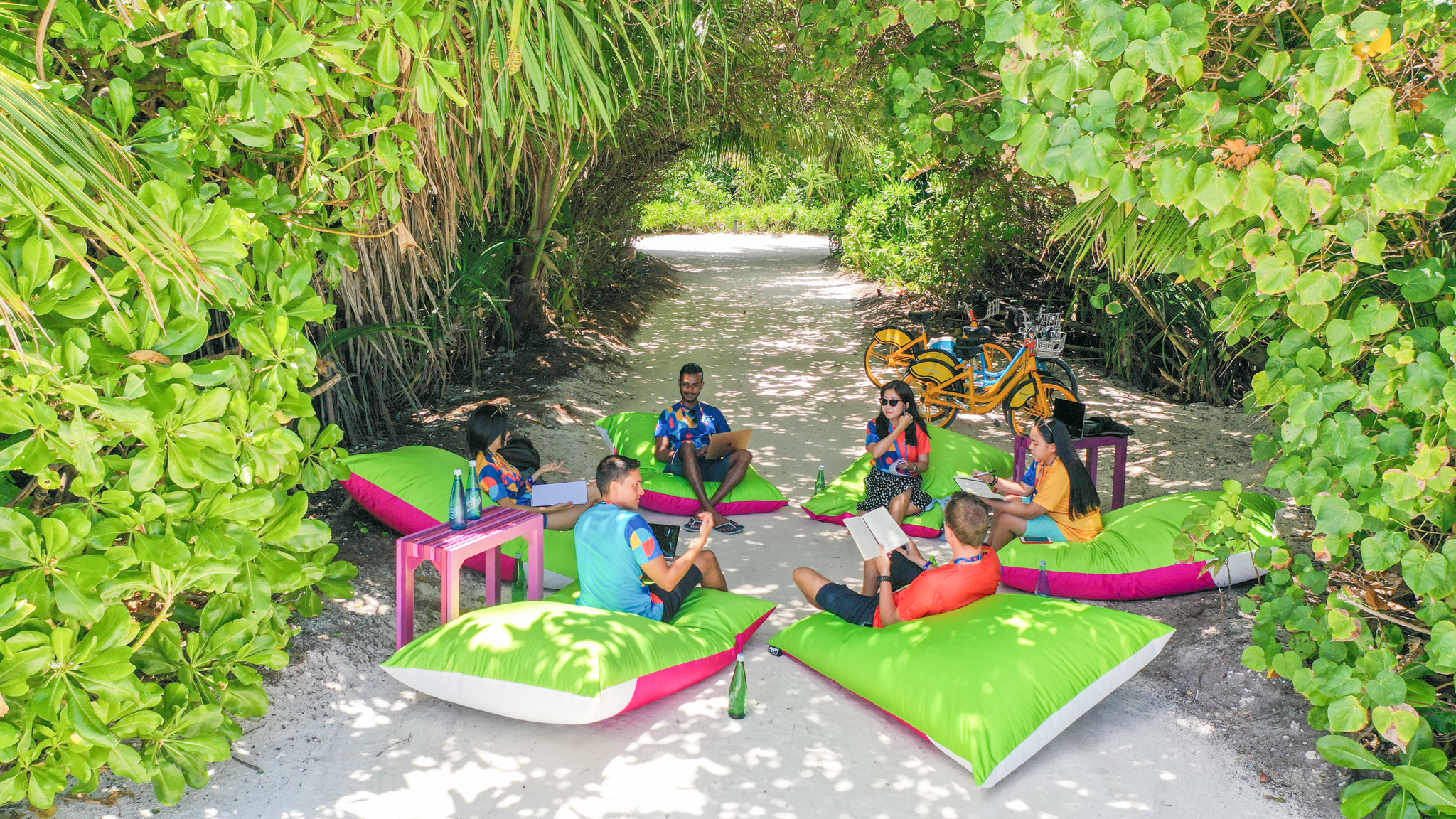 The market for business travellers has regained new momentum following the effects of the global Covid-19 pandemic. While destinations across the world begin preparing to accommodate for the sudden influx of MICE travel, estimated to reach $1,337.4 billion by 2028, the Maldives has also revamped its MICE offerings and services.
The concept of MICE in Maldives is one that is unique and unparalleled to any other destination. That's what the Maldives Marketing and Public Relations Corporation (MMPRC) and Visit Maldives) are focussing on 'Redefining MICE' marketing campaign to globally market the destination's unique mice opportunities awaiting b+leisure travellers.
The essential 'laid-back' atmosphere for thought-provoking discussions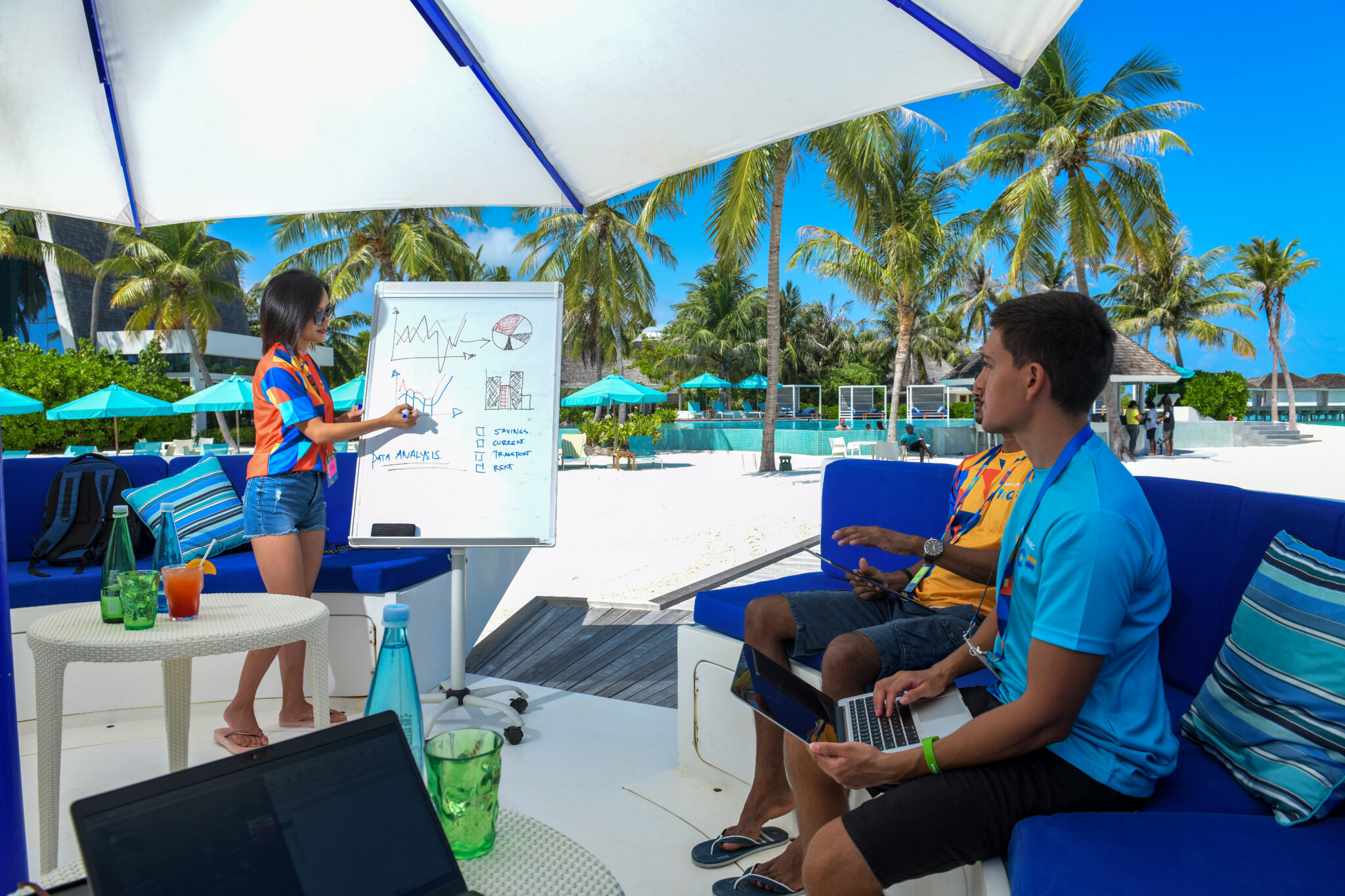 Your next corporate gathering will be one for the books. Let your thoughts flow in the tranquil settings of the beautiful Maldives, an idyllic setting for those who are looking for inspiring spaces for their corporate events. A couch set beneath palm trees with your toes in the sand could be your next meeting setting. Or perhaps the deck of a safari vessel. The Maldives is unparalleled in offering that essential 'laid-back' atmosphere for thought provoking and stimulating discussions.
Perfect combo of business meetings and break for mid-day with dive or snorkel
Located in the middle of the Indian Ocean, the Maldives connects the east and the west, providing easy access for participants from countries in the Indian Ocean and around the world. The Maldivian tourism products offer you the perfect equilibrium to shift from business mode to relaxation in a millisecond. The itinerary goes from important business meetings, a break for a mid-day dive or snorkel, attending evening awards or gala night and so on and so forth. The best thing? The geographical formation of the scattered islands, strict privacy and safety measures in place in our tourist facilities ensure that you are provided a secure, serene and isolated setting for all your business and leisure activities.
Tech-savvy tools for MICE services and business travellers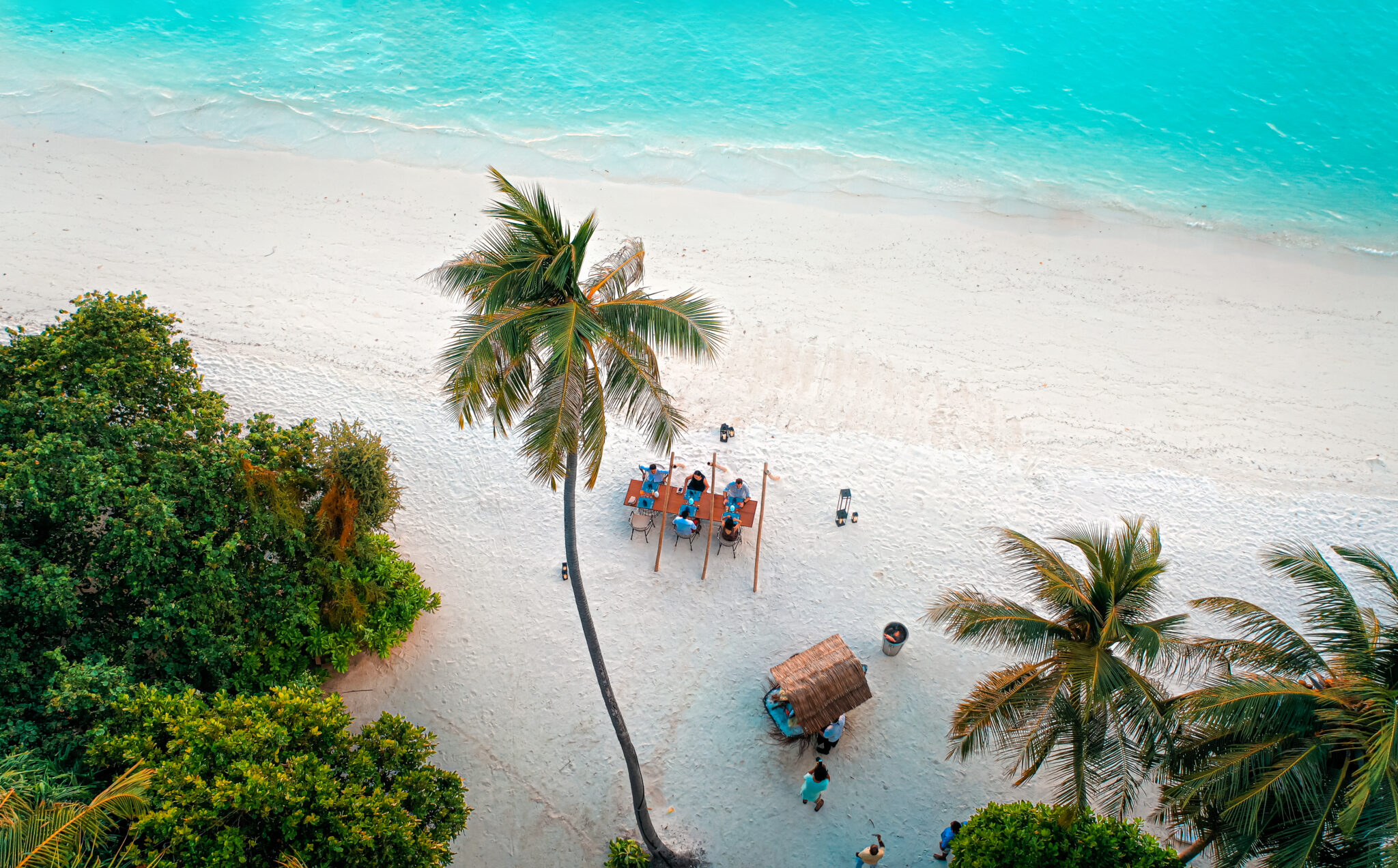 And in this world driven by technology, MICE offerings in Maldives come with happiness and technology! A team of dedicated personnel from butlers to hosts, will be at hand to ensure your meetings and conferences are coordinated to the most minute details and design the set up to your preferred choice.
Perhaps the best thing about Maldives is that the country offers customised services  to business travellers looking to hold MICE activities which go beyond boring halls and event  venues. Its resorts, hotels, guesthouses and liveaboards can easily arrange and cater to the requirement of any event, comes with the latest technology and expertise to make your event a success. The resorts, hotels, guesthouses, and liveaboards come with fast internet and other technology which enable you to hold either fully offline or hybrid MICE activities.
They also come with trained professionals, who can set up the venue area, light, sound, and cater to all other needs in order to hold a successful event or activity.
Perfect itinerary and more: Merge business and leisure seamlessly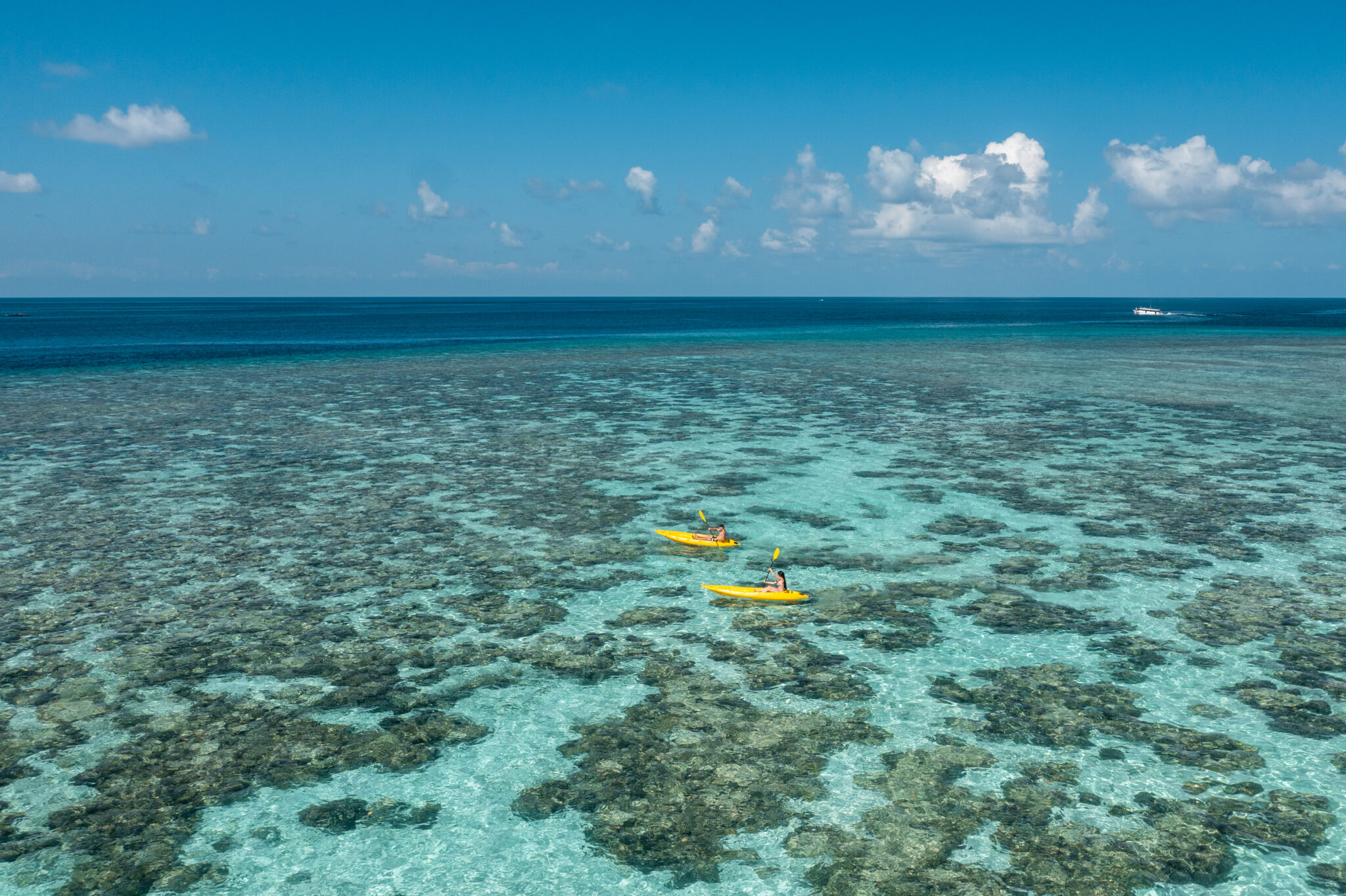 A boardroom on the beach is just so much better than a stuffy conference hall. The itinerary of a MICE event in Maldives provides the perfect balance of business and leisure that you need to make any event a success. MICE in Maldives is a state of mind which naturally befits you to be your best self. Include unique, once-in-a-lifetime activities and experiences into your meeting itinerary to make for a more fulfilling event. Snorkel with manta rays and turtles.
Surf, sail or simply spend the day out on an inhabited island for a team building activity or explore the local culture and cuisine at your leisure. There is no place on earth where you can merge your business with leisure more seamlessly than in the Maldives.
Beyond meetings
Beyond its convenient geographical location, the country aims to further enhance the MICE experience by leveraging the natural beauty of its islands, which has been preserved by its locals for more than a thousand years, and everything that the Maldives is renowned for.
For making your travel and business go the sustainable way, the stunning country offers traveller-oriented conservation activities like releasing baby hatchling turtles, planting corals, and embarking on educational dive excursions. Business travellers can stand to gain a new sense of respect and admiration for the environment from participating in many of these educational activities that incorporate sustainability, leisure and business at the same time.
Contact the team today and discover why there's nothing like Maldives for business events. So, when are you embarking on your next business expedition to experience a vibrant journey of bleisure!