Can hoteliers trust TrustYou?
Contributors are not employed, compensated or governed by TD, opinions and statements are from the contributor directly
We recently posted about the newest integrated guest feedback platform released by hospitality customer service startup TrustYou. Based in Germany, the review and reputation management SaaS provider for hoteliers and travel industry professionals has an impressive list of partners, all of which can be found here.
We recently sat down with CEO and co-founder Benjamin Jost to discuss the startup's competitive edge in the customer service and hospitality industries, its perspective on the year that was, and its plans for growth in 2018. So should hospitality and travel professionals align with TrustYou? Read and be the judge:
TDM: What makes TrustYou different from other customer service platforms which also provide guest messaging and reputation management on social media?
Benjamin: Four things. First of course is our all-in-one guest feedback platform, covering the entire guest journey from searching and booking with its Review Marketing module, to on-site and real-time communication with Messaging, to post-stay reviews with Surveys and Analytics.
Second, we have outstanding customer service. We received a 97% satisfaction rate through daily client webinars and dedicated onboarding among other activities.
Third, we make an impact on direct bookings through our great partnerships worldwide. TrustYou powers reviews visible to nearly 5 billion travellers worldwide on more than 100 online travel sites, like Google, KAYAK and Skyscanner, as well as on a myriad of hotel websites.
Finally, we've been ranked 1st on hoteltechreport in Reputation/Review Reputation Management.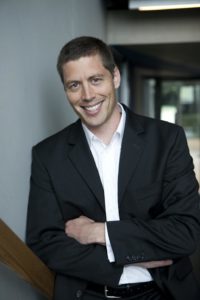 TDM: Congratulations! That said, how was 2017 for TrustYou? What would you count as your biggest win of the year? What was your biggest takeaway from it?
Benjamin: Last year was very successful for us, with many new partnerships and milestones in our product development.
We collected and analysed a total of 103 million reviews in 2017, up from 90 million in the year prior. We also collected 4.25 million TrustYou Surveys last year, coming from  3.62 million in 2016.
There were 1.5 million direct messages sent through TrustYou's platform, and we were able to release 95 new product feature.
Our biggest win in APAC was getting Taj Hotels and Shangri-La Hotels as clients.
"Here's our biggest learning from 2017: never stop innovating, listen to your customers' feedback, and don't shy away from doing things that no one has ever done before"
TDM: Given that TrustYou was acquired by Recruit of Japan in July 2017, is it safe to assume that the company has fully transitioned into profitability? Or does it still receive angel and VC investments?
Benjamin: We have been profitable for a while now, but we deliberately choose to invest in future growth when it makes sense. To support our fast growth, we decided to partner with Recruit Holdings Co, Ltd of Japan, which shares the same vision of sustainable but rapid growth as we do.
TDM: As one of the early travel tech startups playing in the customer service space, what were the key learnings in your journey?
Benjamin: To embrace change. Our idea was initially to provide a B2C solution for travellers to find the right hotel. Soon we realized that many hotels were interested in our data, which is why we decided to change our initial approach. It worked out: Our vision to improve the overall traveller experience has become reality in our nearly 10 years of entrepreneurship.
TDM: What do you think is the biggest secret to TrustYou's success?
Benjamin: We have a great team all over the world that is convinced of TrustYou's vision and platform. All team members work hand in hand to ensure that we deliver the best possible quality, service and technology to our clients. We remain innovative and visionary to assure that we are leaders in the sector of guest feedback management.
"TrustYou is the only all-in-one guest feedback platform with which hotels can make a true impact on bookings, revenue, and their online reputation by influencing the entire guest journey from searching and booking with its Review Marketing module, to on-site and real-time communication with Messaging, to post-stay reviews with Surveys and Analytics"
TDM: Are the TrustYou reviews collected across languages and cultures? Ex. I'm from SEAsia in APAC, will the review of my stay in a Japanese hotel also be translated into Japanese and other languages relevant to inbound travellers into Japan?
Benjamin: Our analysis includes more than 250 verified sources in 19 languages.This means we collect all reviews in all languages and display them in a hotel's inbox. There, the hotel can also translate them directly and reply to them. The languages of each review site are up to the review site – we only collect and analyse. We also have a language tile in the analytics dashboard. This gives customers an overview of the language distribution, it tells them what languages their guests use the most.  Hoteliers can also see the languages segmented in reviews scores (or stars), together with other interesting KPIs such as performance score and response rate per language.
TDM: What innovative technologies are you using or looking into using in any of your platforms?
Benjamin: This year, 2018, is the year where artificial intelligence is on top of mind for us. We don't have immediate plans to invest in blockchain or any other technology. However, if we find a use case that makes the life of our customers easier or has a clear ROI attached to it, we will invest in it.
TDM: What's next for TrustYou this 2018?
Benjamin: First, we will invest in AI to make even more sense of the billions of data points we capture and analyze each day. In the near future, our platform will make personalised recommendations on how to improve, where to invest and how to respond – an autopilot mode for guest feedback.
Second, we plan to expand our all-in-one guest feedback platform so that it can capture, understand, respond, track, and analyze trends via every channel the guest chooses to use: email, app, survey form, messaging, phone or voice.
Third, we will work on a better and more personalized traveller experience that hotels can offer through our platform.
Fourth, we will tackle new markets and expand our influence in existing markets, especially in the APAC region.
Finally, we will expand our presence in India by having the first Mumbai-based TrustYou employee team from February 2018 onwards.
TDM: What would you like to see up-and-coming travel tech startups tackle?
Benjamin: We think there is still a lot of room for improvement in the operations of assets, e.g. hotels, and the personalisation of the experience. These areas are ready for disruption to take the friction out of travel. There is still a lot of friction after the booking is completed until the check-out period.
TDM: What advice would you give to startups playing in the travel tech space?
Benjamin: First, hiring a great team is essential, which sounds much easier than it is. Additionally, my advice is always to get cash flow positive as quickly as possible to be able to go after your own destiny and not rely on third parties' money. Getting funds when you don't necessarily need them is much better than doing so when you do need them.