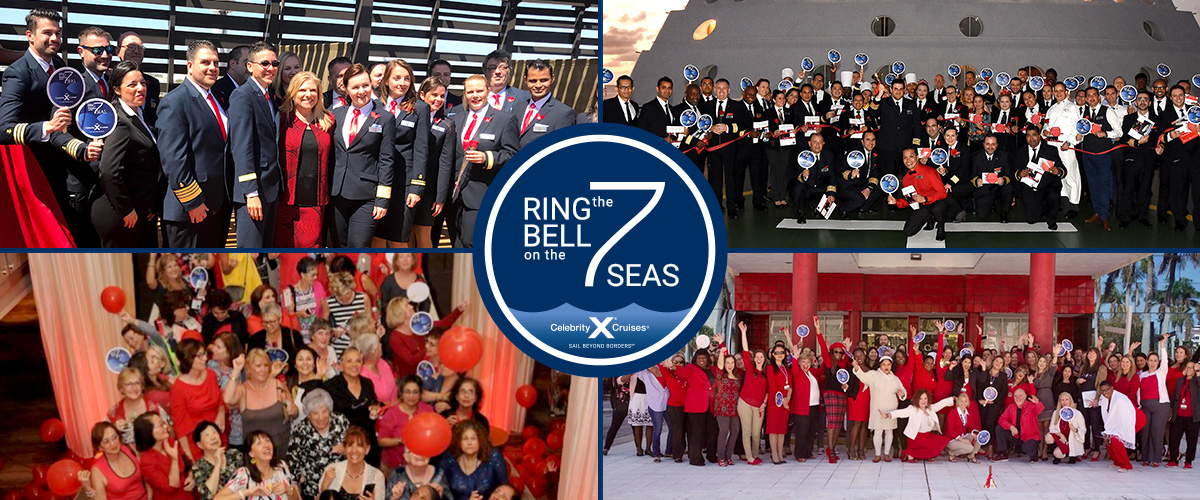 In honour of International Women's Day (IWD), Celebrity Cruises has celebrated with Ring the Bell on the Seven Seas, supporting equality, advancement, and accomplishments of women.
The ceremony took place on the entire Celebrity Cruises fleet of ships across the world, as well as in the company's offices worldwide. Guests, crew and employees took part in the celebrations, wearing red to show their unity and support for women's accomplishments.
"50/50 gender ratio"
"We have a lot to celebrate this year at Celebrity Cruises. We now have four female captains and five female hotel directors. And a historic first – our new beautiful Galapagos ship, Celebrity Flora, will enter service with a 50/50 gender ratio on the bridge," said Lisa Lutoff-Perlo, president and CEO of Celebrity Cruises.
"Celebrity Edge was the first ship to have a 30 per cent ratio of female crew, and while we're leading the way in our industry, we're not finished advancing gender equality."
For the second year, Celebrity Cruises has partnered with the Red Shoe Movement in support of the Gender Equality Global Initiative.
Every Celebrity Cruises ship in the fleet, along with the company's global offices, has performed its own ceremony by reading a manifesto to support gender equality in the maritime industry and around the world. A ceremony has been hosted by Lisa Lutoff-Perlo, president and CEO, Celebrity Cruises, across two of the brand's ships in Grand Cayman.
Lutoff-Perlo added, "On International Women's Day, we celebrate all that we've accomplished and bring awareness to all there is still left to do. I look forward to the time when this day is no longer needed."