China Airlines increases Gatwick-Taipei route
China Airlines is increasing its non-stop route from London Gatwick to Taipei from four to five flights per week.
The national flag carrier of the Republic of China (Taiwan) will add a fifth flight from 25 March 2018 onwards, with the additional service operating every Tuesday.
The increase follows the announcement that China Airlines is returning to the UK after a five year hiatus with the launch of a new non-stop service between London Gatwick and Taipei's Taoyuan International on Friday 1 December 2017.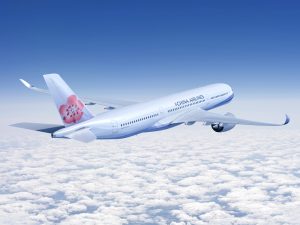 The new service will operate four times per week from Gatwick's South Terminal until 25 March 2018, when the additional Tuesday flight will be added.
The A350-900 Airbus will carry up to 306 passengers with a three class configuration, offering Premium Business, Premium Economy and Economy cabins.
"Having only just announced our return to the UK, we are already demonstrating our ambition and commitment to the service by expanding from four to five weekly flights," said Roger Han, senior vice president, Europe at China Airlines.

"This addition to the only non-stop service between Taiwan and the UK will allow even more travellers to experience China Airlines' impressive 4-star inflight service. Customers will be able to travel more frequently with the knowledge that our network is opening up many routes into Australia, New Zealand and Asia."
Flights can be booked through www.china-airlines.com