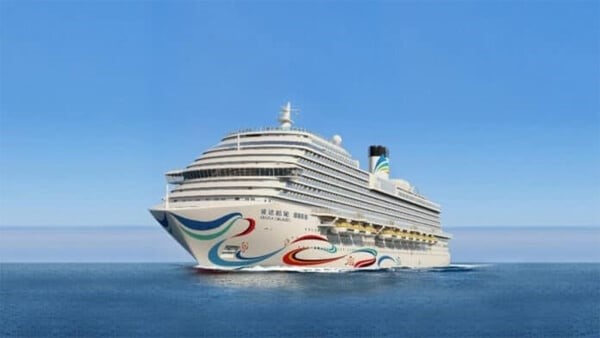 China has released further information about its domestic cruise industry development plans. A new joint venture between CSSC (China State Shipbuilding Corporation) and Carnival Corporation was launched, and preliminary designs for a smaller, more luxurious cruise ship were shown. China's growing presence in the international cruise business is being facilitated in part by a banking syndicate.
Shipbuilder CSSC has formed a joint venture with Carnival Corporation for a new brand, which they revealed today would be named Adora Cruises when it starts in 2023. This is part of China's strong push to expand its domestic capabilities. The CSSC has also partnered with Fincantieri, guiding the building of China's first major cruise ship to be manufactured domestically.
Though most ships have not returned to China since the outbreak, these attempts continue. China's largest domestic cruise ships are also waiting for a relaxation of the zero COVID policy before they can begin sailing, which has prevented all foreign cruise companies from resuming operations.
But work is progressing rapidly on the first mega-cruise ship, with CSSC claiming delivery by year's end. Its corporate design, used by Carnival Cruise Line and Costa Cruises, was adapted for this vessel. There will be 2,125 staterooms on board, making the ship 1,060 feet long and 135,000 gross tonnes.
The Chinese have also altered the concept for a second, bigger cruise ship. The ship, which will be 142,000 gross tonnes, has been under construction since the beginning of the year. The length of this cruise ship will be 1,119 feet, and it will have 2,144 staterooms.
In addition to offering short and long cruises for domestic and international travel, the new company said it will establish a long-term boutique route along the "Maritime Silk Road." However, details on its cruises have yet to be disclosed. Destinations on this trip include countries important to China's "Belt and Road" initiative.
Adora, proud of its Chinese roots, claims it will combine a global perspective with domestic expertise to design a cruise itinerary tailored to the preferences of Chinese tourists. To "address the varying demands of different customers," the company said it would offer a "better quality onboard experience and exclusive shore tour items."
Plans for CSSC's cruise business expansion were also laid out in detail. An international classification body approved the first Chinese-developed cruise ship design in December 2021. It was for a bigger vessel with a gross tonnage of 150,000. CSSC Cruise Technology Development Co., a wholly-owned subsidiary of China State Shipbuilding Corporation, has revealed a new design for a cruise ship with 80,000 gross tonnes today.
CSSC believes this new design is a luxury cruise ship measuring 963 feet in length. According to CSSC, the design's high passenger space ratio, passenger-crew ratio, and public area per passenger considerably improve passenger comfort. It takes techniques such as enhancing the wind field and hydrodynamic performance of the superstructure and installing energy-saving equipment to lower the resistance and boost energy efficiency, with the result that the balcony room ratio of this type of ship is expected to surpass 69%. The design has been given Approval in Principle (AiP) by the China Classification Society (CCS).
The Bank of China, Industrial and Commercial Bank of China, Agricultural Bank of China, China Construction Bank, China Bank of Communications, and other financial institutions have signed a memorandum of cooperation with CSSC Finance Co. and CSSC Carnival Cruise Co. to fund the expansion of the Chinese cruise industry. Details show that $1.4 billion in loans will be pooled to fund the building of two massive Chinese cruise ships and to expand the country's cruise fleet, making this the first long-term syndicated credit for cruise funding in China.