Chiva-Som to welcome fully-vaccinated guests without quarantine from November 1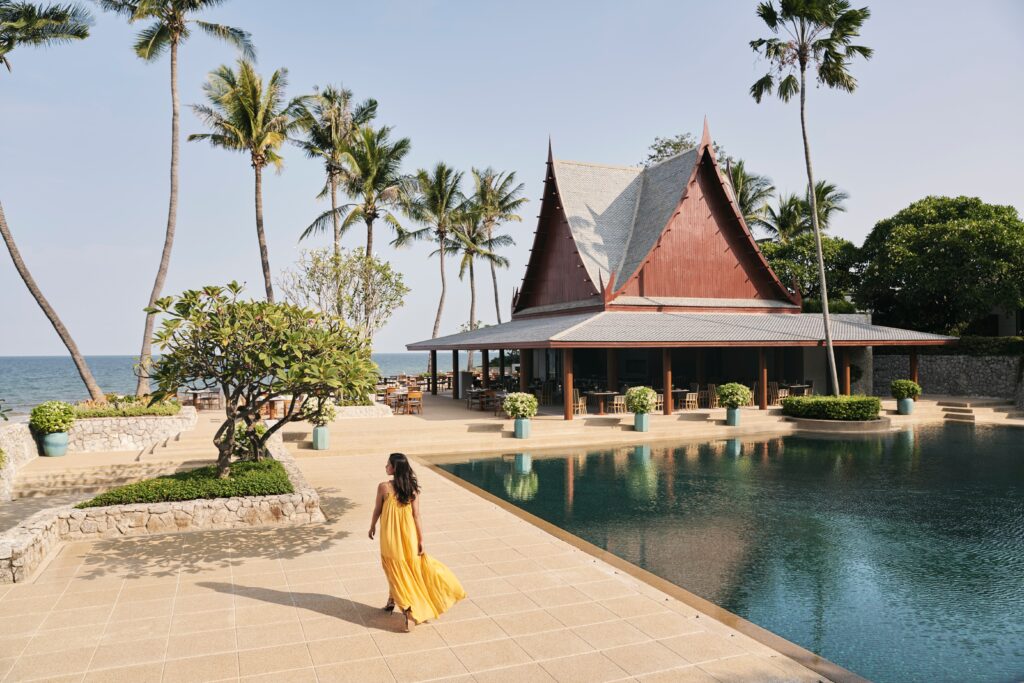 Chiva-Som in Hua Hin, Thailand, looks forward to welcoming international guests from 01 November 2021, with no quarantine necessary for fully vaccinated travellers from approved destinations. The resort has already been SHA Plus+ certified and is ready to welcome all guests.
In line with Thailand's plan to reopen the kingdom to international tourism, travellers from 46 government-approved destinations* may now visit without quarantine. Visitors to the kingdom should apply for a Thailand Pass via www.tp.consular.go.th, which is expected to be available soon. They must travel by air, have a negative RT-PCR test from within the last 72 hours, and have COVID-19 health insurance.
There are two options upon arrival. First, guests can stay one night in Bangkok at an approved quarantine facility, such as a SHA Plus+ hotel, while waiting for the results of a second RT-PCR test. Upon testing negative, they may then travel to Hua Hin where another ATK test will be performed on Day 6 or 7.
The second option is to travel directly to Hua Hin, which has been deemed a 'Blue Zone' (Business & Leisure Ultimate Experiences), and stay at a SHA Plus+ hotel, of which Chiva-Som is one, and remain within a 'sealed area' for seven days before onward travel to other destinations. An RT-PCR test is required upon arrival at the resort, and an ATK test on Day 6 or 7. This option is also available to fully vaccinated travellers from destinations not on the approved list. More information can be found at the TAT News website.
Commenting on the destination's opening to international travellers, Mr. Vaipanya Kongkwanyuen, General Manager of Chiva-Som, says "I am delighted for Hua Hin to reopen, and look forward to welcoming our international guests back soon. At Chiva-Som, we have and always will prioritise the safety and wellbeing of our guests and staff. While our resort already has high standards of hygiene, we have now gone above and beyond, implementing further sanitation protocols to be able to welcome our guests in the safest manner possible. In addition, all staff are fully vaccinated and have been trained in global health standards, including wearing masks and personal protective equipment when needed."
Designed particularly to address the challenges that COVID-19 has brought, Chiva-Som recently launched four new wellness retreats, adding to its already comprehensive offering. The Immune Resilience retreat incorporates nutrient-rich cuisine, detoxifying treatments and mindful exercise to naturally boost the body's defenses, while the Gut Health retreat consists of a personalised meal programme that places natural ingredients, probiotics and fibre at the forefront to restore the integrity of the gut microbiome. Nature's Embrace emphasises the healing effects of nature, with outdoor activities to rebalance the body and mind, and Senior Wellness builds on gentle exercise, a nutritious diet and quality sleep enhancement to increase energy levels, cognitive function, stability and mobility.
Over the last 26 years, Chiva-Som has gone on to become one of the most sought-after luxury wellness destinations in the world. A tranquil beachfront setting, charming Thai design, state-of-the-art wellness facilities and some of the best health practitioners from around the world are complemented by gracious, attentive hospitality from the heart.