Cruise news: Wider balconies at sea, tallest screen and more
Catch all the action from the cruise industry in our exciting weekly roundup. This week Antarctica gains focus with luxurious itineraries and a trip with the expert, while cruise ships fight it out with innovative features like tallest screen and ever-growing balconies.
Discover the Galápagos Islands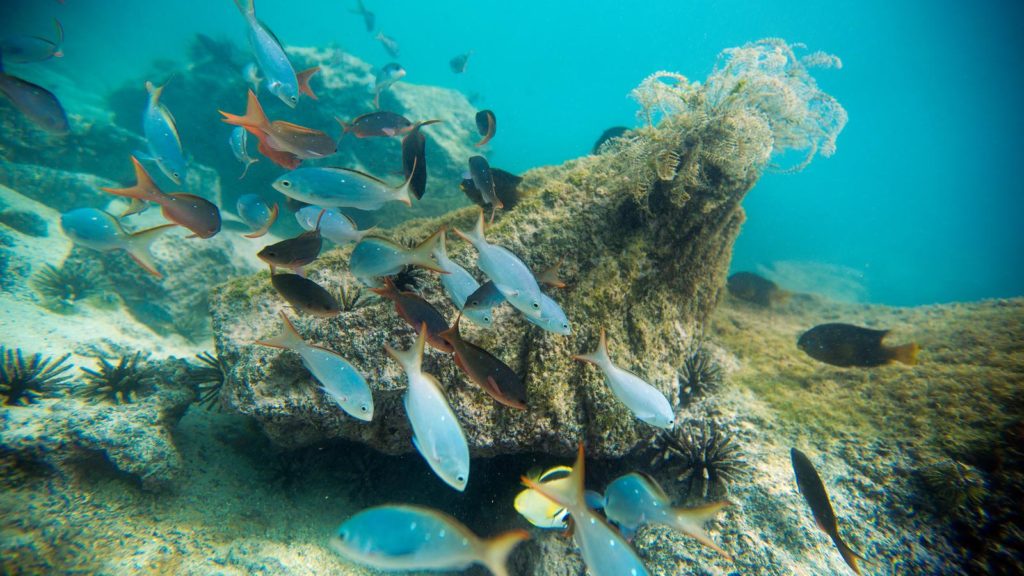 UK-based Sunvil has introduced a new luxury Galápagos cruise vessel, MV Theory, to its Latin America programme. MV Theory and its sister ship MV Origin (also offered by Sunvil) are the only two ships in the Galápagos to have been awarded a Relais & Châteaux certification. Thus promising a very high level of comfort and service while discovering Galápagos.
MV Theory will mimic the design of its sister ship, featuring ten deluxe ensuite rooms with panoramic views, sundeck with Jacuzzi and loungers, indoor lounge and bar, small gym, library and more, all topped off with stylish furnishings and useful extras such as air-conditioning and Apple TV.
Colin O'Brady joins Seabourne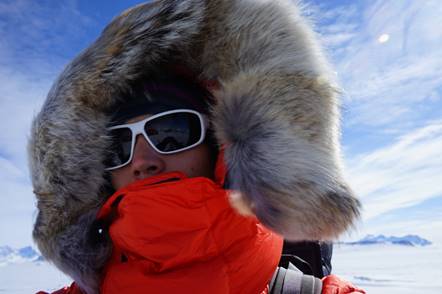 Seabourn, an ultra-luxury cruise line, is continuing its mission to inspire and inform guests by announcing the addition of acclaimed Antarctic explorer Colin O'Brady.
O'Brady is an American professional endurance athlete who has achieved four World Records in his career. He grew up exploring the mountains of the Pacific Northwest and cultivated a passion for adventure in the outdoors.
O'Brady, 33, made worldwide headlines on 26 December 2018 when he became the first person to cross the landmass of Antarctica solo, unaided by kites or resupplies. He accomplished the feat in 54 days, covering more than 930 miles along the way, including more than 77 miles in the final 32-hour window where he went without sleep.
The sailing is a 21-Day Ultimate Antarctica and Patagonia itinerary that will depart on 28 November 2019 from San Antonio (Santiago), Chile and is a part of its Seabourn Conversations programme.
"One of the most noteworthy Polar treks in many years"
"Colin's accomplishment is truly exceptional and will go down in history as one of the most noteworthy Polar treks in many years," said Robin West, vice president of Expedition Operations for Seabourn. "His stories and firsthand descriptions will be a remarkably colourful addition to an already exciting experience for guests who will be onboard this sailing and we are thrilled he will be joining us."
Quark's latest steel ship
Quark Expeditions, who is known for polar adventures for three decades, celebrated the steel-cutting of its new ship, launching a new chapter in polar exploration.
The new ship from Quark Expeditions combines leading-edge technology, long-range operational capability and advanced safety systems to reach new frontiers in polar exploration. The vessel, at 128 meters long, with a beam of 21.5 meters and at 13,500 gross tons which will set sail in 2020, will accommodate up to 200 passengers in spacious cabins and public areas and feature an unparalleled array of adventure options, allowing guests to maximise opportunities for spontaneous adventure off the ship while enjoying superior comfort on it.
The ship's numerous innovations will also minimise its environmental footprint to an extent previously unseen for a vessel of comparable size, including a water treatment system, state-of-the-art waste handling, a leading-edge heat recovery system that recycles excess energy back into the ship, and the use of entirely recyclable materials to construct it. The dynamic positioning technology will also mean no need to anchor – avoiding damage to sensitive seabed ecosystems.
The new vessel will go on sale in Spring 2019, with the launch of its inaugural Antarctic 2020-2021 season.
Tallest screen at sea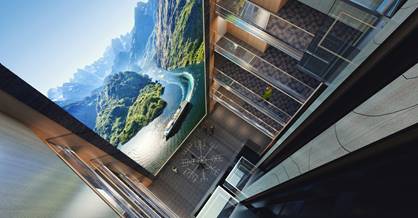 Technology will take guest experience on Hurtigruten's first hybrid-powered expedition cruise ship MS Roald Amundsen to a new level thanks to a a high-tech centrepiece: The tallest LED screen at sea, where lectures and transmissions from outside the ship will be broadcasted live.
"Introducing the tallest LED-screen at sea"
Spanning seven decks and 17.5 meters, the screen will give the Hurtigruten guests a truly unique welcome when they step on board MS Roald Amundsen. The screen will be located in MS Roald Amundsen's atrium. Facing the three all-glass elevators, it towers all the way up to and including deck 10. The screen will provide a resolution beyond 4K Ultra-HD, for a "perfect seamless and borderless display".
Hurtigruten CEO Daniel Skjeldam said: "Our focus on state-of-the-art design, innovation and technology is not limited to the exterior. It also includes the interior and will take the guest experience to a whole new level. By introducing the tallest LED-screen at sea, we will bring – and magnify – the splendid beauty of the passing nature, to the guests inside".
Launched in 2019, 2020 and 2021, MS Roald Amundsen, MS Fridtjof Nansen and their yet to be named sister, will explore some of the most unique areas on Earth.
Luxury trips to Antarctica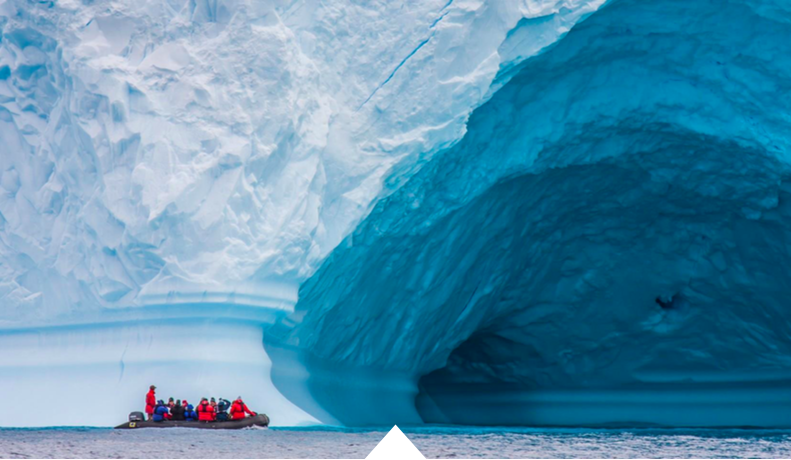 Luxury travel operator, Scott Dunn announced its new collection of Antarctica experiences, which comprises of its first fly-cruise tour to the world's last frontier, the dramatic wilderness of Antarctica.
After recognising the growing need for travellers looking to maximise their time exploring the great white continent, Scott Dunn developed a bespoke fly-cruise programme which can be experienced on both the Magellan Explorer and Greg Mortimer vessels, allowing guests to make the most of their limited holiday time – spending more time on-board and less time travelling. Travellers will fly over Cape Horn, avoiding the rough waves of the Drake Passage cutting out four days at sea before navigating the waters of the incredible Antarctic Peninsula visiting some of the most inaccessible places on earth.
The new state of the art vessels will showcase the best of the beguiling polar region, whilst having as little impact on the environment as possible. Guests will be able to travel onboard ships which utilise unique innovation and technology. Featuring custom-built, ice-strengthened hulls, the ships can penetrate the most impassable areas allowing guests to be the first each day to access parts of the peninsula that other larger boats cannot reach. With expert guides, guests can learn first-hand the efforts taking place to protect this fragile eco-system by helping record wildlife sightings and measuring melt-water and ocean conditions.
Overlooking large balconies
Princess Cruises continues to innovate by introducing the cruise industry's largest balconies at sea, available when sailing in the Sky Suites onboard the new Sky Princess, launching in October 2019.
Two Sky Suites accommodations available now for booking onboard Sky Princess, as well as the cruise line's next new ship, Enchanted Princess, are centrally located on the top decks – the apex of the ship and feature the largest private balconies ever offered by any cruise line. Measuring 1,012 square feet (starboard side Sky Suite) and 947 square feet (port side Sky Suite), the furnished balconies will provide a private vantage of the ship's Movie Under the Stars screen and create the ultimate space for entertaining. The two suites will also offer 270-degree panorama views and have a sleeping capacity for five guests, and more room for gathering — making them ideal for families.
"We've lead the way on many innovations in the cruise industry, evolving to meet the needs of today's vacationer and of all of our new stateroom innovations, we've never seen such immediate demand as we are for these Sky Suites," said Jan Swartz, Princess Cruises president. "Our global fleet offers one of the highest percentages of balcony staterooms in the industry, across all cabin categories and now we're eager for the arrival of the industry's largest balconies at sea, inviting guests to relax privately or host their very own en-suite celebrations in style." 

Sky Suites feature two bedrooms, two bathrooms and a dining area with a skylight to the stars. Before Sky Suite guests board their cruise ship, they can take advantage of a pre-cruise, shoreside concierge. Once onboard, guests will also enjoy Sanctuary services on their balcony, a private suite experience manager, complimentary access to the Lotus Spa's Enclave, enhanced ultimate balcony dining and even a deluxe telescope for Discovery Stargazing at Sea. More exclusive Sky Suites services will be announced in the coming months.
Sky Princess debuts in the Mediterranean in October 2019 and Enchanted Princess sets sail in Europe in 2020. Both cruise ships, carrying 3,660 guests, will include the best of the stunning features found on – Royal Princess, Regal Princess and Majestic Princess – as well as new offerings that represent an evolution of the current ships' designs.