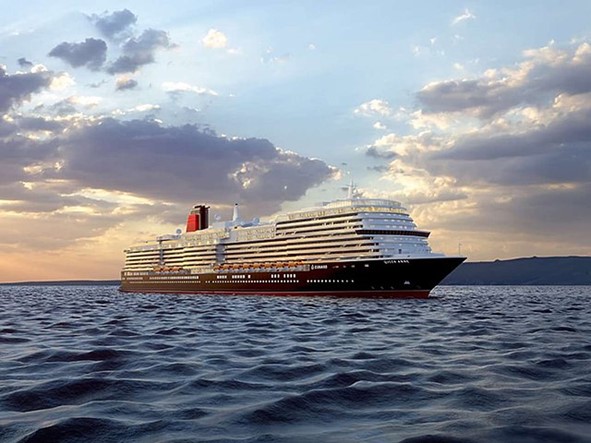 Queen Anne will make her first voyage to Australia as part of Cunard Line's 2024/2025 local season.
In January 2025, Queen Anne will make history by setting sail on her first-ever World Journey, taking her to over 30 ports across five continents throughout 107 nights. From Auckland, the ship will head to Sydney before continuing to Brisbane, the Whitsunday Islands, Cairns, and finally Darwin on route to Hong Kong.
There are also nine overnight stops in ports, including San Francisco, Honolulu, and Singapore, providing passengers with even more opportunities for discovery.
Meanwhile, Queen Elizabeth's 131-day residency includes circumnavigating Australia and new sailings to Queensland and the South Pacific.
"We're so excited to share our newest programme featuring some fantastic itineraries and – with over 130 to choose from – you'll certainly be spoiled for choice," the president of Carnival UK, Sture Myrmell, said.
"Whether you want to wander Europe's historic streets, channel your adventurous side trying street food across Asia, explore the magic of Australia's coastline or savour the sunsets in Hawaii, Cunard has a voyage for you."
"Better still, when you're not off exploring a new destination, you can relax in luxury on board, enjoy fascinating Insight talks, innovative theatre and a variety of fine dining options.
"However you choose to spend your time, you can savour every destination both from aboard and spending time exploring ashore."
In early October 2024, Queen Elizabeth will set sail from Sydney on a series of spectacular journeys, including a 30-night Australian circumnavigation, calling in major capital cities and hidden rural gems like Broome.
The popular Cunard Christmas and New Year's cruise to New Zealand will feature a classic Cunard Christmas and an overnight stop in Auckland to welcome the new year.
A 15-night South Pacific cruise is a great chance to see the beautiful islands of Fiji, Vanuatu, and New Caledonia, and there will also be breathtaking itineraries in Tasmania and Queensland.
After that, Queen Elizabeth will set sail for Japan, making stops in Nagasaki, Yokohama, and Osaka during her 19-night Grand Voyage and nine-night Golden Week journey.
Queen Victoria will sail from Southampton to the warm shores of Brazil, Chile, and Ecuador on a 78-night South American adventure in January 2025. Cunard's flagship Queen Mary 2, will combine her unique Transatlantic Crossings with visits to multiple sun-kissed destinations across Europe and the Americas.
Cunard now offers a trip that spans all four ships, with passengers able to embark on an unforgettable 38-night experience that begins in the European summer with a cruise around the Mediterranean on board Queen Victoria, followed by a voyage from Rome to Southampton on Cunard's new ship Queen Anne.
After that, the voyage includes an iconic Transatlantic crossing on Cunard's flagship Queen Mary 2 before flying to Vancouver to experience Alaska for ten nights aboard Queen Anne.