Deadwood Mountain Grand announces transformation of Historic Resort
Deadwood Mountain Grand, a Holiday Inn Resort®, reveals the renderings for its completely refreshed hotel. Situated just steps from historic downtown Deadwood, the property was previously known as the 1906 Homestake Mining Co. ore processing plant and in 2011 became Deadwood's only large-scale event center and casino, and is adjoined with the Holiday Inn Resort at Deadwood Mountain Grand.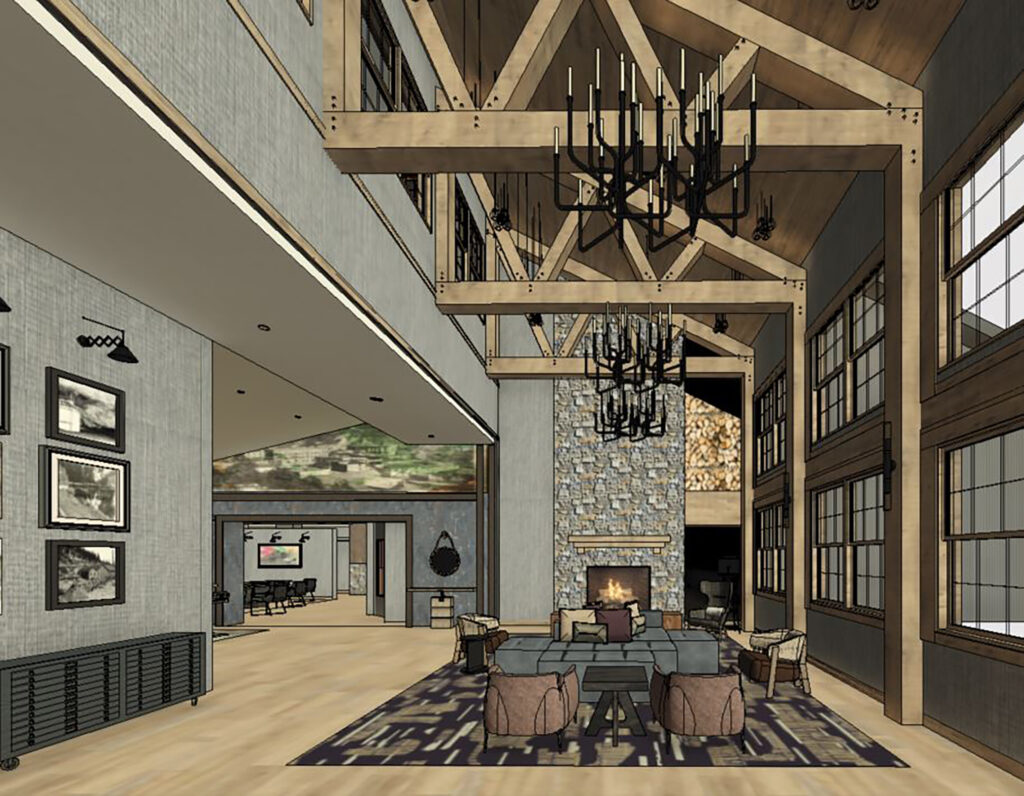 Deadwood Mountain Grand's upgrades will include attention to its 93 hotel rooms and five suites as well as common guest areas including the lobby and restaurant. The new spaces will provide guests with an enhanced sense of place, paying tribute to Deadwood's rustic and industrial past, while pairing it with chic features to provide an elevated mountain lodge experience.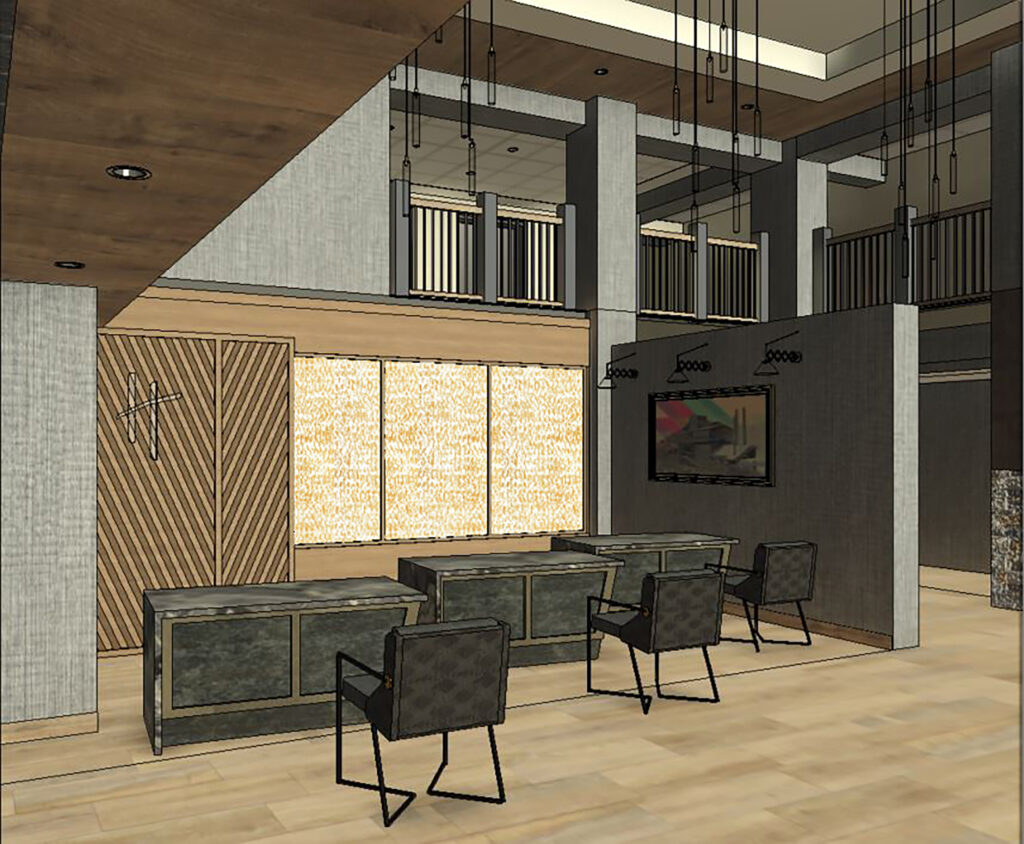 "Providing our guests with a unique experience is a top priority for us at Deadwood Mountain Grand," says Susan Kightlinger, Deadwood Mountain Grand general manager. "We are excited to welcome our guests to our refreshed hotel, while continuing to create memorable stays for our visitors."
Directed by Ste Marie Design, the design ensures the rich history of Deadwood is reflected throughout the hotel through artwork, materials and finishes. Through copious research in conjunction with Deadwood History Inc., the hotel's refreshed interiors will take cues from the rugged history of Deadwood balanced with contemporary finishes. The juxtaposition of industrial verse luxe materials such as brass, bronze and wood will be highlighted throughout the lobby and guest rooms, honoring Deadwood's history of gold mining and providing a modern lodge feel to complement the positioning of Deadwood in the beautiful Black Hills. Lush fabrics such as velvet, suede, leather and sherpa will adorn the hotel in rich eclectic tones creating a blend of lavish comfort and an elevated experience.
Stepping foot into the lobby, guests will be welcomed by an array of historic photos sourced from Deadwood's History Inc., allowing new visitors to have an immediate chronicle of Deadwood's past. The lobby was designed to be a conversational space with two ample seating areas, each centered by beautiful stone fireplaces and ambient layers of lighting. In the main area, guests can take in the incredible views with large windows that frame the wooded hills. The check-in experience will add an element of nostalgia, with all the check-in desks designed to give the illusion of old mining carts.
Taking the elevator up to their rooms, visitors will be able to peruse superimposed graphics on historic photos. As guests enter their rooms, they will be immersed in comfort and invited in by rich textural elements, such as weathered wood-like wallpaper, playful plaid and velvet fabrics, and intentional elegance highlighted by elevated materials like stone, marble and bronze. Within the bathrooms, a letter written by Sarah Sawyer to W.E. Adams, of the influential Adams family, is enlarged with a custom watercolor overlay as a wall covering, nodding to the town's past. The brass-illuminated mirrors and the shelving detail on the vanities mimic gold mining pans, again highlighting the building's past. These elevated fixtures throughout the bathrooms offer guests an experience of luxury.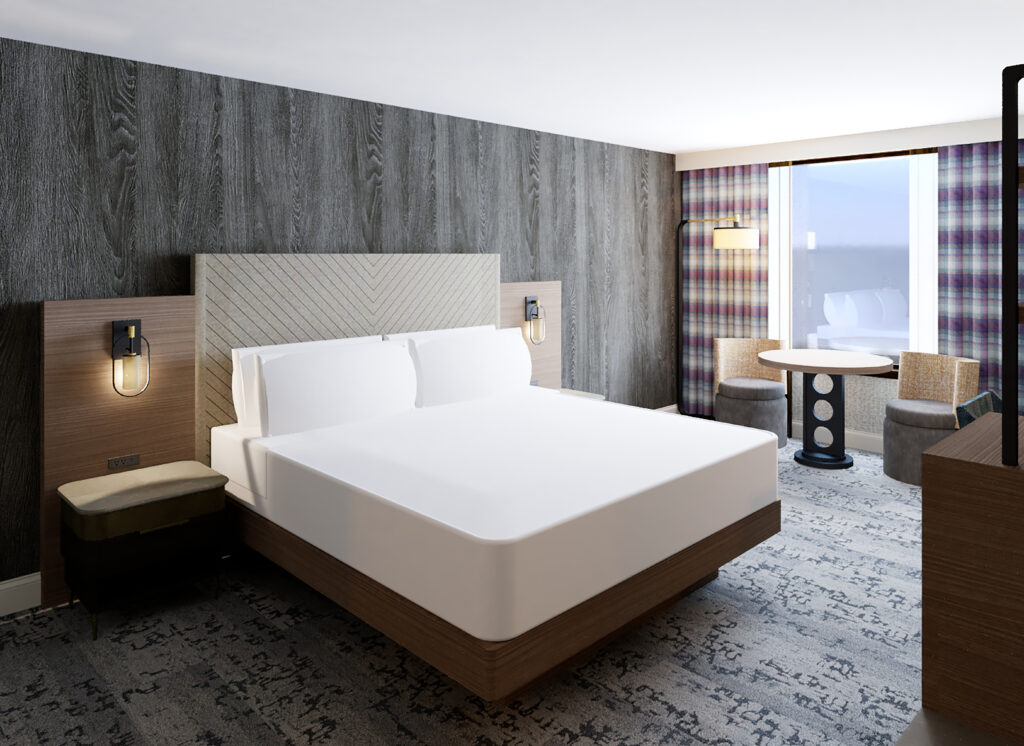 "We drew inspiration from the Deadwood gold rush era and the essence that surrounded this iconic time. To convey design intent, historic photography took center stage while elements of materiality such as gold and mining tool silhouettes were used to create a luxe juxtaposition between rustic and modern giving the space an elevated ambiance," says Andrea Swenson, senior interior designer at Ste Marie Design. "We're thrilled to be partnering with Deadwood Mountain Grand on this project and look forward to unveiling our work to guests this summer."
The hotel features 93 luxury rooms and five beautifully-appointed suites, all furnished with fireplaces. Additional amenities include complimentary valet parking, concierge services, a heated indoor pool, hot tub, fitness center, gift shop and dog-friendly accommodations.
The renovations at Deadwood Mountain Grand are expected to be complete by summer of 2023, right in time for Deadwood's action-packed summer season.