Destin-Fort Walton Beach, Florida continues conservation efforts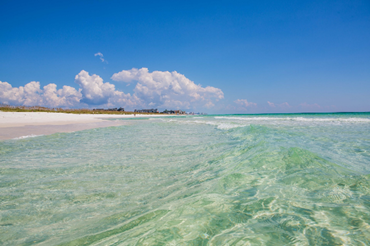 Led by the Okaloosa County Tourism Development Department's (TDD) embedded Coastal Resources team, these projects are dedicated to conserving Northwest Florida's natural beauty, protecting native wildlife, and developing world-renowned coastal tourism adventures. 
Below, please find more information the destination's Artificial Reef Program, its annual Emerald Coast Open Lionfish Tournament, and its efforts to educate the public on how to protect sea turtles with the Gulfarium C.A.R.E. Center:
A NEW HABITAT FOR SEA LIFE AND A DESTINATION FOR DIVERS
Destin-Fort Walton Beach's artificial reef program is part of a larger five-year plan designed to both enhance the area's marine ecosystems and spark interest in local water adventures. Comprised of anything from concrete piles to specifically-designed modules and even large shipwrecks, the artificial reefs create excellent sites for fishing, diving, and snorkeling activities by providing habitat to more than 150 different recreationally and commercially important species of fish and invertebrates.
In addition to reducing negative impacts to naturally-occurring reefs by spreading out diving and fishing visitation, the artificial reef program boasts many ecological benefits including the increase in survival likelihood of juvenile fish that require reef structure for parts of their development. Not surprisingly, artificial reefs also boost spawning potential (which results in more fish) and help sustain the fishing industry and prevent overfishing in the region.
Coastal Resource Manager Alex Fogg oversees each new reef from procurement to deployment, including the management of a marine contracting team who transports and thoroughly cleans each vessel to avoid any harmful environmental impacts. Since 2019, Destin-Fort Walton Beach has deployed around 1,500 concrete structures and 10 vessels. Recent deployments include limestone reefs that were deployed in partnership with Starborough Wines, Destin High School, Emerald Coast Reef Association and Saltwater Restaurant Group, and vessels that include R/V Manta (180' X 38' steel hulled research vessel); R/V Dolphin (192' x 39.9' steel hulled, bottom cable research vessel); and the RMS Cyclops (105' x 24' steel hulled, offshore supply vessel). The RMS Atlantis (a decommissioned offshore supply vessel) and The Deep Stem are next up in line this summer, early fall.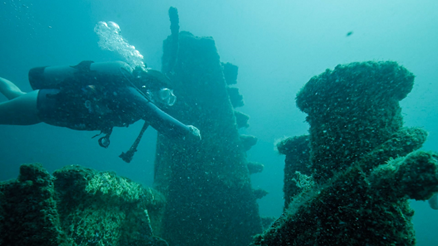 A record-breaking year at the world's largest Lionfish tournament
This past May the destination continued to serve as host of the Emerald Coast Open – the world's largest lionfish tournament – in conjunction with the Florida Fish and Wildlife Conservation Commission's Lionfish Removal & Awareness Day Festival. The invasive, venomous species arrived in the Gulf of Mexico in 2012, and populations in Northwest Florida have grown to the highest concentration in the world. The tournament goals are to raise awareness of the issue, remove the species from the water to lessen the threat to native wildlife, and delight in their surprisingly delectable taste. A themed Restaurant Week primed interest in the event during the week prior. This year's tournament was held from May 19-20 with an award ceremony at AJ's Seafood and Oyster Bar on May 21. The tournament had 144 divers participate in a variety of categories, competing for prize money totaling more than $100,000. This year's collection set a new record with the successful removal of 24,699 lionfish, nearly doubling last year's total of 13,835! In addition to the main tournament, the event also set a pre-tournament record of 5,139 lionfish caught.
Caring for sea turtles
In partnership with Destin-Fort Walton Beach, the Gulfarium C.A.R.E. Center is bringing awareness to sea turtles and nesting beaches by offering the "C.A.R.E."ing For Turtles program. The new, after-hours educational experience offers guests the opportunity to get a behind-the-scenes look into the operations of the rehabilitation center, meet current sea turtle patients, and learn how to perform a mock in-take of an injured sea turtle.
Typical sea turtle species found in Gulf waters include Loggerhead, Green, Kemp's Ridley, and  Leatherback. The hour-long program is suitable for guests ages 8 and older and can be added to any standard admission ticket.