Discover a different area of the Champagne region in Haute-Marne
Situated in the Champagne region, Haute-Marne is an area of beautiful countryside with many leisure activities and local products. Steeped in history, castles, abbeys and picturesque towns, visitors have plenty to discover. Here's a close look at what's on offer:
LANGRES
Langres is a fortified town, more than 2000 years old and is the largest walled city in Europe. The ramparts stretch over 8km. Visitors can walk along 3km of wall walks offering panoramic views of the surrounding valleys. In the narrow streets you'll fine Renaissance buildings and former convents.
www.tourisme-langres.com
AUBERIVE ABBEY
The rise of Cistercian abbeys in the 12th and 13th century Europe was rapid. Today, there are 14 monasteries and convents forming part of the Cistercian Tour. The beautiful Auberive Abbey was founded in 1135 by St. Bernard. Reconstructed by monks in the 18th century, it has since been a prison for women, a farm camp for delinquent boys and now it's a cultural centre.
www.abbaye-auberive.com
BLADE-MAKING IN NOGENT
The art of blade and scissor craft has existed in Haute-Marne since the 14th centre. The Nogent Blades Museum presents the technical and social history of blade-making.
www.villedenogent52.com
TASTES OF HAUTE MARNE
Langres cheese is the most famous cheese of the area. Its history dates back at least to the 18th century and is produced from cow's milk. It has a soft, creamy texture with an orange-coloured rind. The region also produces cassis, olive oil, honey, saffron, truffles and beer which can be purchased at the market in Langres and elsewhere in the region.
CHAMPAGNE AND WINE
The Haute-Marne champagne-producing vineyards have since 1973 extended over nearly 80 hectares of countryside and produce a majority of pinot noir grapes. Today, visitors can follow the Haute-Marne Champagne trail (Route Touristique du Champagne). Visit the Rizaucourt and Argentolles Vineyard and Wine Museum to see a permanent exhibition of traditional vineyard tools and films about Champagne. www.tourism-chaumont-champagne.com
The Montsaugeonnais vineyard stretches over 13 hectares and the cellar is situated in the Vaux-sous-Aubigny where wines are aged in oak barrels.
www.muid-online.com
WICKER WORK
Fayl-Billot, Bussieres-les-Belmont and Grenant are situated in southern Haute-Marne and are at the heart of the traditional craft for wicker work that continues to this day. Willow is grown here and still cultivated by hand, used for making traditional baskets, trays and bread bins. The Wicker Centre has an exhibition showing the contemporary uses of wicker and a 30-minute film about the art of willow cultivation.
www.tourisme-faylbillot.com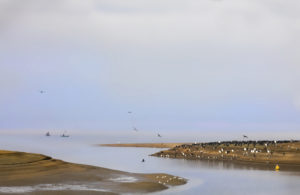 DER LAKE
Created in 1974, the inland sea of Der Lake covers 4,800 hectares with 77km of shoreline. The lake offers activities throughout the year with water sports, fishing, walking, and nature sights. There are six sandy beaches for swimming, plus games areas.
www.lacduder.com