Emirates doubles up with A380 touchdowns in Japan and Germany
Emirates celebrated the touch down of its first A380 service from Dubai to Osaka this week, when flight EK316 hit the tarmac of Kansai International Airport at 1655, local time, on 28 October.
Passengers aboard the 489-capacity A380 – comprised of 399 economy class seating, six flat-bed business class 'mini-pods' and 14 first class suites on the plane's upper deck – and were welcomed to the city with by a traditional water cannon salute upon arrival.
Commenting on the new service, Thierry Antinori, Emirates' executive vice president and chief commercial officer, said: "Adding Osaka to our growing list of A380 destination cities allows us to provide our customers in Japan with the best-in-class on-board product and innovative offering that the aircraft offers – this is a great achievement for us.
"Osaka is a significant gateway for Emirates in Japan and this capacity increase allows us to extend our A380 service to passengers who appreciate an unrivalled travel experience. Features such as the generous space and legroom in economy class, On-board Lounge for First and Business Class, showers in First Class as well as our award-winning in-flight entertainment system across all cabins make travelling on this aircraft a sought-after experience."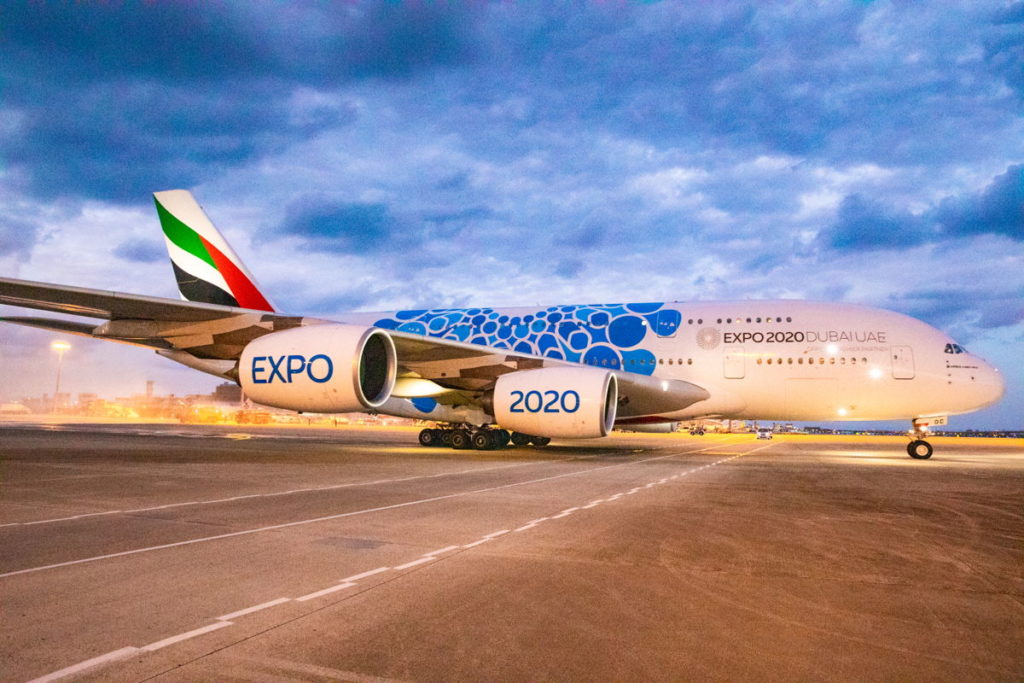 "Authentic Japanese dining experience with Japanese cabin crew"
Antinori added: "Our customers also enjoy the personalised service we have created including the authentic Japanese dining experience with Japanese cabin crew on all flights to make our customers feel at home. Travellers from the Kansai region will now find it even easier to seamlessly connect to more than 155 destinations worldwide through our hub in Dubai."
Coming home
On top of its first A380-operated service to Osaka, Emirates also marked the launch of its new A380 service from Dubai to Hamburg which landed at 1255 local time on 29 October.
"Bringing our flagship aircraft 'home'"
Discussing this service Antinori noted the romantic return of the model type to its place of origin: "We are finally bringing our flagship aircraft 'home' as all our A380s are being fitted at Airbus in Hamburg. We are the first airline to offer scheduled A380 services into Hamburg and we are proud to operate the A380 on flights to all German gateways.
Antinori went on to add: "This year marks the tenth year of Emirates' A380 operations. This aircraft has become the most recognisable and admired ones in the world, loved by over 105 million passengers that have experienced the Emirates A380 to date and sets the benchmark for travel comfort in commercial flying."
Emirates has grown demand for its services on both routes and together with the increasing popularity of the Emirates A380 experience among customers, the airline made the decision to deploy its A380 aircraft to both Osaka and Hamburg.
With 105 A380s in its fleet, Emirates operates this popular aircraft to the most number of global cities of any airline. Osaka became Emirates' 49th global A380 destination while its long-time friendship city Hamburg joined the A380 network as the airline's 50th A380 destination.
Flight information
EK316 departs Dubai (DXB) every day at 0305 and arrives in Osaka (KIX) at 1655 – arrival time shifts to 1705 from 1 December 2018 until 31 March 2019. EK317 departs Osaka at 2335 and lands in DXB at 0545 the following morning.
EK061 will depart from Dubai every day at 1500 and arrive in Hamburg (HAM) at 1905. The return flight, EK062, is scheduled to depart Hamburg at 2100 and land in Dubai at 0620 the next morning (all times local).