Envoy by Four Seasons: Telling stories through the eyes of a guest
TD speaks with Dang Nguyen, head of concierge and recreation
Contributors are not employed, compensated or governed by TD, opinions and statements are from the contributor directly
Four Seasons has launched a new campaign which taps the most creative storytellers from around the world. Envoy by Four Seasons is an initiative that enables content creators such as poets, spoken words artists, painters, dancers and more, including "Zepto-Influencers" (coined by Four Seasons) with extremely small/niche reaches, to become storytellers on behalf of the brand.
The first of these collaborations has just come to fruition, with the artist Missy Dunaway capturing her experience at Four Seasons Resort The Nam Hai in Vietnam. In this exclusive interview, we speak with the hotel's head of concierge and recreation Dang Nguyen, to find out what being an 'envoy' is really all about.
TD: Could you tell us more about Envoy by Four Seasons?
DN: At a time where social media users are being presented with an increasingly cluttered and homogenised online experience — Four Seasons launched Envoy to engage creative storytellers and artists across all mediums.
The program's goal is to invite world-class creators to share their perspective and stories about the unique and curated experiences that only Four Seasons can offer through a creative outlet.
How did this idea come about? Why storytellers?
As influencer marketing has evolved over the years, there has been a natural bias toward those with the largest number of followers. To combat this, Four Seasons has adopted a follower-blind approach to selecting participants purely based on their creativity and inspirational content.
"Through the eyes of a guest who can create deeply personal travel stories"
For example, Missy Dunaway's unique and visually stunning artwork serves as an excellent way to showcase the resort through the eyes of a guest who can create deeply personal travel stories.
Missy was able to use her experience at the resort, and the way of life in Hoi An, as inspiration for her art, creating her signature painted diaries which are a striking demonstration of her time in Vietnam.
These works of art can perhaps more eloquently tell the story of her trip than a single photograph could.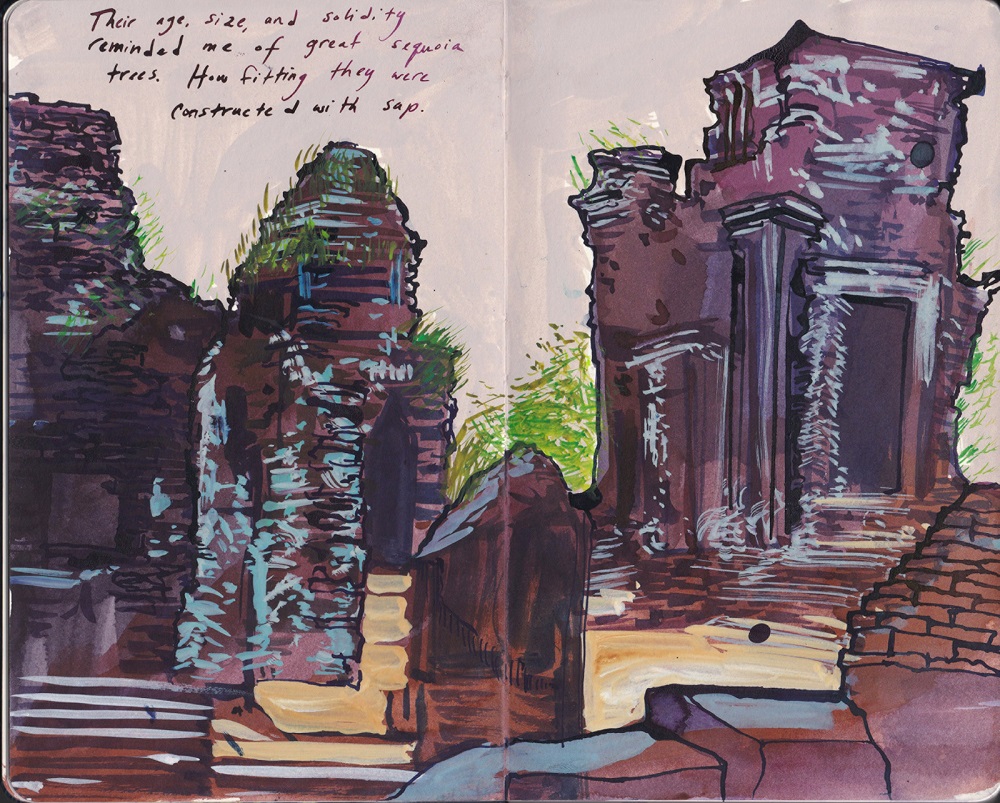 What was the experience of hosting Missy like? What does this mean for the Resort?
It was an honour to welcome Missy to Four Seasons Resort The Nam Hai. As it was her first time visiting Vietnam, the entire team was eager to share the culture and have her experience a touch of local life in Hoi An. The reveal of her final artwork was surreal – to see those experiences through her eyes painted in her diaries was a proud moment.
How does this influence the everyday traveller?
Missy's experience and the art she was able to create, as a result, serve as a great way to emphasise craftsmanship and individual creativity compared with widespread, more generic travel content. Her masterful mini canvasses and insightful poetry can be used by aspiring travellers as inspiration for a trip that resonates on a more personal level.