Luxury hotel barge operator European Waterways is offering new "Back-to-Back" two-week cruise options.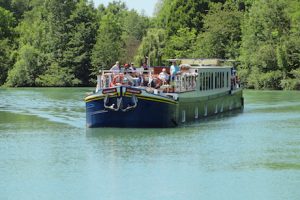 Next Summer guests can book the Panache hotel barge in Champagne and L'Impressionniste in neighbouring Burgundy for two consecutive weeks of exploration, education and wine tastings.
As an added incentive, the company will also provide a free night's stay at the Hotel Westminster in Paris on the Rue De Paix.
This back-to-back cruise opportunity is only available from mid-June through early July 2018, when the 12-passenger Panache cruises the River Marne through Champagne's  vineyards.
"Wine is just one aspect of these exceptional, back-to-back cruises. France's culinary tradition is also on full display – and a worthy companion," noted Derek Banks, managing director of European Waterways.
"All our wines are paired professionally with exceptional cuisine,  featuring regional specialties prepared by our on-board master chef.  The regions are also steeped in history, and guests will relish their gastronomic experiences amid a backdrop of picturesque villages, legendary castles and ancient landmarks."
The first week will be spent onboard the Panache in the Champagne region. Guests will be transferred from one vessel to another, with an intervening night spent at a top hotel in Paris. For the second week, the cruise continues aboard the 12-passenger L'Impressionniste hotel barge, which cruises the Burgundy Canal in the wine region of Southern Burgundy.
2018 prices for the 13-night cruise, based on double occupancy, lead in at £8,000 per person and include all gourmet meals, fine wines, an open bar, daily escorted excursions, local transfers to and from hotel barge and use of all onboard facilities, such as bicycles and spa pools.
European Waterways can also help guests to create similar, two-week cruises of their choice based on their special interest and availability.
Travel agent can earn 10% commission on bookings.