"Every musician is born an entrepreneur" – how piano theory helps the founder of a messaging start-up
Contributors are not employed, compensated or governed by TD, opinions and statements are from the contributor directly
Travel Daily featured intelligent IoT messaging startup Unified Inbox (UIB) last week, trying out a demo that allowed users to talk to smart appliances and electronics via a messaging app.
This idea was the brainchild of Toby Ruckert, whose background was originally in – get ready for it – music. Toby is classically trained in playing the piano, so why is he more well known for being a tech entrepreneur?
We got in touch with the startup CEO and founder, who is currently steering UIB through the Marriott TestBED accelerator programme, to figure out how two seemingly disparate interests could create a platform that allows for a harmonious relationship between customers and service providers in the travel, tourism and hospitality industries. Toby also shared with us the role that the Internet of Communication – a term which he himself coined, by the way – will play in the near future in these sectors.
TDM: Given your surprising background, would you say there are similarities between playing the piano, running a business, and software development?
Toby: I love this question – it's probably worth writing a book about it at some point. Yes, definitely there are similarities between the three. When you play music on the piano, you're using 10 fingers to bring music to life, but you're utilizing rhythms, melodies and harmonies to do so.
This isn't so different from having to integrate Sales & Marketing, R&D, Admin & Finance in a company, or working on an architecture in software development which integrates various technologies and code in a way that is secure, scales and provides a desirable outcome for our customers.
"Everything in life is art – whether it is building a business, developing a software, or playing the piano."
TDM: What propelled you to move from music to entrepreneurship?
Toby: To be clear, I never gave up music and I was always an entrepreneur. I don't think of myself as having moved from one to the other, I always think of them as being mutually inclusive. In fact, to me, every musician is born an entrepreneur. I must admit that I find it a bit sad that many musicians don't make more of this inherent ability.
When you want to learn any instrument and particularly the more advanced pieces of great masters, you involuntarily are confronted with many aspects of entrepreneurship: you need to make a decision where and when to start, with what piece and then you must have a lot of discipline to practice. Nobody does that for you – you do. Where the piece you're wanting to learn is too hard, you must be creative in overcoming that problem. That problem-solving skill is pure entrepreneurship.
And then the real work starts: you must listen deeply inside yourself to refine the practice of the piece into a piece of art – that kind of art only you can bring forth. Finally, you must overcome your fear and present what you've come up with to others, ideally in a public forum and live performance. If you can, you may even invite your family, friends and many others to come along. This is nothing but marketing and sales.
Every musician is born an entrepreneur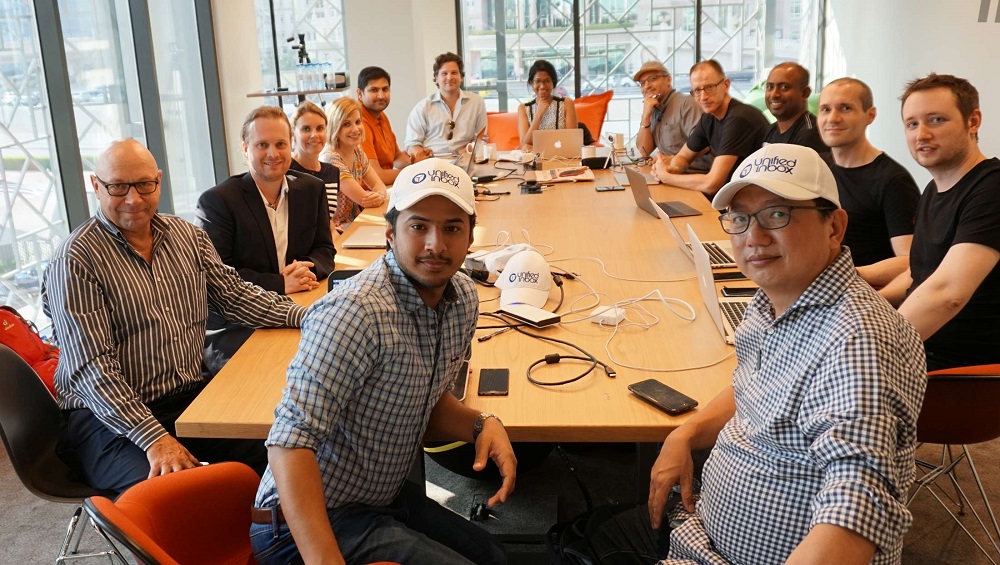 TDM: What discipline from playing the piano have you brought into your work running UIB? What have you learned from running UIB that has possibly enhanced your passion and discipline in music?
Toby: First is definitely overcoming impossible challenges and never giving up – I could not play 'La Campanella' at all when I took this on at the age of 16. Creatively overcoming difficulties, using passion where appropriate as well as soothing tones to master tension, are all other elements I brought over from piano into business.
However, had I had the discipline I have now in my business at the time when I was purely focused on piano, I probably wouldn't have started a business in the first place. I could have done greater things with the piano, but I wouldn't want to change a thing because only UIB could have taught me that discipline I would have needed to nurture my full talent anyway.
Talent goes only as far as you discipline yourself
Applying the Internet of Communications into travel tech
TDM: What is the relevance of the Internet of Communications in the travel and tourism sector?
Toby: Travel, tourism, and hospitality providers are facing a challenge with connected rooms and systems that is also their biggest opportunity in this generation. This disruptive change enables providers to efficiently deliver targeted new experiences at scale that can create and differentiate their brands.
However, guests in this industry are by definition global in their nature. The way they communicate is often local – Japanese guests use LINE, Korean guests prefer KakaoTalk and Chinese guests like WeChat. The Internet of Communications integrates all systems, devices and end user communication channels into a single platform – which is why the three core concepts of our UnificationEngine technology are based on AI, IoT and Messaging.
Guests are by definition global in their nature
TDM: What are your thoughts on the other technologies that have entered the scene – Blockchain, Machine Learning, Virtual Reality and Augmented Reality? Would UIB or UnificationEngine™ be making use of these anytime soon?
Toby: Machine Learning definitely comes under AI and helps our AI to "automatically" improve itself over time. Virtual/Augmented Reality for us is one other "channel" to engage with the end user and provide a different experience dealing with information in general. So we are exploring them both. Blockchain is used in various deployments and, at least right now, still very much linked to the actual customer requirements.
Honestly, I don't think we've even remotely explored the world of IoT. The reality is that humans need a body to have their mind engaged with the world in six senses. How about machines? How about AI? They have no such "bridge" to experience the world. For AI to ever truly take hold, IoT is very much a necessity to enable them to "feel" something – and even this crude and basic approach will evolve over time.
Playing to win
TDM: How was 2017 for UIB? What would you count as your biggest win and your biggest learning from last year?
Toby: As I said in my end-of-year letter to our shareholders a few weeks ago, 2017 was UIB's most successful year to date. We ended the quarter with exciting new customers, partners, and team members. While Marriott Hotels' MEA TestBED programme was absolutely one of our highlights, we were also excited to sign an agreement with UAE's du telecom for projects ranging from smart home/hospitality to smart city and smart enterprise.
Our biggest takeaway for the year is that the leaders in each industry will be the brands with a clear strategy to leverage IoT and AI for smart devices and systems to delight their guests, reduce their costs, and create new revenues.
TDM: Why do you think has VC interest increased in the potential held by AI and IoT from the hospitality industry?
Toby: The hospitality industry's interest in the data generated by their guests, especially the "conversational analytics," is now incredible and rapidly growing. When hotels and other tourism-related sectors find a new way to accelerate their revenue growth using our technology at the core of their offering, then VCs get very excited.
TDM: What were the key learnings in your journey?
Toby: The key learnings on our journey are driven by our customer interactions, more specifically about how the end user is using what we create. We should never forget that it's not about the technology, but about creating an emotional connection — that clearly differentiates the brand's voice — with guests. Sometimes guests can take this up another level, by requesting things and features we never thought of when creating the solution. I would say the biggest success factor and key learning was our ability to humanize technology and make it "simply communicate."
TDM: What do you think is the biggest secret to UIB's success?
Toby: It's really our people, specifically their diversity, that is the key to UIB's continuing success. It goes beyond passion, commitment, and experience. Having officers from Asia, the Middle East, Europe, and the US gives us a global mindset and cultural exposure that enables us to connect locally with our customers and in turn better understand their end users.