Expedia bookings reveal strong start for UK hotels in 2018
New data from Expedia Group shows UK hoteliers enjoyed a positive start to the year due to the significant rise in hotel demand by international visitors fuelled by fast-growing markets.
Hoteliers in the UK owe international travellers a big thank you as they flocked to the region earlier this year. The global travel company, Expedia Group, revealed that demand for trips made by international travellers increased when compared to the same period last year. Cities and regions across the country enjoyed a significant boost to its year-on-year (YoY) average growth.
According to its data, global travellers who booked on its sites picked London as their number one destination in the EMEA region as a whole for the first quarter of 2018.
Commenting on the findings, Irene Roberts, director of market management, UK & Ireland, Lodging Partner Services, said: "Our first quarter data for 2018 shows what an encouraging start to the year our hotel partners across the UK have enjoyed."
Outside of London, several major cities experienced double-digit growth including Birmingham (+15% YoY), Bristol (+15% YoY), Newcastle (over +10% YoY), Manchester and Glasgow (each with just over +10% YoY).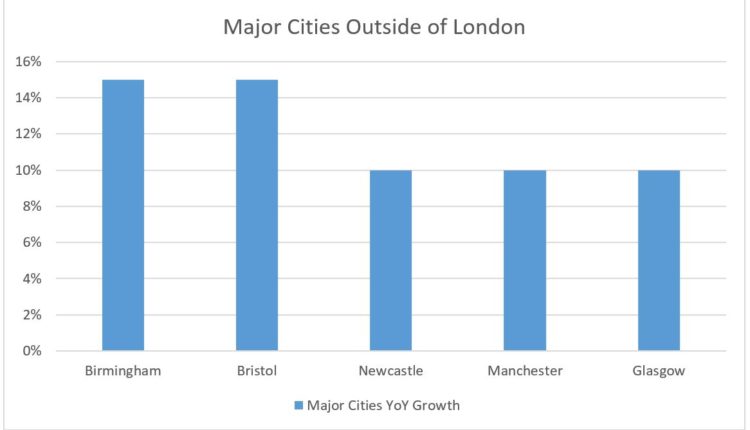 Roberts added: "Our proposition of providing them with a global reach through our investment in technology and marketing is helping capture those valuable international visitors and driving conversions."
Aside from London, other top performing regions across the period included Yorkshire, East Anglia, Essex and the South West. In addition, the demand in Scotland increased in the first quarter of the year compared with the same period last year.
The study showed that for the UK as a whole, hoteliers have experienced positive growth from overseas travellers. The strongest visitor markets were the US (almost +55% YoY), Germany (almost +45% YoY) and Australia (+45% YoY).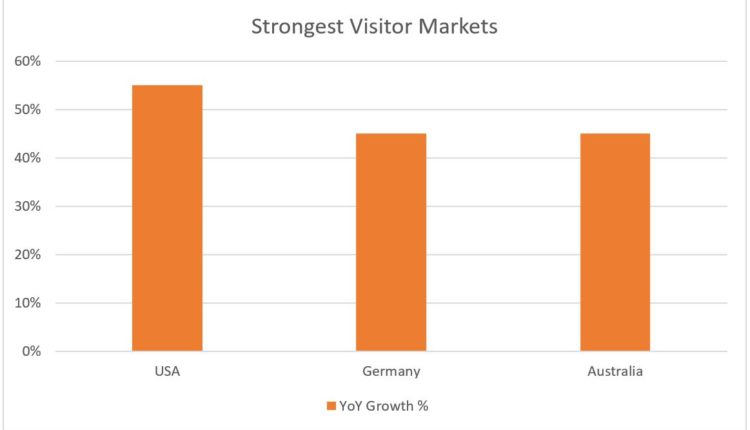 Fast-growing markets such as Spain, Argentina, Ireland and Mexico, which all featured triple-digit year on year increases, also contributed to the high demand. Other notable markets included Far East countries such as China, Korea and Hong Kong.
Furthermore, package demand to the UK has also grown strongly with a notable impact that can be credited to its tourism campaign 'Destination UK'. The campaign helped push average daily rates (ADR) for packaged bookings, which is a combination of hotel, flight and car hire.
With the approaching UK summertime popular with international guests, hotels should hopefully enjoy some busy months ahead
London takes the cake as the top destination in Expedia's booking website. Numbers 2-10 were: Paris, Dubai, Rome, Amsterdam, Berlin, Barcelona, Istanbul, Madrid, and Stockholm.
Roberts concluded a positive year for UK hoteliers ahead: "It's particularly encouraging to see strong growth in demand across many areas of the country and with the approaching UK summertime popular with international guests, hotels should hopefully enjoy some busy months ahead."