World's first 'coralarium' – underwater art installation to preserve coral – launches in Maldives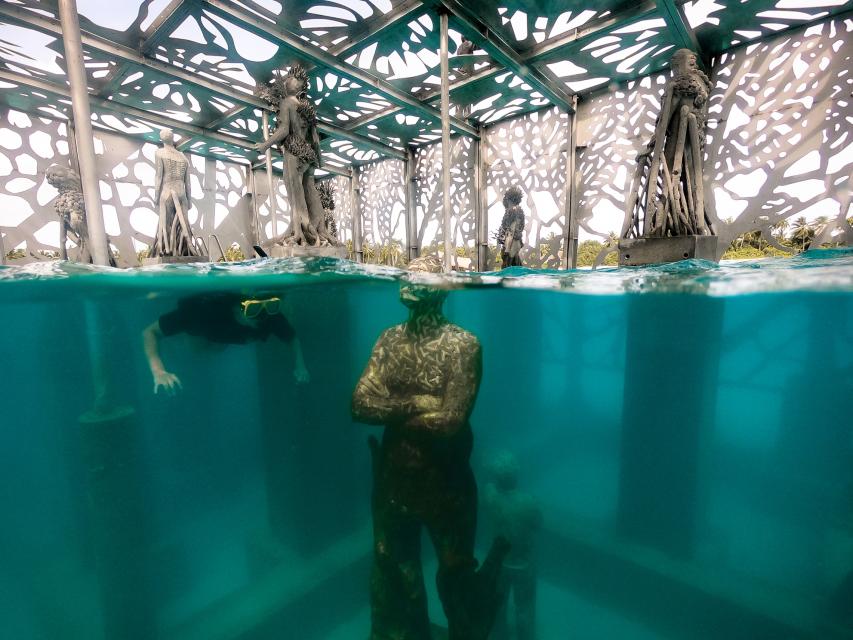 AccorHotels' only Fairmont Resort in the Maldives has launched the Coralarium, the world's first semi-submerged art gallery, created by underwater naturalist and British artist Jason deCaires Taylor.
A sole resort on a 'secret water island', Fairmont Maldives Sirru Fen Fushi has launched the Coralarium, a tidal gallery featuring a series of sculptural artworks. It's an homage to sea life and the coral house reef surrounding the resort – the Maldives' first and regeneration project in the form of an underwater art installation.
deCaires Taylor, a British artist and conservationist, was responsible for bringing the Coralarium to life. His collaboration with the resort aims to showcase the 'fragile beauty' of the Maldives and our ocean as a whole.
"A place of preservation, conservation and education"
Taylor commented: "Over the years, I have realised that the really humbling thing about what we do is that once we submerge the sculptures – they're not ours anymore. As soon as we sink them, they belong to the sea and nature takes over.
"The Coralarium is a place of preservation, conservation and education. Together with the resort, we hope to raise awareness for the protection of Maldivian coral reefs. I want to see a better future for the ocean, for people to see it as a delicate place, worthy of our protection."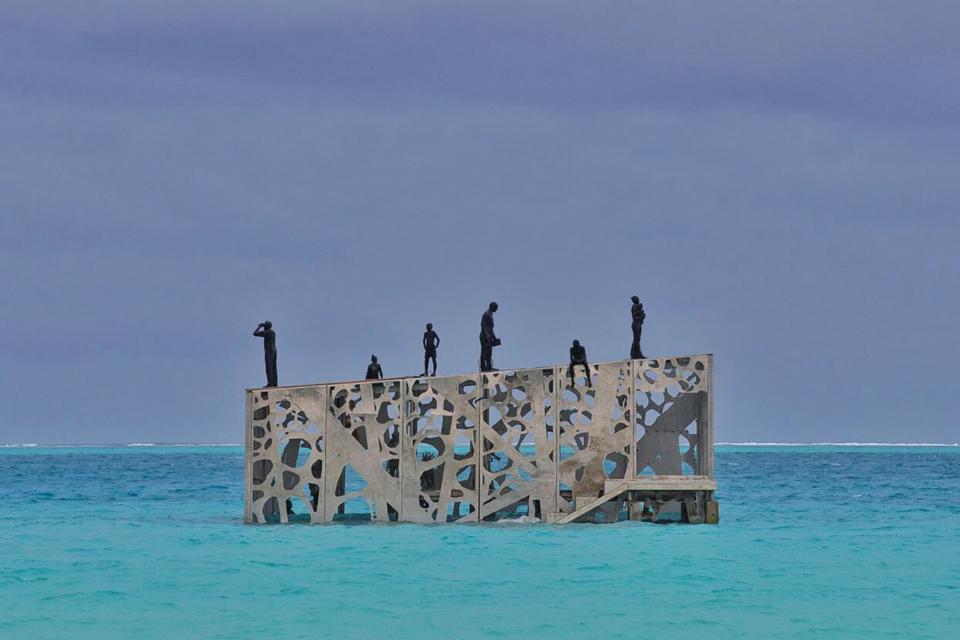 The semi-submerged Coralarium is placed in line with the horizon. It's an extension of the resort, leading from the 200-metre infinity pool at the centre of the island. There's an underwater pathway which allows guests to view the propagation of corals and underneath the water is a realm with human-shaped figures blending in with the vibrant marine life.
The artificial reefs are created with non-toxic, pH-neutral marine-grade compounds free from harmful pollutants, which will eventually become an integral part of the local ecosystem. It acts as a sheltered space that offers a permanent sanctuary for ocean life such as fish, crustaceans, octopuses and marine invertebrates.
"Engage with the area's fabled natural wonders"
Guided tours in small groups led by the resort's resident marine biologists are available several times a day. In the evening, an integrated light system illuminates the museum and attracts marine life.
"Taylor's art focuses on the natural beauty of the location, creating an extraordinary linkage between our resort and the destination to encourage sustainable tourism," said Patrick Basset, chief operating officer at AccorHotels Upper Southeast & Northeast Asia and the Maldives.
"This artwork provides a portal for our guests to engage with the area's fabled natural wonders while enjoying the renowned Fairmont hospitality."