HK CTS Hotels has entered into a strategic partnership agreement with InterContinental Hotels Group at Crowne Plaza Beijing Lido, pursuant to which they would jointly operate InterContinental's up-scale brand – Crowne Plaza Hotels & Resorts and mid-scale brand – Holiday Inn and Holiday Inn Resort on a franchising basis in the Greater China region. It has blazed a trail for a Chinese-funded hotels group to operate and manage the mid and up-scale brands of an international hotels group in Mainland China.
With the long-standing presence of the international hotels group in China, owners of domestic hotels are also expecting third-party management by partnering with international hotel brands, in order to lower operating cost and enhance operating profits. As a result, third party management companies independent from hotel and brand owners emerged. Due to concerns about the management capability of the domestic team, international hotel brand owners are unwilling to grant the right of operation to other companies, especially up-scale brands.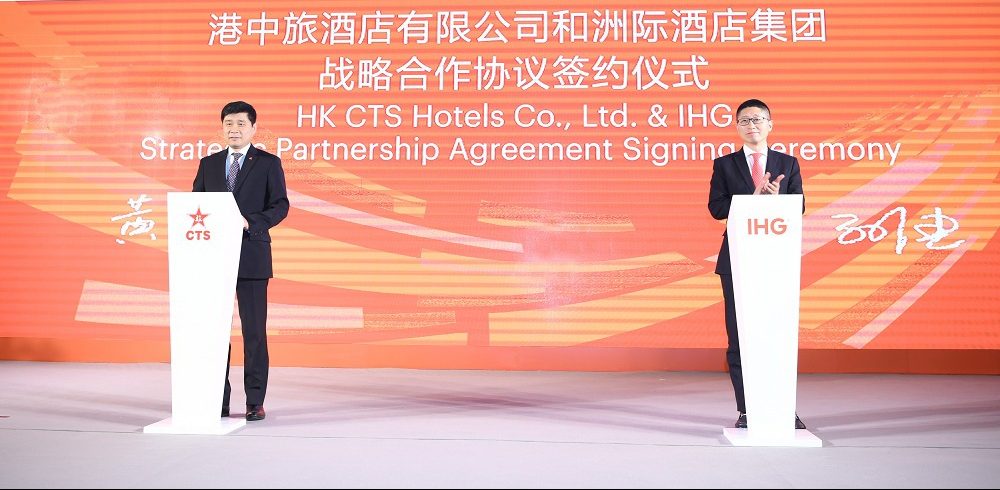 Mr. Chen Rong (main picture), the general manager assistant of China National Travel Service Group Corporation and the chairman of HK CTS Hotels Co., Ltd., said "From Beijing Lido Commercial Center founded in 1984 till the establishment of Crowne Plaza Beijing Lido in 2014, China National Travel Service Group Corporation and InterContinental have forged a solid foundation for time-honored cooperation.
The strategic partnership with InterContinental based on third party franchising management in the hospitality sector is an extension of our cooperation, and further leverages on the strengths in integrating resources, management and brands competiveness, thus jointly expanding the Chinese market and rendering diverse offerings for hotel owners."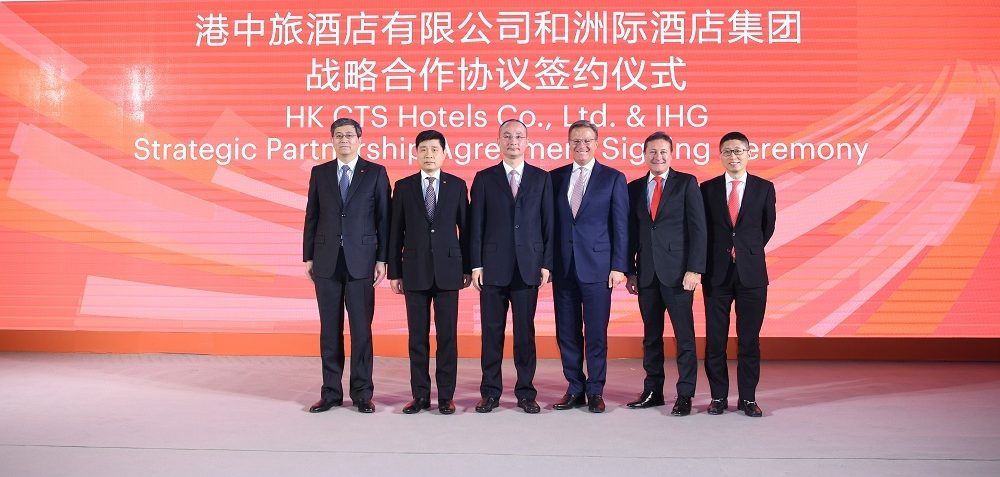 Jolyon Bulley, CEO of IHG Greater China, remarked: "This is InterContinental Hotels Group's first time to authorized its franchise in China to HK CTS Hotels Co., Ltd., which demonstrates HK CTS Hotels Co., Ltd. possessed the international management capability to deliver more value for hotel owners."
Upon execution of this agreement, HK CTS Hotels Co., Ltd. and InterContinental Hotels Group will also jointly promote this new franchising and third-party management model to hotel owners. This model is expected to be adopted by 20 up-scale and mid-scale hotels by 2020.