Getting the MICE industry back together
Contributors are not employed, compensated or governed by TD, opinions and statements are from the contributor directly
Travel Daily caught up with the International Convention Centre Sydney (ICC Sydney) CEO Geoff Donaghy and discussed critical lessons from COVID-19 and the future of MICE in Australia.
Travel Daily (TD): What examples of leadership learnings from COVID can you share, and how have you implemented these?
Geoff Donaghy (GD): Managing, innovating and leading our way through the pandemic have helped us build the future. Leadership is an outcome of good effective communication, and it needs to be clear, timely, accurate and honest.
It's absolutely vital to continue the communication at all levels. If that's considered leadership, then we are just doing what we believe is necessary.
We had an opportunity to demonstrate our agility in the face of adversity, maintain connection and engagement with our broader industry. Despite COVID-19, we are now prepared to continue our recovery and drive economic performance into the future.
Working closely with the NSW Health Department, the NSW Government and Darling Harbour Live, ICC Sydney continued its service to clients and the community by safely and successfully running 352 events last financial year, comprising 80 virtual, 72 hybrid and 200 in-person events.
Keeping the lines open with our team members is absolutely critical, and communication with the government is essential. Right from the start, Business Events Council Australia (BECA) synchronised communications at a federal level and presented them with solutions, regularly rather than just saying we are an industry suffering.
Realistically, we don't expect any significant return to normal levels until the second half of 2022. Notwithstanding that, we continue to work directly with the international market keeping our brand awareness alive and we work closely with Business Events Sydney and Tourism Australia.
We take a coordinated and synchronised approach to keep Sydney and Australia front of mind in the international markets. What we see now, to some extent in Asia but certainly in Europe and America, travel has already started, so they have a head start on us, and we must keep our awareness out there.
We are planning business events right through until 2030 because of the long term cycle of those international events but the pandemic has created a new landscape for everyone.
TD: What opportunities are there for you with the Brisbane Olympics?
GD: That's in 2032, and our parent company ASM Global runs Brisbane's main stadium and convention assets. We also have a significant downtown development project called Brisbane Live on the Roma Street stations, which is proposed to become a central entertainment hub with a large arena and associated facilities. As a company, we are very involved, although it's a little early to be finite. It's undoubtedly firm on the horizon.
TD: How much positive impact does the new ICC Sydney have on the surrounding precincts that have now connected Barangaroo with Chinatown, UTS, Star Casino and the Fish markets?
GD: We are part of the Darling Harbour Live Consortium. We operate the Convention Centre, valued at 1.5b, yet the whole project is valued at 3.5b. That said, we are also included in the Western Harbour Alliance, a formal group of critical landmark assets and the left ventricle of the beating heart of Sydney's CBD.
First and foremost, both bodies must work for and create thriving, sustainable, local communities for residents.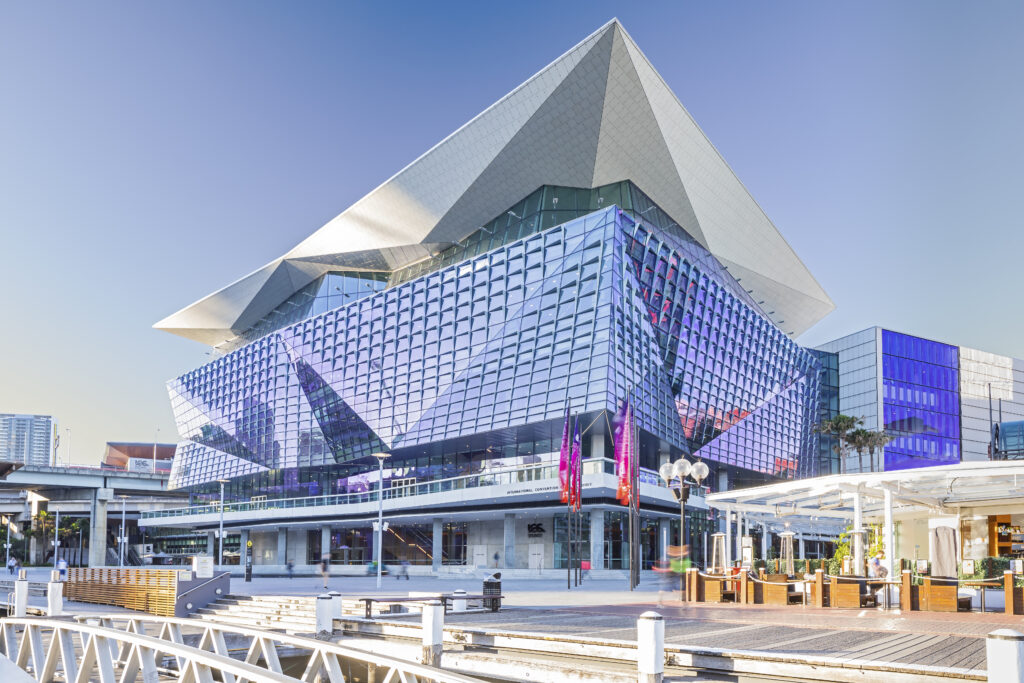 TD: How critical is Australia's tourism economy and an imminent return of high-value international delegates?
GD: Visitor business relationships are critical; we share so many across the visitor economies, industry and communities. The two fundamental differences are the yield value from business events, between three to five times more than the average tourist.
The significance of what business events bring to the economy go way beyond host economic benefits, as they contribute to the knowledge economy. Business events bring in elite performers, the best minds, academia or corporates and expose them to our institutions. The contribution and their intellectual legacy can't be overstated once delegates go home. Delegates bring their families as well and also disperse into the country on pre and post tours. Australian tourism is the winner.
TD: Any key points or messages you may have for international MICE buyers. And how does the industry build confidence for returning delegates?
GD: The best way is to be able to run events safely and successfully and be seen doing that and build momentum and gain confidence.
The desire to meet face-to-face is still powerful. Zoom has taught us a lot about what we can do and achieve, but what you do after you press that red button when the Zoom connection finishes can't be replaced. At the end of a face-to-face session, the relationship remains, and real connections continue indefinitely. We just need to get the industry back together and we are ready to do that now.