Hard Rock Shenzhen's pair of aces signal commitment to success
Following its opening in September 2017, Hard Rock Shenzhen have shown they intend to nail down their presence in mainland China, with a canny pair of appointments, well versed in the culture and market of the region.
Glen Peat (pictured above)has just been appointed to take the helm of the brand's first hotel in mainland China, which opened in September. The 20 year hospitality veteran was a chief commander at Hyatt Hotels & Resorts, where he brought forth a string of successful pre-openings and restaurant refurbishments.
During his most recent post as hotel manager at Pudong ShangriLa, Glenn achieved the highest guest satisfaction score in the history of the prestigious hotel. Now, Glenn joins the Hard Rock Hotel Shenzhen train as a full-fledged hospitality superstar.
"I am enormously excited to join Hard Rock Hotel Shenzhen, the very first Hard Rock Hotel in mainland China. Shenzhen is a vibrant and exciting city, and we are so proud to bring the unique Hard Rock experience here. I look forward to welcoming guests from home and the world with our premium hospitality and a host of world-class leisure, dining and entertainment offerings," says Glenn.
Ben Ou, director of operations.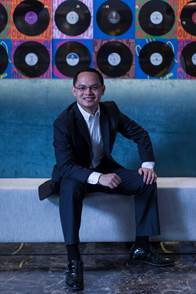 With over 12 years of extensive experience in the hospitality operations, Ben launched his career in 2005 as a trainee at Restaurant du Cerf in Cossonay, Switzerland, followed by a stint in InterContinental Hotel New Orleans in Louisiana, as an assistant food and beverage outlet manager. Ben moved to China to further his skills with the InterContinental properties in Shenzhen and Foshan, before accepting the director role at Pullman Xiamen Powerlong and Four Seasons Hotel Guangzhou.
In his new capacity, Ben will oversee the day-to-day management of the room division, Rock Shop, banquet & catering, in addition to the four restaurants and bars of the 258-room hotel, Ben is also responsible for creating the music-centric Hard Rock vibe and experience for modern travellers who are seeking a reprieve from traditional accommodations.