Hotel in a garden: PARKROYAL on Pickering "an architectural stunner"
One has to be too lost in thoughts while strolling past Singapore's clean streets in Chinatown to miss a literal 'concrete jungle'. The multi-storey design marvel dressed in green foliage at the junction of Pickering street, PARKROYAL on Pickering, is in fact, an eco-chic hotel. It recently bagged the title of "Asia's Leading Green Hotel" at the World Travel Awards (Asia & Australasia) for the fourth consecutive year.
This win underlines the hotel's expertise in green innovations and how it integrates them to enhance the guest experience. Acclaimed for its hotel-in-a-garden concept, PARKROYAL on Pickering seems to be at the forefront of sustainability initiatives for the hospitality sector in Singapore and across the Asia region.
Hence, I decided to dig in to their eco-conscious practices and find out what makes them the most sustainable hotel of all in Asia. Marketing manager Lee Kin Seng, takes us for a 'green' walk.
TD: What does sustainability mean to PARKROYAL?
LKS: Sustainability to us, is about making a conscious decision in our everyday lives to lower our carbon footprint through changing our habits. Beyond our green infrastructure, we're committed to educating our guests and staff about why sustainability is important and to make eco living a way of life.
"Green living is central to the PARKROYAL on Pickering visitor experience"
What was the drive in making it a green hotel?
When Pan Pacific Hotels Group (which owns and manages PARKROYAL on Pickering) was doing a comprehensive review of its PARKROYAL brand seven years ago, it unveiled customers were looking for more intimacy with their hotel. Additional insight from the brand review also showed there is great concern amongst travellers about the environment.
With these insights, coupled with PARKROYAL's positioning about local connectivity and connections, they chose to build a hotel-in-a-garden that is very much inspired by its local surroundings and local environment – extending the green areas of its surrounds, the green space of Hong Lim Park, and encouraging biodiversity in the city.
What kind of sustainability goals do you have and how do you keep up?
Green living is central to the PARKROYAL on Pickering visitor experience. With its eco-friendly, hotel-in-a-garden concept, the hotel has implemented a range of innovative sustainability features designed to add a fresh perspective to urban hospitality. Use of rain sensors, natural sky gardens, extensive water conservation, light saving, solar power, and reduced use of concrete in the building's construction are just some of the initiatives incorporated into the hotel's design and operation.
"An architectural stunner"
What makes PARKROYAL on Pickering better than others in Singapore?
Hailed by many as an 'architectural stunner', PARKROYAL on Pickering has been attracting business travellers and tourists to Singapore with its awe-inspiring façade. The intriguing structure is a first-of-its-kind in the world and unique to the region; encouraging key decision makers and business owners to make the switch from their preferred hotels to explore a unique hotel-in-a-garden experience that only PARKROYAL on Pickering can offer.
What makes it the greenest hotel in Asia?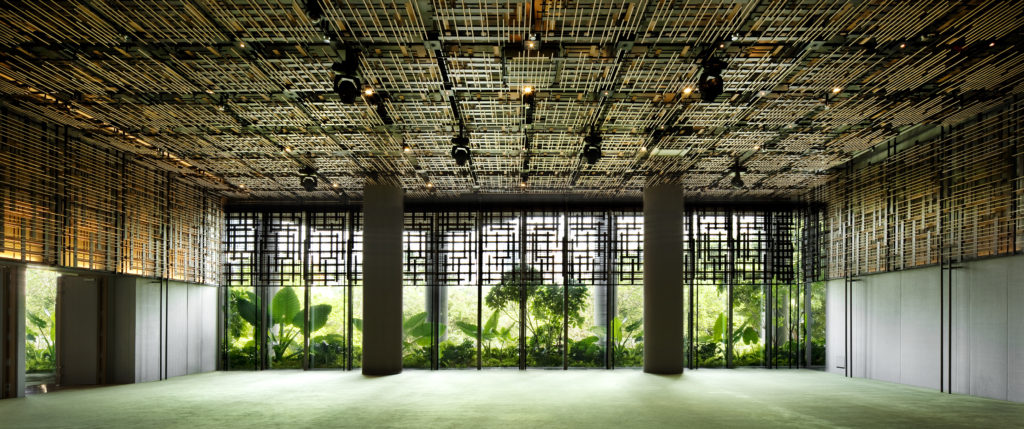 The 367-room PARKROYAL on Pickering is Singapore's first hotel-in-a-garden featuring 15,000 sqm (50 different varieties of plants) of sky gardens, waterfalls, and planter walls, which constitute more than twice the hotel's total land area – which is a scale unprecedented in a built-up city centre. Flora species ranging from shade trees, tall palms, flowering plants, leafy shrubs and overhanging creepers encourage biodiversity in the city.
The vast greenery absorbs heat, provides shade to hard surfaces and accelerate transpiration thus improving air quality.
Comprehensive energy and water conservation features include light, rain and motion sensors, as well as the use of rain harvesting and recycled water. Natural materials and textures have been used throughout the design of the hotel, including light and dark wood, pebbles, water, green 'moss', carpets and glass.
Since August 2018, the hotel has implemented a plastic-free policy for its meetings. Drinking water is bottled and purified in-house, and made available in reusable glass bottles (similar to those provided in guestrooms since the hotel opened in 2013). For larger events, water points and dispensers are used.
In preference for more environmentally-sustainable alternatives, plastic straws have been removed from our all-day dining restaurant – LIME. We have essentially gone straw-free but in the event that guests really need one, paper straws are offered instead.
Outdoor corridors are lined with plants, and walkways set within the four sky gardens en route to the guestrooms. More than 60% of guestroom corridors resemble garden spaces with natural light and fresh air.
Singapore's first zero-energy sky gardens are powered by solar-energy cells (which won the hotel the Solar Pioneer Award), and an auto-irrigated and fertilization system is installed for all planter areas.
Guestrooms and suites are designed to allow maximum natural light. Each room features all-natural products with recycled composite granite for the bathtubs, sinks and vanity tops, and wood and stone finish throughout. There are separate recycling bins for plastic, glass, paper and glass in all guestrooms (and throughout the hotel).
Besides our green innovations, we're committed to hosting events supporting great causes at our hotel, such as the recent Green is the New Black – Asia's Conscious Festival and Platform.
Does sustainability come at an additional cost to the business?
Our customers share a common value with us in recognising the importance of the environment and choose to travel with this in mind and collectively we see the long-term benefit to the environment by applying best practice in sustainability.
What are your future goals and how do you plan to enhance its eco chic?
To continue educating those who walk through the doors of PARKROYAL on Pickering on the importance of being sustainable and convert more consumers to become eco-conscious and make the right choices in their daily lives to lower their carbon footprint
To innovate and introduce new sustainable features without compromising on quality of the services we provide. We hope that our guests and staff can take some of these practices we have put in place away with them and implement in their own environments
Any special sustainability projects in the pipeline?
We will have more to share after Q2 2019 but some efforts we are currently exploring include environmentally-friendly options for in-room amenities, and we are also looking into expanding recycling efforts from used soap to non-disposable plastics.