The latest data from the Expedia group has revealed hoteliers in many of the UK's major cities enjoyed encouraging growth throughout the first nine months of 2017.
Analysis of Q1, Q2 and Q3 2017 data reveals that while demand for London remained strong, up over 20% when compared to the same period the previous year, other major cities across the UK also witnessed double-digit growth.
International and domestic demand for Birmingham, Manchester, Liverpool and Glasgow fuelled growth of around 25% year on year, while demand for the city of Oxford was up by over 30% year on year. Other notable regional winners include Bristol (up more than +30% y-o-y), Newcastle (up more than +25% y-o-y) and Leeds (up almost +20% y-o-y).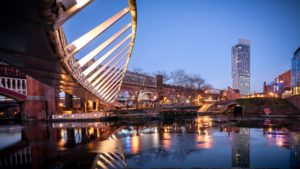 Regionally, the East Midlands, Yorkshire, Hampshire and Wales all enjoyed double digit increases in demand of over 30% when compared to the same period the previous year. In Scotland, Edinburgh remained the second most popular destination in the UK overall after London, seeing a year-on-year growth in demand of almost 15%.
For the UK as a whole, hoteliers continued to experience positive growth from overseas travellers, with the US ranking as the top international market for visitors. Demand from the US grew by almost 40% year-on-year, with visitors from across the Atlantic spending almost 10% more on a luxury stays (four or five star accommodation) when compared to the same period the previous year.
While demand remained buoyant from the traditionally strong visitor markets of Germany, Canada, Australia and France, the fastest-growing markets across the period were Brazil, Spain, Switzerland and Ireland.
Looking at average daily rates (ADR) for hotel rooms, the data shows some bright spots across what was, overall, a generally flat market by this metric, with Bath (up around 10% y-o-y) and Edinburgh (up almost 15% y-o-y).
Visitors from the US, who are more likely to have bigger budgets and – coupled with the ongoing favourable foreign exchange rate – spent more on their trip, spending on average 151GBP, more than 1.5x that of domestic travellers.
According to the figures, a strong increase in UK mobile demand made via app, mobile web or tablet devices was driven by visitors from all over the globe, but significantly from the US (up by over 60% y-o-y), Germany (up by almost 55%) and Canada (up by almost 50%).
Julie Cheneau, Expedia's director of market management for the UK & Ireland, said: "Our data reveals that our hotel partners enjoyed a successful first nine months of 2017 when compared to the same period in 2016. Despite uncertain times, UK hoteliers have benefitted from a surge in overseas tourism along with a continuation of a booming staycation trend. More and more people are choosing to holiday in the UK which is hugely positive news."