Inclusive travel in California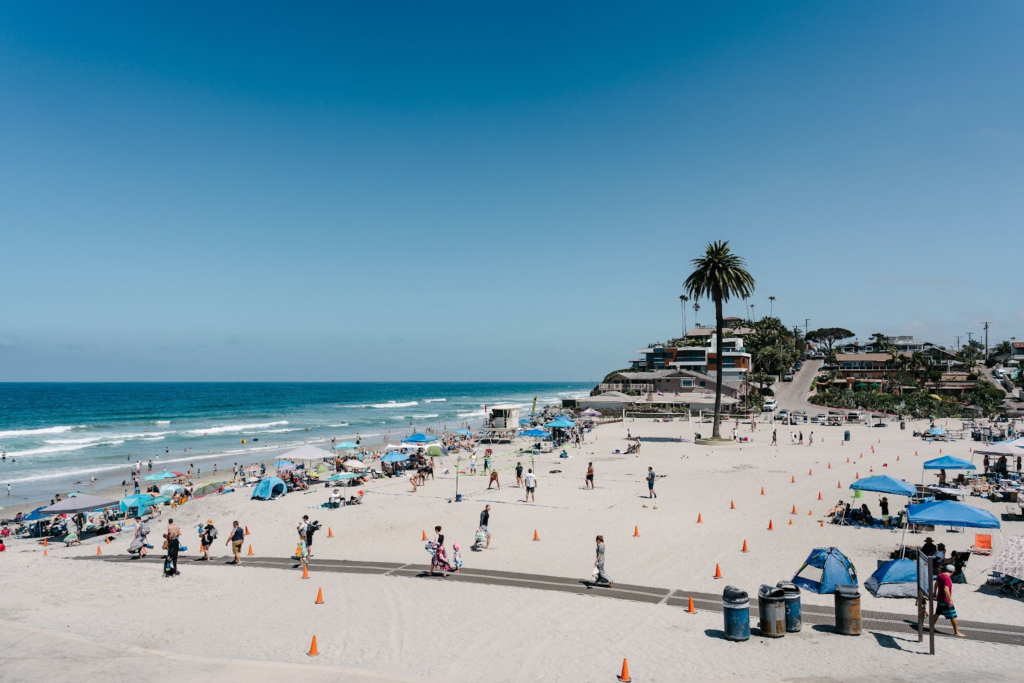 Throughout California, regions, hotels and attractions are putting the focus on inclusive travel. Here are 10 places that serve amazing experiences for all, from theme parks and attractions to accessible beaches and inclusive programmes.
Theme parks & attractions 
Rebounderz Indoor Trampoline Park and Family Fun Centre is the premiere family entertainment facility in Sacramento and is the best place for birthday parties. Once a month the park offers a Sensory Friendly Night. The normally boisterous trampoline arena dials down the music and distractions to ensure that children with special needs and sensory sensitivities can enjoy the fun. Parents or caretakers are allowed to assist on the jumper if needed.
Matteo's Dream playground, Bay Area
Matteo's Dream was one of the first all-ability playgrounds in the Bay Area when it debuted in 2007 in Hillcrest Park. The city of Concord and its local Lions Club built the fun playground with the help of local volunteers. It features a rubber surface and extra-wide ramps to allow children in wheelchairs to manoeuvre easily, specially treated slides that don't generate static that interferes with cochlear implants or other hearing devices, and a tactile slide that lets children with visual impairments feel different surfaces.
Knott's Berry Farm, Buena Park
From a small family farm to the world-famous theme park it is today, Knott's Berry Farm has always put the focus on family fun for everyone. Its Boarding Pass programme allows guests with mobility restrictions or cognitive impairment to access attractions at specified times via the alternate access entrance in order to avoid crowds and waiting in the regular lines. The park also has staff to help assist guests with Autism Spectrum Disorder.
Disneyland Resort, Anaheim
Disneyland offers a host of accessibility programmes and services to ensure that Disney magic is delivered to all. The Disability Access Service helps manage wait times, assistive listening systems help the hearing impaired, and braille guidebooks bring the Disney world alive to visually challenged guests.
Annenberg Treehouse, Torrance
Located in Torrance, the Annenberg Treehouse is California's original universally accessible treehouse. Opened in 2005 in Wilson Park, the whimsical treehouse was created to give children and adults of all ages and physical abilities a bird's eye view of the area. Created as a service to the immediate community and as an inspiration for others, nearly 30 treehouses have been built in the US.
Play Ball, Vacaville
Play 4 All Park in Vacaville is an accessible outdoor space for picnics, sports and relaxation. The park features two barrier-free baseball fields, accessible play areas for walking, and wheeling, people-friendly surfaces that encourage mobility, and two dog parks. The city of Vacaville also just joined the Hidden Disabilities Sunflower programme.
Accessible beaches 
San Diego's iconic beaches
Nine of San Diego's iconic beaches, including Mission Bay and Coronado Beach, offer free manual or power beach wheelchairs to provide access for all to the ocean. The special chairs are a hybrid of a wheelchair and dune buggy designed to navigate soft sand with ease. Several other area beaches have sand access mats available for wheelchair users to get to the beach.
All-Terrain Access, Santa Cruz
Five new beach wheelchairs, for a total of ten, are now available for visitors and locals to use at any of eight state beaches in Santa Cruz County. Supplied by Deming Designs Inc., the new wheelchairs are a standard fixed-frame, all-terrain, stainless steel model, with removable swing-away armrests. Shared Adventures, a local nonprofit organisation, provides additional access including multi-day beach wheelchair use and beach wheelchairs for children.
Accommodation 
Northern Exposure, Mendocino 
Nestled on the Northern California coast, the Glendeven Inn & Lodge is a boutique, adults-only hotel where guests are recharged by the power of the towering redwoods and the calming influence of the water and ocean breezes. With a concierge fluent in sign language and accessible rooms, the inn is inclusive to all. Van Damme State Park surrounds the property and its own grounds are filled with gardens and llamas that roam around.
Accessible programme
City-Wide Initiative, Visalia
Visalia was the first California city to adopt the Hidden Disabilities Sunflower, a programme designed to help travellers with various needs obtain additional support while travelling. Visit Visalia offers Hidden Disabilities Sunflower lanyards and bracelets complimentary to travellers who request. When worn, the sunflower serves as a visual cue to trained hospitality staff throughout Visalia that a traveller may need additional support during their visit.