IWTA speaks with Gloria Bui – Director Exotica Asia
Contributors are not employed, compensated or governed by TD, opinions and statements are from the contributor directly

We are delighted to introduce you to Gloria Bui, Director at Exotica Asia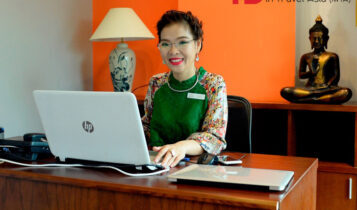 Gloria is the director and co-founder of Asia Exotica Travel, one of the fastest growing travel agencies in South East Asia. A luxury boutique tour operator, specializing in Spanish, Portuguese, and Italian speaking markets. She manages the company's offices in Vietnam, Cambodia and Laos.
Early Beginnings
Gloria came from a small poor rural village in the northern part of Vietnam, an ethnic minority group, the Mường. Her first contact with the outside world was through a voluntary Singaporean teacher who came to her school to teach English in 2001.
Gloria was the first in her large family to go to university, studying Spanish at Hanoi University at a time when English, Korean and Japanese were the more popular choices.  Her first job was for a Hanoi-based Spanish travel agency, greeting tourists at the airport.  She worked hard, learning about travel, and helping grow Spanish inbound tourism in Vietnam for several years before opening Asia Exotica Indochina in 2014.
Daily Inspiration
Coming from a humble background and like many Vietnamese women, what inspired Gloria was building a better life for her family, and then as her business grew, helping her team to improve their lives.
Her parents' hard work and encouragement for her to study motivated her, and her inspiration continues to come from her family, the women she works with, and her Swiss & Italian co-founder partners in Asia Exotica.
Improving Lives
Pre-Covid, Gloria employed mostly women, and ensured that Asia Exotica Indochina is an equal rights employer, treating all staff with respect, dignity and equality. The company employs staff from diverse backgrounds, gender, religion & ethnicity from both cities and countryside, with special support and flexibility for women with children.
Determined to keep busy during Covid, when borders closed and tourism stopped, and continue to support her team, Gloria and her team first learned about domestic tourism and provided tours and services for the local population.  When even that came to a stop, she developed Comida Ngon, a spiritual flower brand that has helped create countless jobs for many people, mostly from tourism industry.  Gloria and her team apply tourism principles of looking after clients and providing amazing service to this new flower-based business and have further developed the shop to become a unique 'experience' for future groups and individual travellers enjoying city tours in Hanoi.
Words of Wisdom for the next generation
Understand yourself, recognize your own values, and do something that fills you with joy.
Work hard and learn new things, using all available resources.
Take advantage of opportunities to travel, meet people, experience different cultures and new destinations …. and bring home a heart full of beautiful experiences

Listen to this Interview on your favourite RSS Platform

If you know of any female leaders or up and coming superstars in the Travel and Hospitality industry you would like to nominate, please visit our page and complete a nomination form!