IWTA speaks with Captain Zephina Khanam Mohd Jasbir Khan
Contributors are not employed, compensated or governed by TD, opinions and statements are from the contributor directly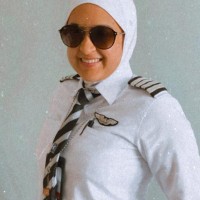 Meet Captain Zephina Khanam Mohd Jasbir Khan
Captain Zephina is a commercial pilot in Malaysia who only found her passion and drive after a teacher told her to 'be realistic' when she expressed her desire to become a doctor.
Early Beginnings
Captain Zephina found school boring and pointless, did not apply herself and was not expected to amount to very much.  Zero to Hero, in her words, the result of a casual comment that ignited a determination to become someone and to do something with her life.
Coming from an 'Arts' background, it was only when she leafed through her brother's notes from flying school that something lit up inside her.  Loving a challenge, and anything that made sense, she found his lessons intriguing and decided to look deeper into her options.
Challenges
Zephina was told that if she wanted to enter flying school, she had to sit a tough physics exam with a minimum 75% pass rate.  Given her Arts background, this was no easy option – making it harder was the fact that she had just three days to learn and revise for it.  However, it made 'sense' to her, and she applied herself to learning everything she could from wherever she could, within that time frame.  Her pass rate of 76% was just the beginning of her journey!
Once in school, it took double the effort to study and understand all the subjects she needed for first her private pilot's licence, then through all the demanding stages of obtaining a commercial licence.  One of very few girls learning how to fly at that time, Zephina applied herself to mastering everything given to her, without distraction.
Inspiration
Zephina's strength and determination came from within, but her brother inspired her to try for her pilot's licence.  She was brought up in a family with two brothers, and treated like one of them.  Her attitude was 'whatever he can do, so can I', which was encouraged by her parents' attitudes as well.  Her father modelled discipline and determination (also a pilot) and expected her to make good use of her time, and to go after what she wanted from life. This self-discipline helped her maintain the motivation needed to complete the required studies.
Greatest challenge
The transition from co-pilot to captain, which required many more interviews and exams.  Failing the first time, Zephina did not give up but persevered until she was successful.
Welcomed by some of her colleagues, and viewed initially with some scepticism by others, Zephina took her responsibilities as captain seriously, developing the mental strength to cope with the pressures as she developed in the role.  Today, she is well respected, and well known in her field.
Advice to the next generation
Discover your passion and find work that will bring you success in the form of happiness and satisfaction, not just money. Focus on what you want to do, and get on with it – anything can be achieved if you work hard and put your mind to it.
Listen to this Interview on your favourite RSS Platform

If you know of any female leaders or up and coming superstars in the Travel and Hospitality industry you would like to nominate, please visit our page and complete a nomination form!