Chinese carrier Juneyao Airlines is scheduled to receive its first Boeing 787-9 Dreamliner this September, making it the first Chinese private airline to receive a wide-body, long-haul jet airliner.
Juneyao Airlines' first Boeing 787 aircraft will be delivered with a livery showing the colourful Chinese peony, the national flower of China. The new design is meant to depict the airline's hope and expectations for a peaceful, powerful and prosperous country.
Celebrating its 10th anniversary, Juneyao airline has entered a new era, whereby it is operating with both Boeing and Airbus aircraft. The latest aircraft, together with Juneyao Airlines' painted fleet of Airbus A320, is representative of China and of promise for the future.
In addition, the Chinese Ribbon livery design, which won against other proposals in a public livery competition, will be used on the Boeing 787, demonstrating Juneyao Airlines' support for the direction that China is taking and its dedication in contributing to the country's One Belt, One Road initiative.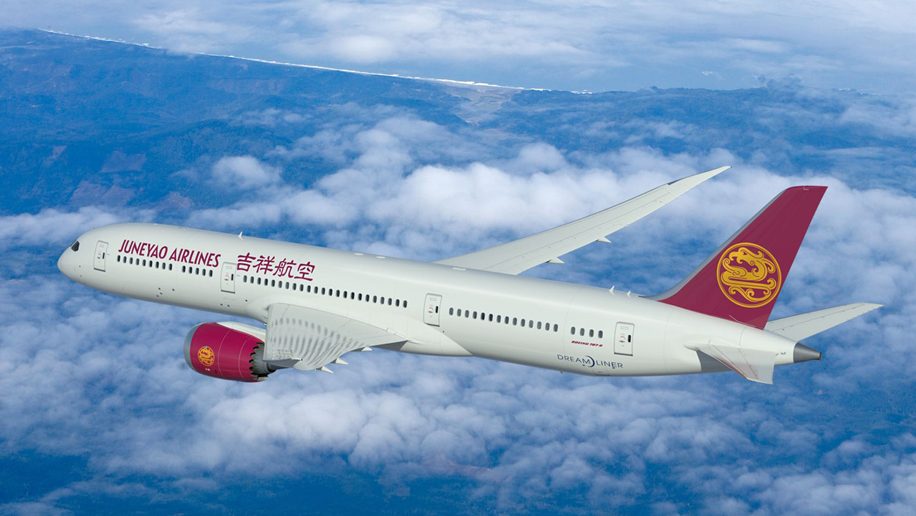 The plane's configuration will feature a Business Class section fitted with 180-degree lie-flat Thompson Vantage XL seats, each with a 42-inch pitch and arranged in a 1-2-1 configuration. Economy Class features Recaro CL3710 nine-way adjustable headrests and seats equipped with warm lighting, in-flight HD entertainment systems with 12-inch screens, standalone USB interfaces, and other facilities.
Juneyao expects to take delivery of three painted 787 planes between now and the end of the year. At first, the planes will service some key domestic routes before being transitioned to the airline's first grouping of long-haul, intercontinental routes.