Kayaking through heritage: Conserving Kerala's backwater settlements
Contributors are not employed, compensated or governed by TD, opinions and statements are from the contributor directly
Kerala is synonymous with Ayurveda and the backwaters. But an ancient thread of the spice route is slowly seeping through the coconut tree-lined backwaters — the Muziris Heritage and we ought to notice.
In an effort to raise awareness about this century-old settlement, a two-day kayaking expedition is annually organised by local adventure company Jellyfish Watersports in partnership with the Muziris Heritage Project and supported by Kerala Tourism.
"Be part of the growing eco and responsible tourism initiatives"
"For centuries locals and visitors have enjoyed the scenic natural paradise of Gods own country. Muziris Paddle is a great way to experience Kerala through its water bodies and be part of the growing eco and responsible tourism initiatives. We have conducted several river expeditions and clean up initiatives in the past that have been immensely popular amongst nature enthusiasts locally and internationally. Kayak for a cause is helping in creating more awareness about the conservation of river and to retain its original beauty", said Kaushiq Kodithodi, founder of Jellyfish Watersports.
The unique expedition held on 5-6 January 2019 brought over 200 paddlers and kayak enthusiasts including me to know more about this piece of history and respect the waters of this land. The event flagged off from the Kotturpuram Jetty in Kodungalloor district with participants on kayaks, sail boats and stand up paddles ranging from age six to 60.
Along the trail
While most of the fellow participants were from Kerala, the paddle also attracted water sports lovers from the UK, Europe, Australia and Mumbai and Delhi. Shilpika Gautam, world record holder of paddling the entire Ganga River, International paddler Jim Bush from Perth and other prominent people imparted their special skills and guidance in conjunction with experts trainers and river guides from Jellyfish.
On the first day, we paddled 20 km with a strategic break at Pallipuram for sightseeing and greeting locals at one of India's oldest European churches. While the exact location of Muziris is not known to historians and archaeologists, it was generally speculated to be situated around present day Kodungallur — a vibrant urban hub of the Chera rulers and on this occasion our starting point.
In a candid chat with Naushad (a fellow kayaker) from the Muziris Heritage Project, Muziris — a legendary port, the heart of the historic spice route; vanished off the grid over 3000 years ago. Historians and archaeologists hunted far and wide in search of it but to no avail. Then, one day, it rained in Pattanam, a small town in Kerala. The rain gods he believes revealed their legacy.
Muziris was a key to the interactions between south India and the Persia, Middle East, North Africa and the Mediterranean (Greeks and Romans) region. The route is even today dotted with various places of worship representing the exchange of cultures. The important known commodities "exported" from Muziris were spices (such as black pepper and malabathron), semi-precious stones (such as beryl), pearls, diamonds, sapphires, ivory, Chinese silk, Gangetic spikenard and tortoise shells. The Muziris Heritage Project now strives to revive that lost legacy to conserve and showcase a culture of 3000 years or more for posterity.
Owning our rivers
If history lessons and cooling coconut water kept us busy through the long paddle on day one, all those isolated kayaking hours and heavy loading in the water had ignited a special bond with the water for each one of us. Several participants confessed that they felt choked on emotion and seemed to care more for the humble water trail that was aiding their spirits for two days.
We kayaked a total of 40 km traversing through rivers, backwaters and important Muziris destinations en route and terminated the expedition at Bolgatty Island in Kochi. When over the kayakers finally hit the shores of Cochin, the city and its people watched by at their undying spirit and the unflagging message they were carrying — that to save the backwaters.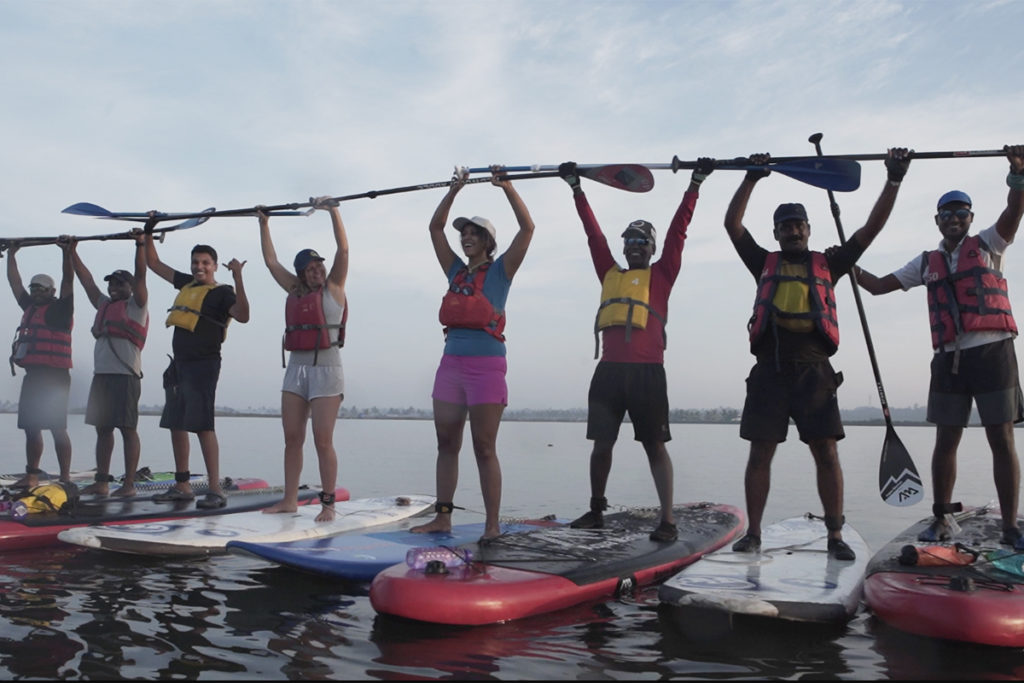 The organisers had also teamed up with Switzerland-based stand-up paddling group waterwalh.ch and Cochin Bikers, a group of bicycle enthusiasts and members of Global Sailing Club. The paddling event was aimed to promote the usage of our rivers for recreational usage and create a connection to the river with youngsters and tourists.