Lithuania's raunchy tourism campaign: Does it hit the spot or come on too strong?
We talk to the director of Go Vilnius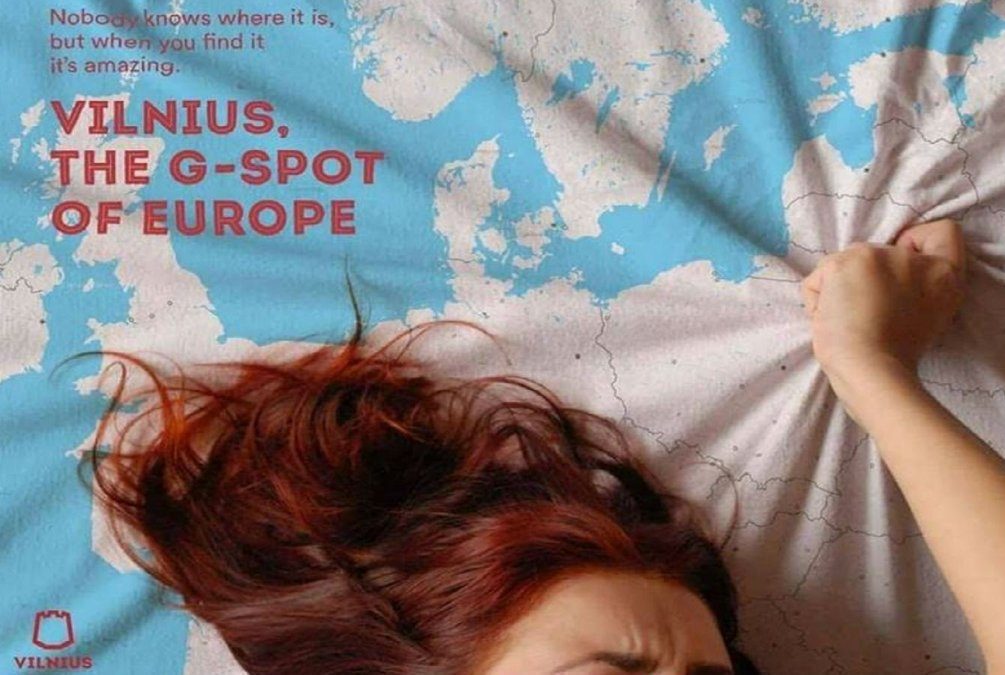 It started as a class project of Lithuanian advertising students, who sought to draw international attention to Vilnius and its potential as an alternative European city-break destination.
Lithuania is often overshadowed by its other popular destinations in Europe like France, Italy, and Austria. One of the campaign's student creators, Jurgis Ramanauskas, said: "Few people know where Vilnius really is, but when they arrive they fall in love with the city.
"This insight came from our conversations with international visitors, and we formulated the idea that Vilnius is synonymous with the G-spot theory – nobody knows where it is, but, when it is discovered, everyone is very pleased!"
It managed to attract the attention of the city's tourism board who adopted the idea hoping to replicate the same reaction from travellers. The campaign aims to increase the visibility of Vilnius, and to position the city as an exciting option especially for millennials seeking alternative tourism destinations.
By capturing the imagination of the millennial market with its bold creative, the campaign presents Vilnius' potential as an undiscovered European city-break destination, hence the playful tagline, 'Nobody knows where it is, but when you find it, it's amazing'.
"A playful approach to destination marketing to stand out from its competitors"
In an exclusive interview with TD, Inga Romanovskienė, director of Go Vilnius, said: "As we are seeking to target the millenial demographic this time, Go Vilnius has adopted a playful approach to destination marketing to stand out from its competitors through engaging, attention-grabbing creative.
"The concept was developed by millennials for millennials as the campaign was originally developed by Lithuanian students as part of their creative advertising coursework aiming to put Vilnius on the map internationally."
Romanovskienė confirmed to me that Brits and Germans are the main targets of the new tourism campaign. Apart from the fact that Brits and Germans are not easily offended by this type of messages, they also have the disposable income for leisure travel.
"Go Vilnius is aiming to position itself as an alternative European city-break destination for millennials based in modern cities. Those located in Berlin and London are likely to have both disposable income to afford this type of holiday and an interest in lesser-known destinations and experiences," Romanovskienė added.
Lithuania has to battle with other European countries and is in need of a disruptive tourism campaign. Romanovskienė confirmed: "The young creatives who came up with 'Vilnius, the G-spot of Europe' presented an extremely engaging idea to drive interest in the city. Go Vilnius looks forward to welcoming new international visitors to Vilnius and continuing to promote the city's best tourism attractions and experiences."
Like it or loathe it
If the goal is to attract attention, the tourism campaign is certainly a success. Since its launch, it has been the talk of the town in Twitter and TV star John Oliver discussed the campaign in his show, Last Week Tonight.
In order to push 'Vilnius: the G-spot of Europe' slogan, the tourism board has launched outdoor, digital and social advertising. Therefore, tourists will see promotional posters all over the city. Moreover, the city developed a dedicated vilniusgspot.com website that enables users to create their own itinerary by answering a quiz. The interactive map will then include places of interest specific to individuals' responses.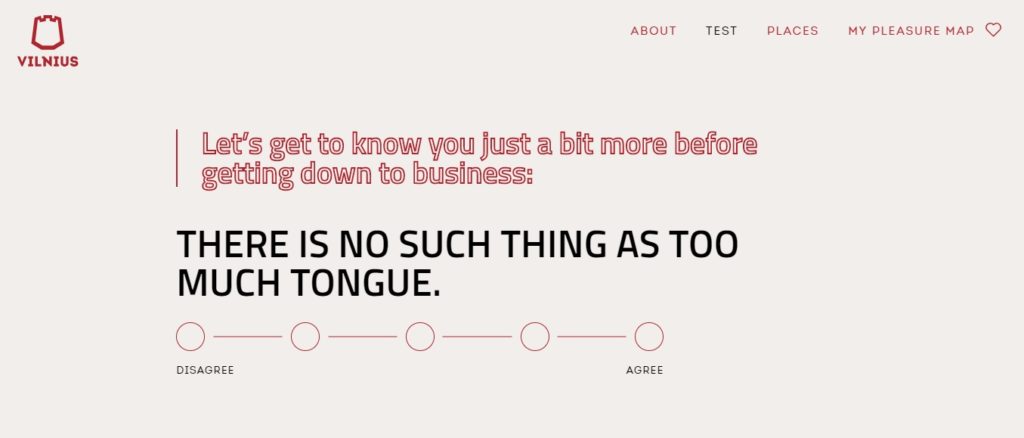 The "pleasure map" in the tourism website is generated by answering witty questions that green-minded people may find funny. It will generate tourist destinations presented in cards that travellers can swipe to left or right, Tinder app-style.
Attractions range from the traditional sites such as the UNESCO World Heritage-listed Vilnius Old Town and beautiful botanical gardens to the cosmopolitan experiences associated with a modern European city-break including craft brewery tours, street food markets and open-air concerts.
"The perception of Vilnius needs to be dramatically improved to match with the reality"
Vilnius Mayor Remigijus Šimašius claimed that visitors often do not have high expectations when visiting Vilnius. "I'm so often told that upon arriving in Lithuania's capital their first-hand impressions far outweigh their expectations.
"On the one hand, this assessment is very pleasing to hear, but on the other hand, it indicates that the perception of Vilnius needs to be dramatically improved to match with the reality," he said.
Taking it too far?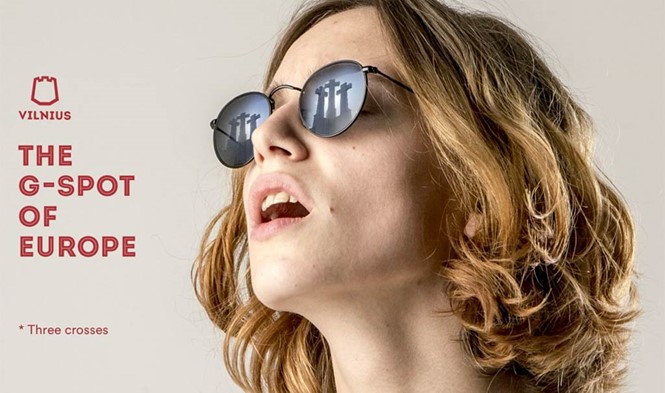 However, the campaign is not without its critics. The campaign was launched on 9 August, a day after the International Orgasm Day. Most of the 2.9 million population of the country are Catholic, so using "G-spot" in the campaign did not sit well with the residents. Moreover, the timing of the launch is ahead of Pope Francis' visit to the country on 22 September.
Lithuanian Prime Minister Saulius Skvernelis agreed that the timing was rather odd. "I think it's a strange advertising choice, but I believe it does not cross the line in a democratic country. We are speaking about a very important visit to Lithuania… Perhaps these steps should have been coordinated, but that's the decision of Vilnius," he said.
Lithuanian priests are reportedly concerned that the woman is sexualised in the promotional materials. Moreover, they are concerned that the campaign may give "wrong ideas" to the public about Lithuania.
"The organisation was conscious that the advertisement's imagery should not be overtly sexual"
Romanovskienė told me: "As a government organisation, Go Vilnius take issues such as the sex trade very seriously. We understand this campaign may divide opinions, but after consulting industry experts we took the decision to move forward with the creative in order to put Vilnius front of mind our target millennial demographic.
"Whilst the campaign's language playfully alludes to adult themes, the organisation was conscious that the advertisement's imagery should not be overtly sexual or contain explicit nudity,".
When asked about the reactions of travel companies on the new campaign, Romanovskienė told me that "representatives of local travel companies agree that it is important for Vilnius to be better known in Europe, and innovative ways of marketing the destination are needed."