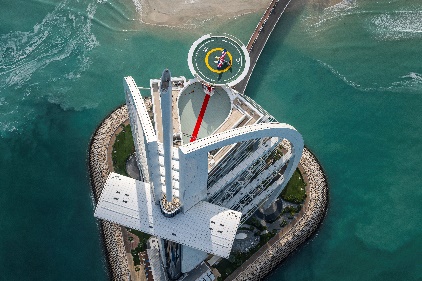 In a remarkable feat of aviation, aerobatics expert Luke Czepiela this week made history as the first pilot to land an aircraft atop the helipad of the renowned Burj Al Arab Jumeirah hotel.
Soaring 56 stories above the shimmering waters of the Arabian Gulf, Czepiela managed to guide his specially modified Cub Crafters STOL aircraft to an abrupt stop along the 27-metre-long platform, which sits exactly 212 metres in the air. The project has been two years in the making, with the experienced air-racing champion completing 650 practice landings on the ground in preparation. The exhilarating spectacle pushed the boundaries of human innovation and showcased the talent of the pilot and his team.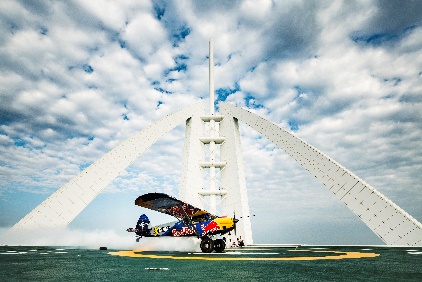 The landing adds to the iconic reputation that the Burj Al Arab Jumeirah has garnered through an extensive catalogue of record-breaking events hosted on the helipad. In 2005, tennis legends Roger Federer and Andre Agassi played the world's highest tennis match, while in 2017, the world's highest kiteboard jump was logged when Nick Jacobsen leapt from the helipad.
Whether it be David Guetta's pandemic DJ set or Red Bull F1 driver, David Coulthard, doing donuts on the helipad, the hotel's iconic stunts have simultaneously captured the attention of the world and cemented the Burj Al Arab Jumeirah at the centre of global innovation and excellence.
Just as spectators of these feats have learnt to expect nothing short of world-class, the same goes for the hotel's guests. The Burj Al Arab Jumeirah is recognised as one of the world's most exclusive and luxurious hotels. From the opulent suites and comprehensive amenities to the Michelin-starred Al Muntaha, every detail of the hotel is designed to ensure guests enjoy an unforgettable experience of unparalleled luxury.
The Burj Al Arab Jumeirah is in the business of defying expectations, and Czepiela's landing demonstrates that ambition for distinction; this is a place where anything is possible, and guests can expect nothing less than the extraordinary.