5 reasons why Phu Quoc will be the next big MICE destination
Featuring the untouched white sand of Bai Khem beach, idyllic sunsets, breathtaking scenery and favorable weather year-round, Phu Quoc is the emerging star of Vietnam's tourism scene. Now, JW Marriott Phu Quoc Emerald Bay, the first international five-star resort on the island and the brand's flagship resort property in the country, is set to take advantage of this natural environment with its offering of thematic spaces for meetings and events in Phu Quoc.
I spoke to director of JW Marriott Phu Quoc Emerald Bay's director of marketing communications Chanidda Karawan to learn more:
A balance between established and secluded

The island remains off the beaten tourist track, located 45 kilometers off the southern coast of Vietnam in the Gulf of Thailand. Even with tourism growing here, the economy is still largely focused on fishing, agriculture and so Phu Quoc maintains a peaceful nature.
Karawan tells me: "The time to visit is now! Phu Quoc is much less-travelled than many of the places nearby; it remains a hidden gem and a true Vietnamese experience, with a rich cultural and natural heritage to explore, but it is quickly adding facilities and infrastructure of the highest level, slowly carving its rightful place among Asia's top beach resorts.
"Today it is possible to combine a boat excursion to desert islands with a ride on one of the world's longest cable cars, sunset cocktails with international DJs and a feast of delicious fresh local seafood – all within very easy reach of the main transport hubs in the region."
The area is a national park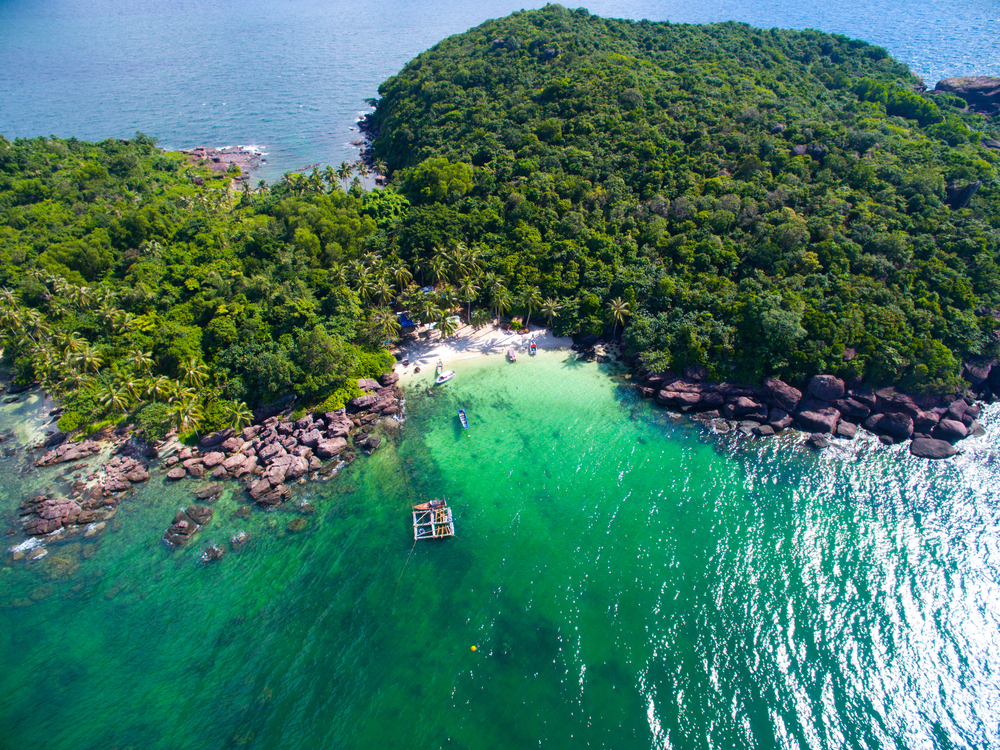 Phu Quoc Island is one of 105 islands in the Kien Giang Biosphere Reserve, as designated by UNESCO in 2006. Its maritime equatorial and monsoon climate, and high levels of coral reefs, help to create an abundance of fish and marine life.
Up until recently, the local beaches, trimmed with limestone and Karst forests plus mangroves, were nesting sites of Hawksbill turtles. Yet no nesting has taken place in recent years – although the seagrass beds are known to be important for foraging turtles.
"Our resort is playing a part in safeguarding Phu Quoc's unique marine life," adds Karawan. "Just recently, we have launched a project to repopulate our local reef with the help of an established diving company on the island: our guests can interact with the marine biologists, snorkel to the protected reef from our beach and contribute to the resettlement of the corals and fishes."
The hotel itself is a destination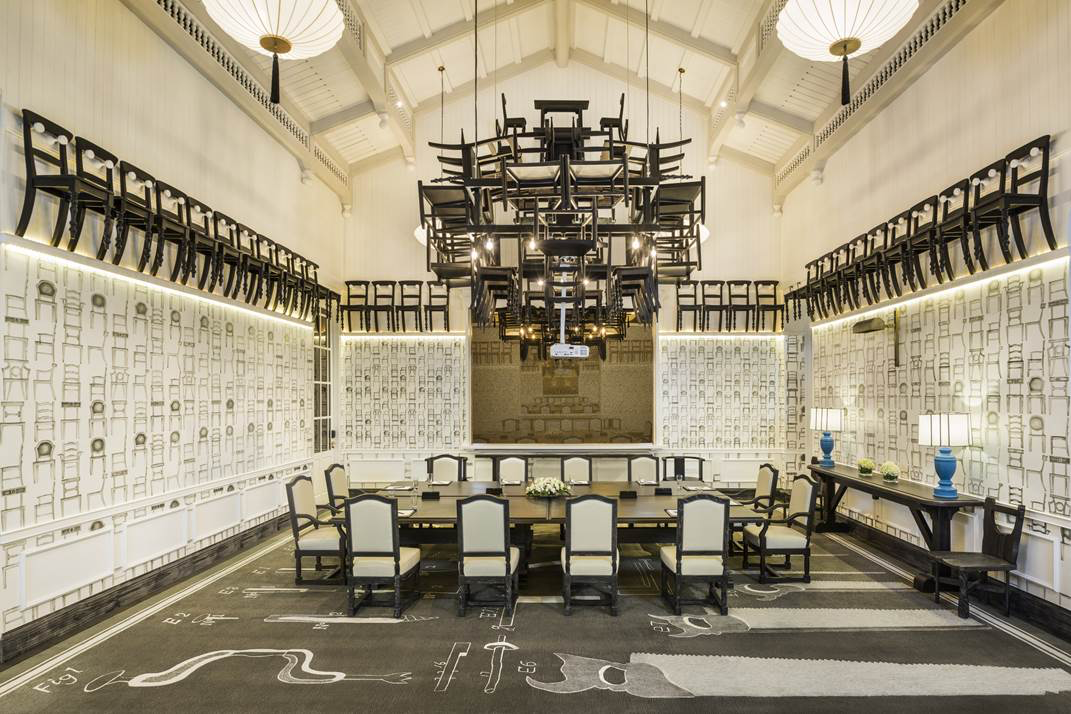 JW Marriott Phu Quoc Emerald Bay is inspired by a former French colonial university and has some uniquely out-of-the-box design. Architecture maestro Bill Bensley's latest narrative at JW Marriott Phu Quoc Emerald Bay honours French naturalist Jean-Baptiste Lamarck (who laid some of the groundwork for Charles Darwin's theory of evolution).
According to legend, Lamarck University was heralded as the educational pinnacle of Bai Kem in the 1900s, attended by French colonists. Bensley has brought the story of Lamarck University to life through the hotel's 20th century-inspired decor and detailing, including making the Phu Quoc Ridgeback, a native dog breed, the mascot of the hotel.
To add to the authenticity of the design, Bensley's team sourced over 5,000 original antiques and furniture items for the resort, such as teaching paraphernalia, carpentry tools, prints and sketches showcasing the evolution of mankind and nature.
Institutional support and strong transport links
The government are working hard to promote the destination in general as well as  meetings and events in Phu Quoc, and offer it support – much like Phuket in Thailand 30 years ago.
All nationalities now qualify for a visa exemption for a period of up to 30 days and the region is part of a Special Administrative Region, as denoted by the Vietnamese government. That means that if you have a connecting flight through Hanoi you still do not need a visa.
"There are flights direct to and from Bangkok, Guangzhou Seoul and Moscow and 30 other international destinations as well as domestic short-haul flights from Hanoi and Ho Chi Minh City and there are even seasonal flights from London Gatwick," continues Karawan.
In addition, the JW Marriott Phu Quoc Emerald Bay is located a 15-minute drive from Phu Quoc international airport, closer than any other luxury property on the island.
Creative meetings and events in Phu Quoc
To get down to details on the hotel's MICE properties, the meeting spaces, both indoor and outdoor, total 5,080 sqm. Showcasing a series of vintage atlases, the resort's high-ceiling Grand Ballroom can host up to 600 people in its 688 sqm space for events such as banquets, conferences, and gala dinners.
The Sculptor and Carpenter facility has student chairs hanging on the walls, while Elliott's Backstage, styled like a green room of an ancient theatre, showcases a range of stage costumes and props. In the Room of Bad Designs, guests will find quirky references to failed designs and ideas, including original vintage sketches of a six-wheeled vehicle, for memorable meetings and events in Phu Quoc.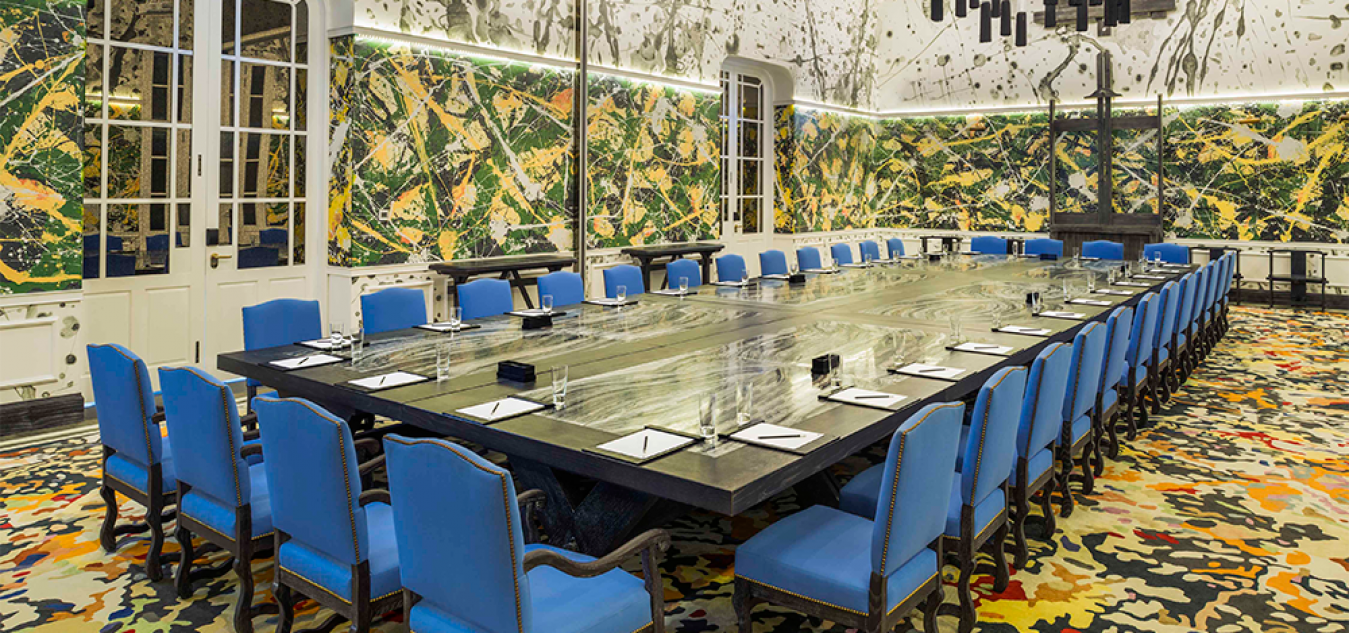 The Artist Room, a 100 sqm meeting room inspired by Jackson Pollock's drip paintings, incorporates a bold lighting fixture constructed from large paint brushes and seats up to 90 guests.
The Lamarck Running Track with manicured lawn, or Rue de Lamarck with a Hoi An-inspired night market backdrop, or the Pink Pearl secret garden that brings back to life the glamour of the Great Gatsby, all offer dynamic and fun spaces for celebrations, sporting activities and team-building exercises.
More information
At JW Marriott Phu Quoc Emerald Bay, a dedicated catering and conference services manager is available to assist with every need, from creative themes to ice-breaking sessions. To learn more about meetings and events in Phu Quoc and for reservations, visit jwmarriottphuquocresort.com.