The one-stop-shop for stress-free travel planning
We talk to Michel Karam, CEO, müvTravel
We go on a trip to get away from stress at home or work, and to take a break from the day-to-day routine, but travel planning and the travel itself can be quite stressful. As a matter of fact, research from travel comparison tool Liligo suggests that one in 11 Americans feel that travel planning is a more stressful endeavour than planning a wedding.
Where should I go? What will I do when I get there? Which airline should I fly? Which hotel is cheap but good? What should I bring? How much should I spend? Are there any promotions? These are only a few questions that cross our minds when we start travel planning. That's not to mention potential hiccups along the way such as being unable to get into a sold-out tourist attraction or transport delays.
Travel stress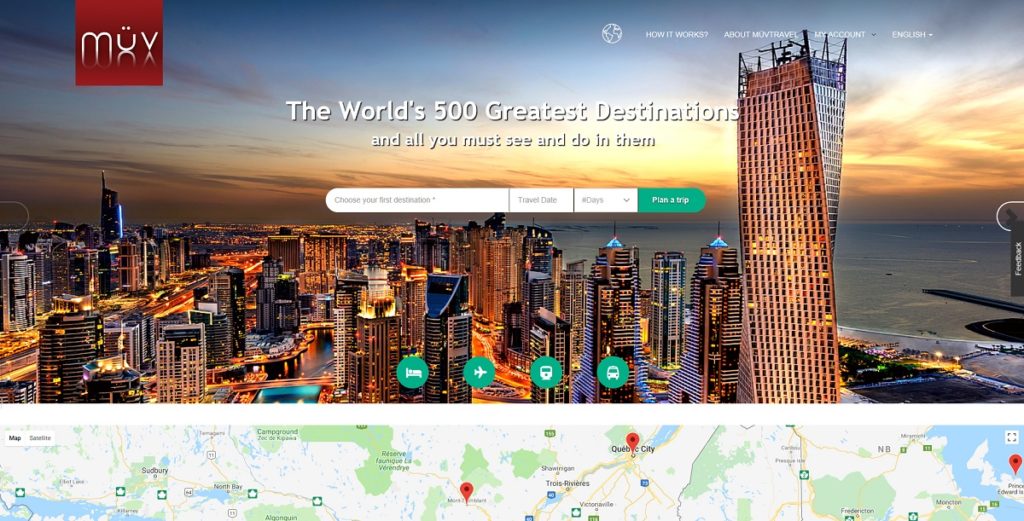 An article published in research journal Tourism Analysis claims that the most stressful part of any trip is the planning stage, followed by travelling to the destination, and then the actual stay. The greatest stress points associated with the planning stage were related to financial concerns, packing, making arrangements, and developing the itinerary.
"The current travel planning process is long and tedious"
Michel Karam, founder and CEO of müvTravel, agreed that travel planning is indeed stressful: "With the exception of flight and accommodation, the current travel planning process is long and tedious, as it involves visiting several online guides and local sites to plan what to do and what to see. Information on each page is often limited, which leads to disappointment once we arrive at our destination," he said.
I personally get the most stressed during the planning stage as I always feel I don't have enough time or money to do all the things I want to do. I have a difficult time narrowing down the list of places I want to go to, before I can worry about the other chores like booking flights and hotels as well as making an itinerary.
Karam added that, due to various factors, people often drop their travel plans for something easier. "Travel in general – independent travel in particular – pushes everyone, including seasoned travellers, outside of their comfort zone: 'What am I going to find there, how will I communicate with the locals, what am I going to eat, will the locals be nice to me or will they mislead me.'
"Add to that the cost of travel which can be a drag on any wallet and the reasons are many to drop any travel plans and opt for the safety of a cruise, an all-inclusive in a "safe" country or Disneyland," he added.
This is where müvTravel comes in. müvTravel attempts to alleviate this stress with its vast listing of flights, accommodation, and tour activities. The idea of a single platform is not a novel idea as dozens of companies vie to be the ultimate one-stop-shop for travel. What sets müvTravel apart from others is how the company curates the results in each destination.
Karam's background in artificial intelligence allowed him to create a platform that analyses millions of options to shows companies that adhere to strict standards and constantly receive rave reviews. Therefore, travellers are ensured that they book the best and receive high-quality service.
Karam also shared his thoughts why not a single platform has succeeded yet, despite the need for it. The audience is there, because millennials are not fans of 'one-size-fits-all' package tours. Moreover, they give high importance to experience rather than luxury and are more willing to pay for one-of-a-kind experiences.
"Too widespread with little curation… or too shallow offering only a few destinations"
However, as Karam said: "None of the attempts were complete enough or deep enough. Either they were too widespread and just became worldwide Yellow Pages with little curation, or remained too shallow offering only a few destinations and too few activities and attraction options. Others neglected some aspect or the other of the travel planning experience, such as price comparison, forcing users to still go to another site."
Create your own experience
müvTravel aims to enable the user to plan your whole trip using a single website. According to research, people visit between seven and 26 websites, with an average of 15, when travel planning and they visit between 60 and 312 web pages, averaging 124 web pages per subject. Some people feel overwhelmed by all of the information.
Karam continued: "As an avid independent traveller, I was astonished to find, after so many years in the industry, there was still a lack of comprehensive integrated resources available to travellers looking to plan and book personalised getaways on their own, despite so many travel tech start-ups popping up every day. Simply put, it still takes too long to plan a trip and the chances of wasting valuable time and money on uninteresting visits and activities and missing out on good ones are just still too high. I wanted to create a one-stop shop where travellers could find everything they were looking for."
The first step of travel planning is learning about the city or country. müvTravel provides important information about the city history, climate, culture, and transportation. The website has tabs – stay, see, shop, watch, and events – for users to plan their hotel and itinerary.
"We have curated the best things to do and see in every one of our destinations, organised them into  categories that can be filtered, and put as much info as possible on them (description, text, location etc.) to allow users to make a learned decision on whether this place or activity is worth a visit. Again we use AI to establish ranking for these activities and attractions. You can thus not only find out what the top art museums in Paris are, for instance, but also the ones in France, in Europe or the World," Karam explained.
"Our search engines search more than 700 websites around the world"
"Finally the biggest stress of all is finding the best price. The frustration can be great when you find out that you have paid too much for a hotel room or a flight. Our search engines search more than 700 websites around the world for the best prices," he added.
Therefore, there is no need to blindly trust the local concierge who doesn't know your tastes or might have an interest to send you somewhere you might not like. You can make your own choices.
Making dreams come true
CEO Michel Karam wants müvTravel to go beyond a single platform for travel. He knows that charting a territory where many have gone and failed is not an easy task. müvTravel aims to make the site simple and intuitive enough while also being rich and sophisticated.
"We would like in the next six months to have travellers discover new and familiar places using müvTravel and dream up as many trips as possible. We want müvTravel to help plan these dreams, personalise them for the user, determine costs, and even suggest the best times to leave. We plan to get there by encouraging users to share past, present and future itineraries with friends and followers," Karam said.
"Help them build their own travel experiences"
"In two years we would like the platform to be extensively used in Europe, the most active travel market in the world and Asia, the fastest growing. We would like people to become travellers, not just tourists and help them build their own travel experiences instead of going on pre-packaged mass tours," he concluded.
Karam's vision for müvTravel is to become a tool that helps people tick off items on their bucket lists and to create their own experiences going to places they love while seeing and doing things they want.